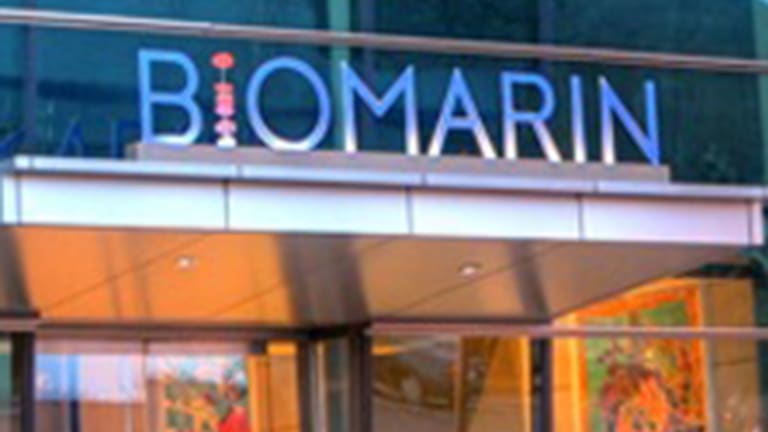 BioMarin Buys Kuvan Drug Rights From Merck
San Rafael, Calif.-based BioMarin says the deal will lift revenue from the PKU metabolic disorder treatment by up to $80 million in 2016.
NEW YORK (The Deal) -- Germany's Merck (MKGAY) said on Thursday, Oct. 1, said it would hand back rights to Kuvan, a drug used to treat a rare metabolic disorder, to BioMarin Pharmaceutical (BMRN) - Get Report in exchange for up to €525 million ($586 million) in payments.
The sale to the San Rafael, Calif.-based BioMarin ends 10 years of ownership by Darmstadt-based Merck of the Kuvan rights in markets outside the U.S. and Japan. It reflects Merck's decision -- in common with most of the  pharmaceutical sector -- to narrow its therapeutic focus. It is concentrating R&D efforts neurology, oncology, immuno-oncology and immunology and is also working to complete its $17 billion purchase of St Louis-based Sigma-Aldrich (SIAL) , which will take the portion of earnings it derives from life sciences to 40% of the total. 
The deal with BioMarin also includes the return of an option to develop Peg-Pal. Both Kuvan and Peg-Pal are designed to treat a rare genetic metabolic disorder known as PKU, which can lead to brain damage.
"Returning the rights of Kuvan and Peg-Pal to BioMarin will allow Merck to fully focus on its core businesses, as well as further align R&D investment behind key strategic areas," said Merck Healthcare CEO Belén Garijo in a statement. "Patients suffering from PKU will continue to benefit from these therapeutic options, as well as from BioMarin's long-term expertise in rare diseases."
The price breaks down into €340 million upfront to Merck and up to €185 million in milestone payments.
BioMarin said the deal will leave it with exclusive worldwide rights to Kuvan and Peg-Pal, or pegvaliase, with the exception of Kuvan in Japan. Pegvaliase is currently in registration-enabling studies to treat adult patients with PKU.
"This is an excellent transaction for BioMarin as it provides numerous operational and strategic synergies for the company," said BioMarin chairman and CEO Jean-Jacques Bienaimé in a statement. "We look forward to expanding our PKU franchise beyond the U.S. and Canadian markets and into our existing commercial footprint of about 60 countries where Kuvan is currently sold."
BioMarin said the new revenue it will derive from Kuvan in 2016 will amount to between $70 million to $80 million as a result of the deal, taking total Kuvan revenue in 2016 to an estimated $320 million to $350 million. It said the deal will boost its non-GAAP earnings from 2016 by an unspecified amount, and lift GAAP earnings in 2018.
Earlier this week Merck said its purchase of Sigma-Aldrich won't close in the third quarter, as originally expected, because negotiations over regulator-mandated disposals were taking longer than envisaged.