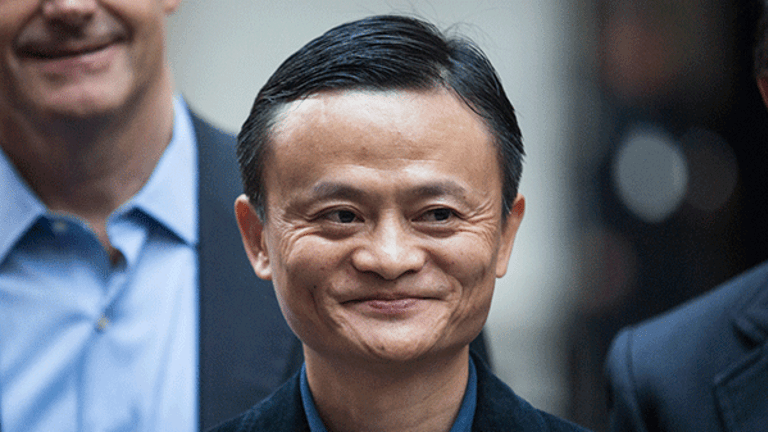 Billionaire Dan Loeb Renews Stake in Alibaba After Selling Shares in 2015
The Third Point hedge fund manager thinks that Alibaba is undervalued.
Billionaire Dan Loeb's Third Point reinitiated a large stake in Alibaba (BABA) - Get Free Report during the second quarter ended June 30 because the hedge fund feels that Alibaba is undervalued, according to an SEC filing released late Friday.
The firm, a frequent activist investor, has added to and subtracted from its Alibaba position over the past six years, either directly or through its positions in Yahoo! and Softbank (SFTBY) , the firm said in its second quarter letter.
Its current position is 4.5 million shares, which would be worth about $693 million at current prices. That only represents about 0.1% of Alibaba's market cap, however.
Shares of Alibaba were trading up 1.7% to 154.29 on Monday afternoon, and are up about 73% this year.
In early 2015, Third Point sold its entire stake in Alibaba, which amounted to about 10 million shares, for an estimated $1 billion. Alibaba's stock was down 15% in the first four months of 2015 after the company reported a surprise revenue miss. Before dropping Alibaba, the firm had been steadily adding to its position. 
After a year-and-a-half break from Alibaba, Loeb jumped back into the stock in September 2016 by purchasing 2.6 million shares of the company, according to an SEC filing. The reinstated confidence came after the company reported a top and bottom line beat for the first quarter in August. The positive quarterly report included 59% year-over-year revenue growth for the period to $4.84 billion.
Third Point made its current its 4.5 million-share investment in Alibaba because it has surpassed the hedge fund's estimates for gross merchandise value (GMV), revenue and earnings. In addition, Third Point said in its second-quarter letter to shareholders that Alibaba is more attractive after updating its advertising options, including the launch of its first advanced ad targeting tools that allow for more personalized ads. "We view these changes as an important catalyst for meaningful revenue acceleration over the next few years," the firm wrote. "Combined with an attractive multiple, we believe now is the time to own Alibaba again."
In June, Alibaba CEO Daniel Zhang reiterated Alibaba's $1 trillion GMV target for 2020. This past year, GMV came in at $547 billion, up 18% from the year prior when it came in at $463 billion. In addition, Alibaba forecast revenue to grow 45% to 49% in 2018, vs analyst expectations for 37% growth. 
Additionally, Alibaba will report 2018 first quarter results on Thursday before the market opens. Analysts are expecting the company to report earnings of 92 cents per share on $7.02 billion in revenue. 
Don't miss these top stories on TheStreet:
Nobody Is Estimating How Monstrous Tesla's Model 3 Will Become: Analyst
Warren Buffett Dumps GE Stake to Invest in a Lender With GE Roots
Why AT&T and Verizon's Generous Dividends Should Continue
Chevy Just Can't Keep Its $50,000 Crossover Traverse SUV on Dealer Lots
These 500 People Reveal Netflix Will Probably Be Just Fine Without Disney