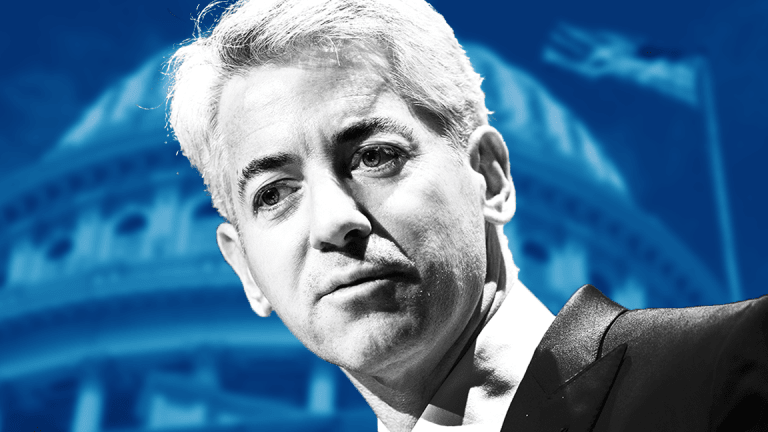 Bill Ackman Is Watching for These Six Washington Policies
From tax reform to shareholder proposals, a lot is going on on Capitol Hill and at the nation's securities regulator that will impact Bill Ackman and other activist investors in the months to come. We took a look at the top six Washington issues facing insurgent managers here.
From tax reform to shareholder proposals, a lot is going on on Capitol Hill and at the nation's securities regulator that will impact embattled billionaire Bill Ackman and other activist investors in the months to come. We took a look at the top six Washington issues facing insurgent managers here. 
1. The End of Shareholder Proposals - Coming Soon
Ackman and other activist hedge fund investors often will consider whether shareholders have recently given a particular corporation a large negative vote on a specific issue. These negative votes usually come in the form of non-binding shareholder proposals submitted by large long-term public pension funds. (Hedge funds also will present them as a less intrusive approach to shaking up targeted corporations). A significant negative vote often suggests that a company has a significant disgruntled institutional investor base - one that an activist hedge fund can capitalize on with a campaign urging the business to sell itself or make operational changes. (consider how Ackman's campaign at Chipotle Mexican Grill Inc. (CMG) - Get Chipotle Mexican Grill, Inc. Reportemerged after a broad cross-section of shareholders voted to rejected the restaurant chain's CEO pay plans in 2014 and 2016). 
However, the shareholder proposal in its current form is under threat on both Capitol Hill and at the Securities and Exchange Commission, where a view has developed that the proposals cost management and the agency a lot regarding time and capital. SEC Chairman Jay Clayton told a congressional committee that the not-widely-held picture of a few shareholders could cost other shareholders and a targeted corporation valuable time and money that they "don't get back.' Hester Peirce, a GOP commissioner nominee, and ex-SEC counsel has complained that the proposals are a significant drain on SEC time and energy. If confirmed by the Senate, Peirce is likely to be a tough advocate for significantly scaling back on the number of proposals approved for consideration. Even, Democratic SEC commissioner candidate Robert Jackson has suggested that stricter limits on shareholder proposal resubmissions might make sense. What might tougher rules look like? A House bill would require activist shareholders seeking to submit proposals to publicly-traded U.S. corporations to hold 1% of their target company's shares for three years. This is significantly more than the current requirement that they hold $2,000 or more worth of shares for one year. The SEC could change up the rule without legislation if it introduced and later adopted a proposal. Prolific employers of the tactic say that the change would essentially remove shareholder proposals from existence even though the measures have been successful in driving companies to remove anti-takeover protections, install more independent directors and also helped eliminate workplace discrimination. The SEC already may have taken some action to help it help corporations keep shareholder proposals off their proxy statements. The commission earlier this month issued a bulletin with new guidance that corporate interests and shareholder defenders argue will give agency staffers more flexibility to reject shareholder proposals.
2. Death by Taxes, Activist Style
Legislation under consideration on Capitol Hill that would hike taxes on some hedge fund managers is being considered by some as a bad joke since the Joint Committee on Taxation estimates that it will bring in only a meager $1.2 billion over ten years, or $120 million a year. However, the measure is no joke to Ackman and other activist hedge fund managers who would most likely be hurt the worst by the provision. At issue in the battle over taxes is the way carried interest-the profits received by many hedge funds, private equity managers, and venture capitalists are treated as capital gains with a top basic rate of 23.8% as opposed to the top ordinary income rate of 39.6%. A measure included in both House and Senate legislation would limit the carried-interest tax break by increasing the length of time assets would need to be held to qualify for the break, from one year to three years. This change would have zero impact on many types of managers, including those running private equity and venture capital funds. However, activist hedge funds would be hurt. Kai Haakon Liekefett, head of the shareholder activism response team at Vinson & Elkins, notes that such a tax change if implemented would hurt activists. "Activist hedge funds by nature need to be able to retain the ability to cut and run if need be," Liekefett said. "If they have to hold for three-plus years to avoid a tax penalty that would create a serious problem for a lot of hedge funds whose strategies are often based on shorter holding periods." 
3. Universal Proxy Card Not Universally Accepted at SEC
Ackman suggested recently that he might have won a recent boardroom battle at Automatic Data Processing Inc. (ADP) - Get Automatic Data Processing, Inc. Report  had regulators or the payroll processor set up a "universal proxy card" giving shareholders more flexibility to pick among dissident directors and incumbent board members.
"The corporate voting mechanism is one of the least democratic voting systems in the world," Ackman said in an interview with The Deal. "When people vote in elections they vote for people. They don't vote to withhold against Ted Cruz to support Donald Trump."
Currently, shareholders who don't go to company meetings can vote either for director candidates offered on the activist's proxy card or those included on the company's card. This means they can't support only one of many dissident candidates offered at the same time that they back the rest of the company's slate. Though investors attending shareholder meetings can make these voting distinctions, most institutional and retail investors vote remotely. Large pension funds and other institutional investors have been pushing for companies and regulators to set up a universal proxy card system that gives investors the flexibility to pick precisely the directors they want in contested elections.
But Ackman and big institutional investor proponents of such a change shouldn't hold their breath. The SEC under its previous chairman, Mary Jo White, introduced a proposal to set up a universal proxy card system. However, the Trump Administration's SEC chief, Jay Clayton, has shown no interest in adopting the measure so far. A regulatory agenda issued by the other GOP commissioner, Michael Piwowar, when he was interim chairman didn't include the proposal, all of which suggests it is dead in the water.
4. The Battle over 13D
Ackman and other activists also often count on an SEC rule which requires funds or groups of investors to publicly report their stakes within ten days of acquiring at least 5% of a public company when they have plans to discuss strategic options for the business. They must explain their position in a regulatory filing called a Schedule 13D. Activists argue that they need the additional ten days to accumulate their position covertly so they can purchase shares at low prices that make their campaign attractive in the first place. However, corporate defense attorneys, including Wachtell Lipton, as well as a handful of Democratic lawmakers on Capitol Hill led by Sen. Elizabeth Warren, have been pushing for a system that shortens the disclosure window. The Democrats would like to see that window condensed to four days. Wachtell's Marty Lipton, the founder of the poison pill, wants disclosure even faster.
5. The fight over Wolf Packs
And while it is unlikely that Congress will take any action anytime soon it is possible that the SEC may do something. A related issue is whether activist hedge funds are working together in groups - also known as 'wolf packs'-without adequate disclosure. If a group of activists is cumulatively working together and their combined stake is greater than 5% they need to disclose their combined position. At an event recently at the Brookings Institution, Clayton suggested that he was worried that funds are working together without disclosing adequate information to the public: "If you have one person acting alone at 4% they don't have to tell you they are investing, but when they go over the threshold they have to tell you," Clayton said. "When you have four people at 4% working together they are supposed to tell us. That's an issue that bothers me."
6. Retail Investors and Proxy Wars
At the time of Ackman's ill-fated boardroom war at ADP, retail investors represented 28% of the company's shares. Individual shareowners represent roughly 40% of shares at Procter & Gamble, the iconic American packaged goods company still under attack by activist Nelson Peltz. Clayton recently told a New York securities conference that he is concerned that long-term retail investors may be underrepresented or selectively represented in corporate governance. He has suggested reopening a 2010 so-called proxy plumbing review to consider how to engage retail investors. A more engaged retail investor base would change the playing field when it comes to voting on executive pay packages and proxy contests. "In the 2017 proxy season, retail shareholders beneficially-owned 30% of the shares in U.S. public companies; however, only 29% of those shares voted," Clayton said. "This may be a signal that our proxy process is too cumbersome for retail investors and needs updating."
For more coverage like this, sign up for the Activist Daily.
Join us in New York City on Nov. 30 for The Deal Economy Conference, where leading industry experts and other influential members of the deal community will gather to discuss key issues that will confront dealmakers in 2018.
More of What's Trending on TheStreet: