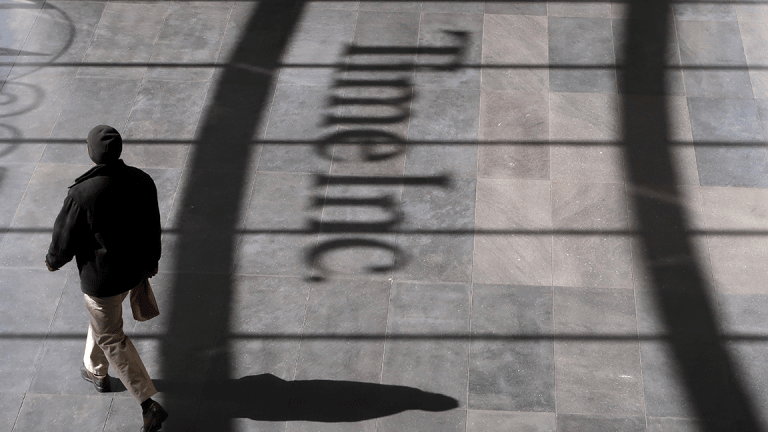 7 Big Questions as Meredith Seals Deal for Time Inc.
CEO Steve Lacy says the megamerger is all about scale to compete against the duopoly of Google and Facebook, but is it enough scale? And what follow-on deals -- buying or selling -- may follow?
Des Moines takes Manhattan? The pride of Iowa publishing, Meredith Corp. (MDP) - Get Meredith Corporation Report , looks like it has finally put Time Inc. (TIME) out of its 20-year print-to-digital agony. On Sunday, Nov. 26, as expected, Meredith agreed to buy Time.
While this has been a deal long expected to find a way toward completion, after two earlier Meredith attempts, it happened on Thanksgiving Sunday, after a month in which it seems fewer media properties may be immune from buying and selling pressures. As print companies reel and the Federal Communications Commission's unleashing of TV ownership regulation has widened the merger landscape, this long-awaited deal looks like it will get done, and quickly, by early next year. One big question: Will it begin to tip other dominoes?
Still, smaller questions surround this magazine megadeal, and we'll number seven of them here.
To be sure, we can easily see the context of the deal. Smaller Meredith is buying bigger Time because it's had surer instincts over the years, if more prosaic ones. It gave up being a magazine company long ago and proclaimed itself the country's best women's audience market. In that sense, it was among the first to understand cross-title aggregation (of audience) and of slicing and dicing cohorts for digital targeting. In addition, long before the Times and others latched onto to branded content as a new revenue stream, it was experimenting, and then perfecting, content marketing. Which, of course, tied well together with that women's marketing position.
In the meantime, Time's slogan may as well have been "a player in every digital field, but a leader in none." From aggregation to paywalls to branded content, it's played, but lost its way as a business, as its once top titles found themselves choking for digital air amid wide competition.
For now, though, let's look at Meredith and what may lie ahead.
1) You call it video, we call it TV. Is the future of magazines in moving pictures?
We think of Meredith -- especially today -- as a magazine company, but it's really not. Though only 40% of its revenue comes from its 15 regional TV stations, they drive 60% of its profit. Of course, the businesses -- local TV and national magazine -- have been pretty separate ones. Consider, though, with the gates to ownership and print/broadcast combination that the FCC has just thrown open, what kind of company Meredith could become. Will it have the capacity to compete with Sinclair Broadcast Group Inc. (SBGI) - Get Sinclair Broadcast Group Inc. Report and the like in the bigger rollup of TV stations to come? What kind of vision will it create to make greater use of a much bigger treasure trove of content it will now control? Ironically, even with Time's sizable digital revenue, Meredith just became more of a print company than a TV one, and that means further swimming against the tide.
2) Might this rollup just be the run-up to the next rollup?
Meredith CEO Steve Lacy has created a much bigger content company just at a time when the biggest players once again believe it's some magical combination of pipes and content that will win the day. So, maybe, Meredith with all that content and all that audience and all-increasing video will wind up a part of an AT&T Inc. (T) - Get AT&T Inc. Report , Verizon Communications Inc. (VZ) - Get Verizon Communications Inc. Report or a Comcast Corp. (CMCSA) - Get Comcast Corporation Class A Common Stock Report ?
3)Does 200 million consumers really give the new Meredith the scale it needs to compete with Google and Facebook?
No doubt that 200 million -- Meredith's new estimate of its overall reach -- is an impressive number when stacked up against the twin giants. Depending on how much duplication tumbles out of the merger, it should put the newly combined company well into the digital top 10. Scale does matter, everyone in the digital ad business will tell you, but the big question is how much? What kinds of buys will the expanded Meredith get it couldn't before, and is its ability to price significantly improved?
4) Does its further dependence on print and digital advertising come at the wrong time? 
The big backdrop here is of course the ongoing revenue pressures at both Time and Meredith. Time has struggled for so long -- let's recall how Time Warner Inc. (TWX) orphaned it, with new debt of $1.3 billion (with annual debt service on it equaling about 1,300 jobs, as I calculated) -- and just announced third-quarter overall revenue down 9%. The big driver of why this deal had to get done is in the Time print ad decline figure -- 18%. That high-teen number has become a familiar one in both the magazine and newspaper businesses. There's no way, given that figure, that Time CEO Rich Battista could fashion still another transformation strategy. The company literally was running out of time. 
Consider, though, the consolidator here isn't having a great time of it either. In its magazine business, Meredith's last report showed a 3.5% decline in overall revenue and a 4% drop in ad revenue. That compares well with Time -- but those are still numbers a half dozen points away from being able to grow with the economy.
Reader revenue for Meredith's magazines now amounts to 25% of its total, according to the company. (Note, too, that it has managed to marginally grow circulation revenue, while Time has seen double-digit percentage losses.) That 25% is a good number but far short of the crossover majority reader revenue enjoyed by the likes of The Wall Street Journal, Financial Times and The New York Times. Meredith has been an ad dependent company, and now with the huge purchase it is swallowing has become more so. 
5) How much must Meredith lower its head count?
Lacy will emphasize growth, of course, but the driver of this deal -- as in almost all fast-maturing print legacy and broadcast legacy businesses -- is cost reduction. There's as much as a half-billion dollars of it in the first two years, Lacy said. That's a big number that may be hard to hit, as forecast synergies often tend to be optimistic. Furthermore, the costs -- in dollars and workflow -- in putting these two companies together can't be underestimated. Meredith is a known as a savvy operator, but it will be tested as it absorbs a business almost 1-1/2 times as large as its own. 
6) Isn't all about People?
As a women's marketing company, Meredith long desired a would-be jewel for its portfolio: People. The magazine that Henry Luce never thought of has long been Time's cash cow. But consider one other number: 70% of its readers are women. One in four lives in a household earning at least six figures. The perfect fit for what wants to be the country's No. 1 women's marketing company.
7) Do Fortune's fortunes lie with Meredith?
The once-iconic, must-read business magazine seems one of the odder fits in the Meredith female audience-focused magazine empire. Like all print giants, it's made a meandering transition to digital.
Remember the old world: Fortune, Forbes and Businessweek at the top of the magazine pile, with lots of niche tech and management titles below. Bloomberg grabbed Businessweek, incorporating it into the center of its now fast-growing business news consumer business, and Forbes, under Lewis D'Vorkin (just named Los Angeles Times editor-in-chief), went mass market on the web. Fortune looks like it has changed the least, still a high-quality bible of CEO-centric longer-form journalism.
In the meantime, Henry Blodget, now with Axel Springer SE backing, has cut a wide swath through the business news middle market, and innovators such as Atlantic Media's Quartz found profitable smaller niches. A couple of questions here: Does Fortune still make sense as a standalone brand? Who else might want to buy -- and then combine -- it?
Fortune is just one title that seems an odd fit with the longtime shelter and lifestyle publisher. Time's Southern Living, Real Simple and Cooking Light are among the several, along with People, of course, that offer a great fit. In addition to Fortune, though, there's Time itself and Sports Illustrated. With the acquisition announced, rumor season has officially opened on the once-foundational Time pubs.  
Is it the Koch Brothers -- who enabled the deal to finally happen after two failed Meredith attempts as they put up $650 million in financing -- who have their eyes on these once hugely influential and today still-influential publications? Meredith says no, describing the Koch investment as passive.
The firm "won't have any influence on Meredith's operations, including editorial," Meredith COO Tom Harty said on Sunday. That may be the case if Meredith holds onto them, but holding onto to them may well not be in Meredith's own strategic interests. Then who might buy, and would the Kochs have first call?
Comcast is a holding in Jim Cramer's Action Alerts PLUS Charitable Trust Portfolio. Want to be alerted before Cramer and the AAP team buy or sell CMCSA? Learn more now.
More of What's Trending on TheStreet: