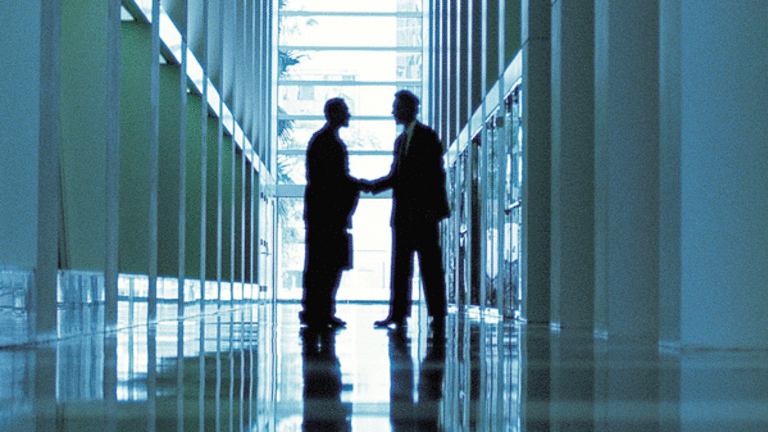 Big Asset Managers Put Up Disappointing First-Quarter Financial Results
The heady days of easy asset exits are over.
NEW YORK (The Deal) -- Some of Wall Street's most prominent alternative asset firms showed signs that their financial performance fell over the dreaded exit cliff in the first quarter of 2015.
Three large alternative asset firms reporting first-quarter results Thursday came up short, both of expectations and -- more dramatically -- in comparison with a year ago.
Talking about their financial performances in the quarter, management of the firms sounded regretful that they sold so many assets during the bulge in valuations that occurred in 2014 that they had no chance of reprising the performance.
Realizations have exceeded investing for three or four years, management of Apollo Global Management (APO) - Get Apollo Global Management Inc. Class A Report said in a conference call Thursday following the release of quarterly results. The firm reported 23 cents a share in economic net income -- an economic metric the private equity business prefers to use as a financial yardstick -- vs. 56 cents in the year-earlier first quarter, and south of analysts' forecasts of 34 cents a share.
"We've come to the tail end of a large realizations cycle," one executive continued on the conference call. "Now we're in a 'build value' cycle."
Ironically, it was Apollo's own chief executive, Leon Black, who captured the headiness of the portfolio-emptying period by saying at a conference three years ago the industry ought to be "selling everything that isn't nailed down," owing to the escalating valuations that assets were commanding as public market valuations soared.
Fortress Investmentundefined also reported first-quarter results Thursday and fared poorly as well, as profits came in at 12 cents a share, unfavorably comparing to estimates of 21 cents a share.
(To be fair, analysts' estimates of alternative asset managers' performances in any single quarter are almost never on the money, owing in part to the lack of transparency in some initiatives, even among the handful of firms that are publicly traded, and thus report financial results.)
American Capital (ACAS) , another publicly held alternative asset manager, likewise came up short, reporting net operating income of 28 cents a share. Estimates were at 20 cents. American Capital, though, hardly represents an apples-to-oranges comparison with the likes of an Apollo. The latter operates much closer to the classic private equity firm -- buying businesses, improving performance, and subsequently flipping them at a profit -- while the former long ago moved away from the PE model to pursue a credit business.
Still, American Capital wasn't without its share of negative surprises, telling Wall Street that it was abandoning previously announced plans to spin off the majority of its asset base into two business development corporation vehicles. Instead, American Capital now plans one BDC, saying that the announcement in April by General Electric (GE) - Get General Electric Company (GE) Report that it was looking to sell all of its financial services operations helped sway their thinking.
Conventional PE firms weren't the only type that fared poorly in the first quarter. Fortress Investment Group, which is going through something of a transformation of its own to gain more exposure to credit and real estate markets at the expense of LBOs, sounded downright gloomy about what management described as "a muted quarter in credit."
"The easy money has been made," one of the firm's executives said on the phone -- sounding distressed enough that one analyst started his questioning by characterizing the executive describing the conditions in the credit market as sounding "more bearish than in the prior 18 months."
Exacerbating the tension in the exit environment, funds are not only sitting on record levels of so-called dry powder, they're raising new capital at a somewhat furious rate. Fortress said it raised more than $5 billion in fresh capital in its alternative business -- then added another $1.4 billion in April -- to already surpass the total capital raised in all of 2014.
Apollo is looking for places to invest its latest $18 billion fund, and said that in March, the Teachers Retirement System of Texas, which had previously started a $3 billion separate account, kicked in an additional $2 billion.
"Very broadly, 2015 is off to a great start," Joshua Harris, senior managing director, told analysts.