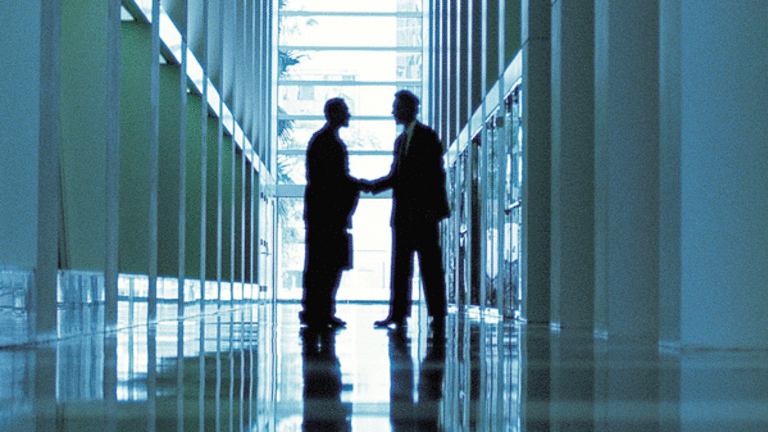 Big 5 Sporting Goods Dodges Proxy Fight
Big 5 Sporting Goods agreed to revise its slate of director nominees to include a representative from Stadium Capital Management. Plus, shareholder activists pressure Cinedigm and iPass.
Big 5 Sporting Goods agreed to revise its slate of director nominees to include a representative from Stadium Capital Management. Plus, shareholder activists pressure Cinedigm and iPass.
 NEW YORK (The Deal) -- Ahead of Big 5 Sporting Goods Corp.'s (BGFV) - Get Report annual meeting on June 12, one shareholder has already made inroads with the company.
The El Segundo, Calif.-based company agreed on May 1 to revise its slate of director nominees to include a representative from 11.4% shareholder Stadium Capital Management LLC.
As part of the agreement, another disgruntled shareholder, Engaged Capital LLC, has agreed to withdraw its nominees.
Shareholders on June 12 will have the chance to elect three directors, including Stadium CEO Dominic P. DeMarco.
Big 5, which sells sporting goods via stores mainly on the West Coast, will expand its board of directors from six to eight members to accommodate the new nominees.
Company director Michael Brown has agreed to step down.
"We are pleased to have reached an agreement with Stadium," said Big 5 CEO Steven Miller in a statement. "This agreement will allow us to eliminate the distraction and unnecessary costs of a possible proxy contest and focus on driving business performance and long-term stockholder value."
Stadium's bout with Big 5 began in December 2014 when the firm asked the company to change its governance policies and eliminate its dual-class board makeup.
Stadium, which did not immediately respond to calls seeking further comment, seems to have settled for board seats, at least for now.
Big 5, which trades on the Nasdaq, has a market cap of $321 million.
Entertainment distributor Cinedigm Corp. (CIDM) - Get Report is under pressure from activist shareholders who want to take matters into their own hands to effect change.
Investor Ronald Chez and Sabra Capital Partners LLC revealed in a 13D filing on June 3 that they have teamed up to seek representation on the board at the annual shareholder meeting in the fall.
Last year's meeting was held on Sept. 16. This year's meeting is yet to be scheduled.
The activists are nominating Chez and Sabra Capital's Zvi Rhine to the board.
New York-based Cinedigm, with a market capitalization of $68 million, said in May that it planned to add two to four directors to the board and had engaged Korn Ferry to search for new members.
Chicago's Sabra Capital, which owns about 10% of Cinedigm's notes and 2.7% of its common stock, launched a campaign on May 19 and urged the media company to explore options for its deployment and services segments, in addition to buying back at least $15 million in stock.
"The company has a really good opportunity," said 8.4% stakeholder Chez via phone. "They've made several mistakes and have a dysfunctional board. I want to change that."
"I want to bring change in a systematic order to pursue the best alternatives and opportunities," Chez added.
The investor added that Cinedigm has suffered from its unsuccessful deal with Gaium Inc. (GAIA) - Get Report.
Cinedigm is in litigation with the Louisville, Colo.-based fitness-product producer over its 2013 acquisition of a home-entertainment distributing business from Gaium.
Chez explained that the entertainment company, moving forward, should focus on growing Cinedigm Entertainment Group and its over-the-top digital channel business.
Cinedigm Entertainment Group distributes content in theaters, as well as across digital and on-demand platforms while its over-the-top segment delivers content over the Internet.
The second time is the charm for Foxhill Capital Partners LLC.
The Princeton, N.J, hedge fund, which, earlier this year, agitated for change at iPass Inc. (IPAS) - Get Report with fellow shareholders Maguire Asset Management LLC and Francis Capital Management LLC, celebrated a proxy victory on May 29 by settling with the Wi-Fi provider.
The group called iPass Shareholders for Change, which collectively owns about 7.7% of iPass, nominated five new board directors in April.
The Redwood City, Calif.-based company said on May 29 that it is adding three of the nominees.
For Foxhill, the victory came nearly seven years after it first urged the company to shop itself in 2008. Foxhill sold its stake after the campaign, but returned to agitate for change.
"It got to a level where it was very cheap on valuation, and there had been stirrings of discontent," Weiner said, adding that his 2008 involvement at iPass was his first activist campaign.
"That's a prescription for change," he said.
Neil Weiner, who founded Foxhill in 2005 after his stints at Triage Capital Management LP and LibertyView Capital Management LLC, said activism isn't a primary strategy for his firm.
"If we feel that we need to defend our position or destruction of value is taking place, we get active from that standpoint," Weiner explained.
Foxhill launched a campaign in 2009 at Voyager Learning Co., which later merged with Cambium Learning Group (ABCD) - Get Report.
Weiner served on the Cambium board until 2013.
Saying Foxhill is "capital structure agnostic," Weiner added that his shop also gets involved with distressed debt and equities.
"It's hard to find value out there. We're looking for value in different places, and a lot of what we do is what most hedge funds don't really focus on," he said.
Read more from