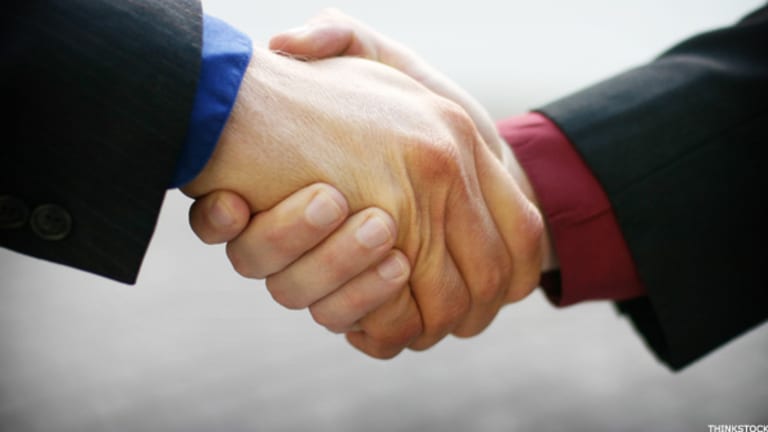 BGC Partners Tries to Push Through GFI Deal with Raised Bid
Target has been sticking to its agreed-on deal to transact with CME and its own management.
As many expected, BGC Partners Inc. (BGCP) - Get BGC Partners, Inc. Class A Report has upped its hostile bid for interdealer broker GFI Group Inc. (GFIG) , besting an agreed-to offer between GFI and Chicago trading house CME Group Inc. (CME) - Get CME Group Inc. Class A Report .
BGC Partners said Wednesday after the market close that it had raised its all cash bid for GFI to $5.45 per share, or $694 million, from $5.25 per share. The deal provides a 3.8% premium to BGC's previous offer, which as rejected in November, and also tops an offer from CME for $5.25 in cash and stock.
"We — and we expect the market — already expected a higher offer from BGCP," wrote Niamh Alexander of Keefe Bruyette & Woods Inc. in a note Wednesday. "We also think that the deal could be very accretive for BGCP but it's still risky as a potentially hostile deal — so we don't see much higher offer coming here."
BGC, the former Cantor & Fitzgerald co. unit, said 12.4 million shares already had been tendered in favor of its offer, which, together with the 17.1 million shares the company owns, represent approximately 22.8% of GFI's total shares. In order to get the deal done, BGC said it would lower the threshold to complete the tender offer to 45% from a majority (51%).
Management, which owns 37.8% of the outstanding shares has already tendered into the CME transaction.
As a condition of the revised bid from BGC, the former Cantor Fitzgerald & Co. unit agreed to lower the threshold to complete the tender offer from a majority (51%) to 45%, in lieu of the fact 37.8% of the total issued and outstanding shares are owned by company management and have already been tendered to the CME transaction.
BGC also said it would be willing to remove the requirement from its offer that would have required two-thirds control of GFI's board in order to get the deal approved by the special committee.
New York-based GFI, which provides brokerage and electronic trading services, has been a target since July 30 when CME Group said it would pay $4.55 in stock to acquire all outstanding shares of the company and then hive off the company's wholesale brokerage business to a private consortium led by current management for $165 million in cash and the assumption of about $63 million in unvested deferred compensation and other liabilities.
BGC responded with a $665 million spoiler bid for the entire company in October, only to see CME raise its bid for GFI on Dec. 2.
Under the terms of CME's revised offer, GFI's management will pay $254 million in cash and assume $72 million in compensation and other liabilities for the wholesale business. That cash would then be returned to GFI's stockholders. All told, GFI's shareholders would receive $5.25 in cash or CME stock as part of that deal.
"While we continue to believe our existing all-cash $5.25 offer is superior to the offer provided by CME and GFI management because it provides GFI shareholders with immediate and certain value, in light of the revised CME/GFI management agreement, we are hereby submitting a revised proposal," wrote BGC president Shaun Lynn in a letter sent to GFI's board and special committee.
BGC's most recent offer is set to expire Jan. 9 but can be extended. It carries an enterprise value of $770 million, based on an equity value of $695 million, debt of $240 million as of Sept. 30, and $165 million in cash on the balance sheet.
Alexander said there was still a possibility CME and GFI management might increase their bid.
GFI shares, which trade on the New York Stock Exchange, ticked up about 12 cents to $5.50 per share indicating investors may be expecting a revised bid from CME.
For BGC, the revised bid also follows an announcement by the company Dec. 15 that it had agreed to acquire the UK assets and subsidiaries of RP Martin Group, an interdealer brokerage firm specializing in foreign exchange rates. Terms of that deal were not disclosed.
Cantor Fitzgerald's Charles Edelman is financial adviser to BGC on its offer. A Wachtell, Lipton, Rosen & Katz team headed by David K. Lam is providing legal counsel to BGC.
On the CME offer, GFI's management team received financial advice from Jefferies LLC's Alex Yavorsky and Caspar Bentinck and legal counsel from a Willkie Farr & Gallagher LLP team led by Jeffrey Poss.
Greenhill & Co.'s Robert Smith and James Babski provided financial advice to GFI's special committee, while White & Case LLP's Morton Pierce and Bryan Luchs provided legal counsel.
CME received financial advice from Joel Fleck at Barclays plc and legal counsel from Rodd Schreiber and Richard Witzel at Skadden, Arps, Slate, Meagher & Flom LLP.
GFI declined comment. Officials from CME Group and BGC did not respond to calls.