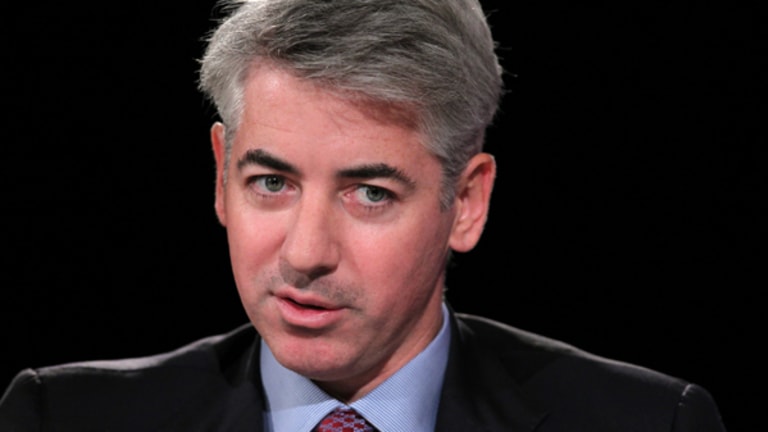 Best Ideas from the Harbor Conference: Kingdon, Locust Wood, Blackstone
The stock picks from the Harbor Investment Conference.
NEW YORK (TheStreet) - At the Harbor Investment Conference on Wednesday, Philip Hilal of Kingdon Capital Management pitched Energy Transfer Equity (ETE) , Stephen J. Errico of Locust Wood Capital Advisers spoke about NorthStar Realty Finance (NRF) , Liberty Interactive (LINTA)  and WMI Holdings and Blackstone's Jonathan Gray explained the PE giant's push into U.S. real estate.
Kingdon's Hilal said he believes Energy Transfer Equity is undervalued and will benefit as a general partner to daughter limited partner interests in Energy Transfer Partners (ETP) , Sunoco Logistics Partners (SXL) and Regency Energy Partners (RGP) . Meanwhile, Hilal said he believes a coming spinoff of Energy Transfer's Lake Charles export terminal in Louisiana into a master limited partnership (MLP) structure may not be fully appreciated by public stockholders.
The hedge funder valued Energy Transfer Equity at $60 a share, about 50% above current trading prices given organic growth forecasts at the company's daughter MLP interests.
Stephen Errico of Locust Wood Capital presented three stock picks: Northstar Realty Finance, Liberty Interactive and WMI Holdings. He said Northstar Realty's prospective spinoff of its asset management arm isn't being fully appreciated by investors. Meanwhile, Errico said he believes the firm's healthcare real estate investment trust, run by Jay Flaherty the former head of Healthcare Partners, may become far larger than the market expects.
Errico said he believes the healthcare REIT could raise over $2 billion, presenting opportunity for investors.
Regarding John Malone's Liberty Interactive, Errico emphasized the company's prospective spinoff of QVC into a tracking stock as an opportunity for investors. QVC, which allows consumers to shop at home, may garner better valuation multiples and more analysts coverage as an independent publicly traded company, Errico said.
Meanwhile, he emphasized the tracking stock will own a 38% interest in the Home Shopping Network and has a valuable Liberty Digital Commerce business that isn't fully appreciated by the market. Liberty Digital Commerce's assets include Evite and gifts.com.
Finally, as a speculative investment, Errico said he believes WMI Holdings, the shell of Washington Mutual, may be used by private equity giant KKR (KKR) - Get KKR & Co. Inc. Class A Report as an acquisition currency for future deals.
In January, KKR made a a $150 million investment in WMI Holdings debt and a $11 million purchase of the company's preferred stock, which Errico believes seeks to utilize about $6 billion in net operating losses (NOLs) remaining on the company's balance sheet. Those NOLs could be the fodder for KKR's next deal, Errico said. "Expect acquisitions to be announced sooner rather than later.
KKR didn't return an email seeking comment.
Blackstone Group
Blackstone Group's Jonathan Gray was interviewed by Pershing Square's Bill Ackman and said in a wide-ranging conversation he believed Ireland's economy was poised to rebound and that emerging markets are beginning to look attractive after months of turmoil and an exodus of foreign capital.
Gray said Blackstone has been investing in Ireland. "Ireland has definitely turned," the PE executive said. "I would say Europe's sort of bottomed," he added, expressing less optimism about continental Europe.
He added that as capital moves out of emerging markets, Blackstone may begin considering to move in. "I think for us the emerging markets are beginning to look a lot more interesting," Gray said.
Gray also took time to give more insight into Blackstone's big push into the U.S. real estate market, saying the firm's strategy was to buy assets at a discount to their replacement costs. Blackstone focused exclusively on foreclosed and bank-owned homes, generally in areas hit worst by the housing downturn.
The investment has taken longer than Blackstone expected and at higher costs, however, a 20% rise in housing markets that the firm entered was far higher than the 4% increase Blackstone had modeled.
Gray also defended Blackstone's emerging financing mechanism for its real estate investments: rental residential mortgage backed securities. Initially, Blackstone used costly bank financing to make its real estate purchases, however, the creation of rental-backed bonds has provided a cheaper and more effective mechanism. Gray said rental securities combine the diversification of traditional RMBS and the income streams of CMBS. "I have a hard time understanding why this is bad for bondholders," Gray said.