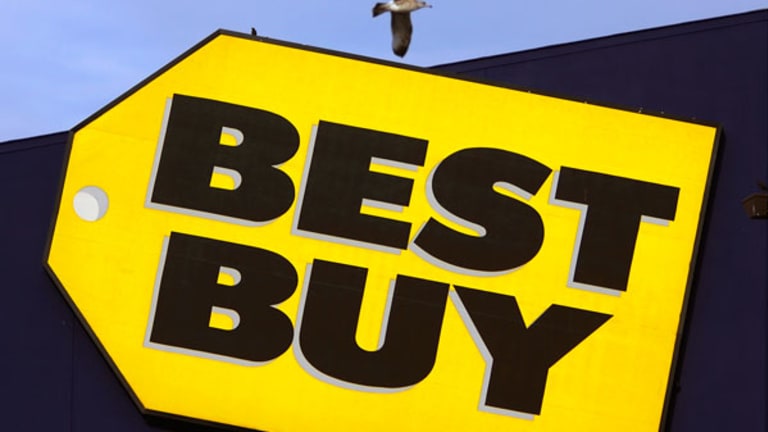 Publish date:
Best Buy: A Cynical March to a Buyout
A look at Richard Schulze's expected Best Buy takeout offer signals a warning for investors.
A look at Richard Schulze's expected Best Buy takeout offer signals a warning for investors.
NEW YORK (
) --
Best Buy
(BBY) - Get Best Buy Co., Inc. Report
founder Richard Schulze may be set to finally make a takeover offer for the struggling electronics retailer. It's too bad for shareholders that his four month long, asinine deal dance may eventually work.
TheStreet
initially compared Schulze's early August "proposal," which wasn't a formal takeout offer, to the
Carl Icahn often wields in takeover plays such as
Clorox
(CLX) - Get Clorox Company Report
. But it increasingly seems the comparison was unfair to Icahn, who can be counted on dish out substance and shareholder value creation along with his antics.
From the start, Schulze's "proposal" of a Best Buy buyout of between $24 and $26 a share was
. Now, reports from the
Minneapolis Star Tribune
indicate Schulze may offer between $5 billion to $6 billion for Best Buy, as he tries to bring the deal to close with a lowball formal offer that looks nothing like the terms proposed just months ago.
At best case, Schulze's offer may come in 30% less than his initial proposal, which valued Best Buy shares at
. That $6 billion bid may seem like a relief to shareholders given that the company's shares stood at $12.18 a share as of Wednesday's close and its market cap of little more than $4 billion. Best Buy shares surged over 15% in early Thursday trading.
>>> Also see: Fiscal Cliff Be Damned: A Card-Carrying Bull for 2013
But Shulze may just being throwing a lifeline to Best Buy shareholders after tossing them overboard.
A closer look at the chronology of Best Buy's takeover play indicates there was no good reason for Schulze's initial specious bid to have ever made it to the company's board and shareholders. After all, there was nothing to vote on.
When Schulze made his first "proposal," he said a deal as high as $26 a share already had the financing of investment bank
Credit Suisse
(CS) - Get Credit Suisse Group AG Sponsored ADR Report
and a consortium of unnamed private equity firms. All Schulze said he needed was the ability to conduct due diligence and the support of management to wave arcane Minnesota-state laws surrounding M&A, according to a letter to company management.
Schulze's claim that due diligence was a necessary precursor to a formal offer seemed sketchy from the outset - he after all founded and chaired the company. Still, Best Buy relented and opened its books.
In retrospect, it's hard to see Schulze getting any special insight into Best Buy's finances in his supposed due diligence that goes beyond the two horrendous
the company publicly reported since his proposal was first floated.
How will Schulze justify to Best Buy management or shareholders a reported 30%-plus price cut on the offer?
The reality is Schulze can't explain what drove his initial proposal lower, other than a wait-and-see approach to Best Buy's earnings going into a make-or-break holiday season for the company.
There's an obvious alternate narrative to the whole process: Schulze was playing a parlor game and now has the company's management and investors with no hand left to play.
NBG Productions chief equities analyst Brian Sozzi says the reports of an imminent bid by Schulze are likely to materialize in something tangible for investors by year end. "He'll make the offer soon. You'll see that rejected and another bid in January," says Sozzi of how he expects Schulze's takeover to play out. While Sozzi says Schulze may open his offer at as low as $17 a share, he's likely to convince management and investors to sell at roughly $21 a share.
Sozzi also says the takeover drama was an act of gamesmanship."
Schulze played his hand perfectly. He's waited these guys out and now he's kind of won," says Sozzi, of Best Buy's limited options.
Still, it's hard to feel bad for shareholders who might have seen the initial $24 to $26 a share "proposal" as an actual takeout price.
Best Buy shares last traded over $20 in the wake of Schulze's proposal.
The company's faced obvious competitive pressure from the likes of
Amazon
(AMZN) - Get Amazon.com, Inc. Report
and
Wal-Mart
(WMT) - Get Walmart Inc. Report
for years and the company's board, which was chaired by Schulze until a scandal caused his ouster earlier in 2012, has done little to adapt to a fast-changing retail market. The recent appointment of Hubert Joly as CEO faced stiff criticism and only tracks a narrative of mismanagement.
The debt-financed takeout Schulze may unveil is also about the last thing Best Buy and its employees need financially. Already the company is rated junk by rating agencies, and its cash balances indicate increasingly limited financial flexibility for a prospective turnaround.
In Best Buy's most recent earnings, cash and cash equivalents at the retailer fell to $309 million, from over $2 billion a year ago. Meanwhile, the headline on Best Buy's
is equally dire. "Best Buy Confirms Significant Decline in Fiscal Third Quarter 2013 Earnings," wrotes the company in late November.
>>> Also see: Europe Gets Bank Police, Market Says 'Meh'
When Schulze made his initial proposal, ratings agencies cautioned that a debt financed takeout could further cloud Best Buy's financial picture. In reaction to the proposal, ratings agency Standard & Poor's downgraded Best Buy's bonds to BB+, a sub investment grade rating otherwise known as 'junk,' as a result of Schulze's proposal.
"
A meaningfully debt-financed transaction by Mr. Schulze would weaken Best Buy's credit protection metrics considerably from current levels," wrote S&P credit analyst Jayne Ross in the Aug. 6 downgrade, which also cited concerns about the company's current business model and competitive pressures in the retail sector.
In the case of a Best Buy buyout, there appear to be few winners. Best Buy investor may be forced to sell near 10-year lows for the company's stock. Meanwhile, the probability that Best Buy succeeds becomes increasingly remote with every billion in debt Schulze's prospective takeout adds to the company's balance sheet.
Still, there may be justice. The company's takeover has always been a case of caveat emptor and no person may find this out more than Schulze, who owns roughly 20% of Best Buy shares and could face further losses in a takeover.
Follow @agara2004
-- Written by Antoine Gara in New York