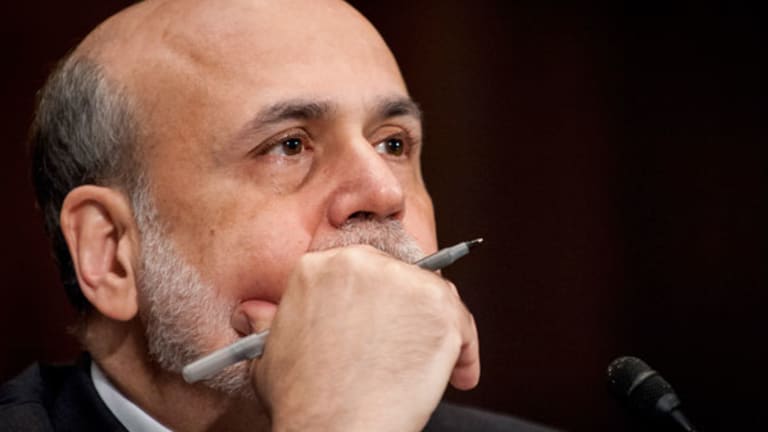 Bernanke AIG Testimony Should Cheer Fannie, Freddie Plaintiffs
Progress in one improbable high stakes battle fuels hope for another.
Progress in one improbable high stakes battle fuels hope for another.
NEW YORK (
) -- The fact that Federal Reserve Chairman Ben Bernanke will be required to testify in a lawsuit brought by former
AIG
(AIG) - Get Report
boss Hank Greenberg against the U.S. government is good news for investors in
Fannie Mae
(FNMA)
and
Freddie Mac
(FMCC)
who are fighting a similarly improbable battle over key government decisions affecting billions of dollars of investments.
Greenberg, one of AIG's largest shareholders when the government bailed out the giant insurer in Sept. 2008, argues the government overstepped its authority and trampled on the rights of investors by taking a large stake in the company on what he claims were unfairly onerous terms.
While many observers dismiss his lawsuit as quixotic, it was given more legitimacy Monday when a Federal Claims Court judge William Wheeler ruled Bernanke must testify in the case.
"The Court cannot fathom having to decide this multi-billion dollar claim without the testimony of such a key government decision-maker," Wheeler wrote in rendering his decision Monday.
Fannie and Freddie shareholders have also filed at least four lawsuits in recent weeks, challenging, among other things, the government's
in August 2012 to sweep all the profits of the Government-sponsored enterprises into the Treasury. Boies, Schiller & Flexner is representing Greenberg in his case against AIG as well as some of the AIG shareholders.
The fact that David Boies, possibly the most prominent Democratic litigator in the U.S., not to mention Ted Olson of Gibson Dunne & Crutcher, arguably the most prominent Republican litigator, are both representing GSE shareholders in different lawsuits against the government, may be all the evidence anyone needs to see that these lawsuits are unlikely to be easily dismissed. But the requirement of Bernanke to testify, in what is arguably a more difficult case since Greenberg is largely on his own in bringing the lawsuit, nonetheless makes it appear even more likely GSE shareholders will get a serious hearing.
--
Written by Dan Freed in New York
.
Disclosure: TheStreet's editorial policy prohibits staff editors, reporters and analysts from holding positions in any individual stocks.