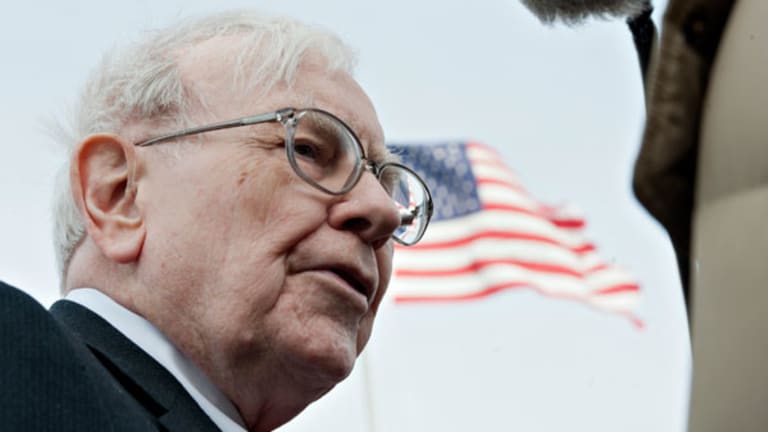 Berkshire's Renewable Energy Investment to Hit $15 Billion
Warren Buffett said MidAmerican Energy will invest $15 billion in renewable energy.
NEW YORK (TheStreet) -- Berkshire Hathaway's (BRK.A) - Get Berkshire Hathaway Inc. Report utility MidAmerican Energy will have spent $15 billion on renewable energy investments by the time a handful of wind and solar projects are completed in the next few years. Warren Buffett, head of Berkshire Hathaway, disclosed the renewable investment figure in his annual letter to shareholders released on Saturday.
"We relish making such commitments as long as they promise reasonable returns. And, on that front, we put a large amount of trust in future regulation," Buffett said
MidAmerican's utilities serve regulated retail customers in 11 states and the company is the industry's leader in renewables.
"From a standing start nine years ago, MidAmerican now accounts for 7% of the country's wind generation capacity, with more on the way," Buffett said. "Our share in solar -- most of which is still in construction -- is even larger." 
The costs of many recent MidAmerican deals, especially in solar energy, haven't been disclosed. MidAmerican's $15 billion investment, however, indicates that renewable energy is one of Berkshire Hathaway's biggest investment priorities.
Buffett characterized the renewable investment as in Berkshire's self-interest, and did not mention such issues as climate change as reason for the large investment.
"Our confidence is justified both by our past experience and by the knowledge that society will forever need massive investments in both transportation and energy," Buffett said. "It is in the self-interest of governments to treat capital providers in a manner that will ensure the continued flow of funds to essential projects."  
He concluded, "It is meanwhile in our self-interest to conduct our operations in a way that earns the approval of our regulators and the people they represent."
First Solar, SunPower Deals

Through investments in solar energy plants built by the likes of First Solar (FSLR) - Get First Solar Inc. Report and SunPower (SPWR) - Get SunPower Corporation Report, MidAmerican Energy has bought three of the largest solar energy plants in the world.
The utility is poised to be among the world's top generators of renewable energy by 2015. Already, Berkshire's energy subsidiary is the top generator of wind energy in the U.S. and has renewable assets of 1,830 megawatts, according to company projections.
Such acquisitions as NV Energy and Berkshire's stated plan for $100 billion in capital expenditure at MidAmerican Energy over the next 10 to 15 years also indicate Berkshire will be an aggressor in the utilities sector in coming years.
-- Written by Antoine Gara in New York