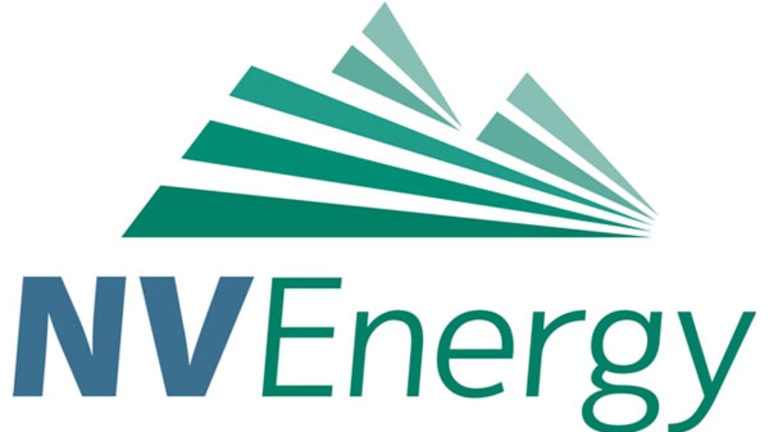 Publish date:
Berkshire's Alternative Energy Plans Shine in NV Energy Deal
NV Energy's takeover underscores Berkshire Hathaway's ambition in alternative energy.
NV Energy's takeover underscores Berkshire Hathaway's ambition in alternative energy.
NEW YORK (
) --
Berkshire Hathaway
(BRK.A) - Get Report
subsidiary
MidAmerican Energy's
$5.6 billion
for Las Vegas utility
NV Energy
(NVE)
sheds light on the conglomerate's plans in renewable energy as large investments in solar energy plants built by
First Solar
(FSLR) - Get Report
and
SunPower
( SPRW) come online in coming years.
MidAmerican Energy, which recently bought three of the
in the world, is poised to be among the world's top generators of renewable energy by 2015. Already, Berkshire's energy subsidiary is the top generator of wind energy in the U.S. and has renewable assets of 1,830 megawatts, according to company projections.
Acquisitions such as NV Energy and Berkshire's stated plan for $100 billion in capital expenditure at MidAmerican Energy over the next 10 to 15 years also indicate Berkshire will be an
in the utilities sector in coming years.
Wednesday's deal, which values NV Energy at $23.75 a share, or an enterprise value of about $10 billion, will allow MidAmerican Energy to scale its significant investment in solar and wind energy generation, according to Wall Street analysts.
Also see: Short Sales Decline Amid Rising Home Prices: RealtyTrac >>
"NV Energy's desire to invest in renewables and related transmission assets in Nevada parallels
MidAmerican' Energy's significant investments in wind and, more recently, solar generation," Peter D. Quinn a Bank of America Merrill Lynch analyst wrote of Wednesday's acquisition.
MidAmerican's three solar plant investments, for instance, take advantage of California's goal to shift its energy generation mix towards renewable energy in coming years.
NV Energy will also complement Mid American's natural gas pipeline infrastructure, particularly in the western parts of the U.S.
MidAmerican Energy will pay a 23% premium for Las Vegas-based NV Energy over Wednesday's closing price of $19.28, however, the deal is just a 9.8% premium to NV Energy's 52-week high hit on April 30, according to Quinn of BAML.
MidAmerican's acquisition has already been agreed by both companies' boards of directors. However, it will face review by Nevada officials given NV Energy's status as a regulated utility. The deal will also face review by the
Department of Justice
and the
Federal Energy Regulatory Commission
, according to Citigroup analysts.
Also see: Mortgage REIT Sell-Off Overdone on Rate Fears: KBW, RBC >>
"
There doesn't appear to be any antitrust issues at the surface," writes Shahriar Pourreza of Citigroup, who highlights the Nevada Public Utilities Commission as the regulator that may push back against Wednesday's deal, given the prospect of job cuts and synergy.
MidAmerican expects to complete its acquisition by the first quarter of 2014 and will operate NV Energy as a separate corporate subsidiary under its current name. The company will continue to be headquartered in Las Vegas, according to a press release.
"
We will have the opportunity to combine MidAmerican's expertise in renewable energy with Nevada's vast renewable resources for the benefit of our customers and our state," Michael Yackira, President and CEO of NV Energy, said in a statement.
Upon completion of the proposed acquisition, MidAmerican Energy will have assets of approximately $66 billion and its regulated electric and gas utilities will serve 8.4 million customers. The company may also become America's largest utility by customer accounts.
"We expect the rationale of the deal to be a combination of a desire to own a risk averse stream of cash flows, exposure to the US housing recovery, potential exposure to the California energy / renewable market," Kevin Cole, a Credit Suisse analyst noted in a report.
Also see: Pickup Demand Helps Ford, GM and Chrysler to May Gains >>
Wednesday's deal furthers Berkshire's commitment to MidAmerican Energy and keeps the company on track for as much as $100 billion in spending in the energy sector over the next 10-to-15 years. It also fits Berkshire's investment in a widespread U.S. economic recovery through investments with exposure to the housing market.
Berkshire's head Warren Buffet characterized NV Energy as a long-term bet on Nevada's recovering economy.
"This is a great fit for Berkshire Hathaway, and we are pleased to make a long-term investment in Nevada's economy," Buffett said in a statement, while praising NV Energy's management and assets.
In Berkshire's 2011 annual shareholder meeting, Buffett and lieutenant Charlie Munger indicated they would be investing heavily in MidAmerican and the overall U.S. energy sector in coming years, leading to some expectations of
utilities-focused acquisitions
.
"MidAmerican Energy may have an opportunity to deploy as much as $100 billion over the next 10 to 15 years at very reasonable rate," Munger said at the shareholder meeting.
In Berkshire's 2012 shareholder letter, Buffett highlighted that nearly 90% of the conglomerate's spending was done in the U.S.
Lazard was financial adviser to NV Energy and Sidley Austin LLP, Hogan Lovells and Reno-based Woodburn and Wedge acted as legal advisers.
10 Dividend Rich, M&A Ready Utility Stocks
-- Written by Antoine Gara in New York