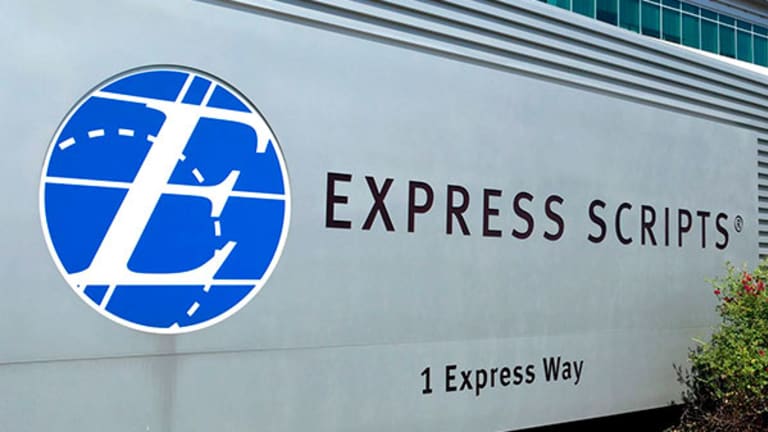 Behind the War Between Health Insurers and Pharmacy Benefit Managers
More competition could help overcome the suspicion over drug prices that plagues the would-be business partners' dealings.
Pharmacy benefit managers and health insurance companies, in theory, should be close partners.
But Anthem's (ANTM) - Get Anthem, Inc. Reportprotracted litigation with its PBM, Express Scripts (ESRX) , and its decision in April not to renew their contract when the current one expires at the end of 2019 shows how fraught the relationship can be.
The job of PBMs is to negotiate lower prices from drug manufacturers and pass the savings on to insurers and patients, keeping a cut for themselves. Whether PBMs are passing on enough of the savings or keeping the biggest shares for themselves is a long-running bone of contention that has created suspicion between them and their insurance company partners and among patients and elected officials worried about high drug prices.
Insurers have struggled to respond to questions surrounding PBM practices. Anthem is trying litigation against Express Scripts. UnitedHealth (UNH) - Get UnitedHealth Group Incorporated Report runs its own standalone PBM, OptumRX. Cigna (CI) - Get Cigna Corporation Report does much of its own drug price negotiation through an in-house PBM.
Because of the uncertainty over where PBMs best fit into the drug distribution chain, the three managers that dominate the PBM business each have a different business model. Express Scripts is the only independent among the Big Three. Optum is part of an insurance company and CVS Health (CVS) - Get CVS Health Corporation Report, the country's largest pharmacy chain, runs CVS Caremark.
The uncertainty has also led to continual consolidation of PBM ownership and speculation that insurers and retailers are trying to expand their presence in the business of negotiating drug prices. Express Scripts has been eyed as a possible takeover candidate after with the eventual loss of Anthem, its top customer. By some estimates, Express Scripts could fetch $60 billion from a buyer like Walgreens (WBA) - Get Walgreens Boots Alliance Inc Report . Walgreens will get to test drive the PBM business if it ever wins federal approval to buy drugstore rival Rite Aid (RAD) - Get Rite Aid Corporation Report , which bought small PBM EnvisionRx in June 2015.
Other big PBM deals in recent years include Express Scripts' $29.1 billion acquisition of Medco Health Solutions Inc.in April 2012.
Going forward, there's talk that Cigna and Anthem may each want to operate their own standalone PBMs.
"It's a very complex industry," said Jane Lutz, executive director at the Pharmacy Benefit Management Institute. The Big Three CVS, Express Scripts and OptumRX have three-quarters of the market share and their valuation propositions vary along with their approaches to driving drug prices lower also vary.
The process is so baffling to employers that buy insurance for employees that they seek outside help evaluating just the PBM component of their benefits package. Says Lutz, "90% of employers hire consultants to help them manage that process."

The opacity of the PBM business, particularly because PBMs don't reveal the prices they negotiate with their drug manufacturers even to their insurance company partners, has led to legislation on Capitol Hill to require more transparency and to activist campaigns at PBMs and drugmakers.
On May 18 Kynikos Associates' James Chanos, famous for his shorting campaign at Enron, argued that shares of Mallinckrodt (MNK) - Get Mallinckrodt Plc Reportwill fall when the government investigates a "murky" alliance between Mallinckrodt and Express Scripts. In November the Department of Justice filed charges against former Valeant Pharmaceuticals (VRX) executives for engaging in "a multi-million dollar fraud and kickback scheme" involving pharmacy benefit manager Philidor Rx Services.
On the legislative front, little is likely to happen in the Republican-controlled Congress, despite President Trump's campaign pledge to fight for lower drug prices. Interference in what is seen as a marketplace negotiation isn't likely to get much traction with GOP lawmakers. The real action may be with Scott Gottlieb, Trump's appointee to run the Food and Drug Administration, who has called for replacing the current PBM model, in which drug manufacturers compete to be included on insurance company approved lists—dubbed formularies—by offering rebates to the PBMs based on the volume of a drug's sales. Some but not all of that rebate is passed along to insurers. That system encourages drugmakers to push the upfront price as high as possible. Gottlieb has called for negotiation of upfront drug discounts instead and the elimination of the rebate system.
If Gottlieb's suggestion is implemented, "the role and influence of PBMs in formulary selection would vanish," wrote Adam Fein, editor of the blog Drugchannels in a March 14 post.
Insurers aren't waiting to see how the situation in Washington shakes out. To move away from a system that rewards drug makers for the volume of drugs sold, several insurers are experimenting with value-based pricing that pays drugmakers more when their drugs prove effective at lowering costs of treating patient populations, particularly those with chronic conditions like diabetes, multiple sclerosis, hepatitis C and high cholesterol, which account for a huge percentage of health care costs.
Editor's pick: Originally published May 26 at 8 pm ET.
CVS and Express Scripts have negotiated rebates and discounts with manufacturers based on a drug's effectiveness treating a particular indication. According to Leerink analyst David Larsen, Express Scripts has required drugmakers to rebate the company and its insurance company sponsors as much as two-thrids of the cost of a drug if performs unsatisfactorily.
Cigna is trying that approach too and recently received a PBMI excellence award for its program. Lutz said PBMI admired Cigna's efforts because the insurer is integrated with claims processing, its PBM, and a home delivery pharmacy.
"Theoretically a value-based program should reduce the cost of care, but because there's a lag in processing claims and reporting data so it's hard to quantify the results," Lutz said. "What stuck us about Cigna's submission is its ability to look at the total healthcare equation."
Cigna CEO David Cordani told analysts during the company May 5 earnings call that the insurer has established seven value-based contracts with drugmakers.
Cigna, he said, is trying "to change the reimbursement model with drug manufacturers from volume to value."
Andrew Selesnick, a shareholder in Buchalter PC and a lawyer in the firm's litigation and healthcare practices, said insurers might like to but generally can't ditch PBMs. "Insurers have a love/hate relationship with them," he said. "They need the access to drug manufacturers that PBMs' scale provides."
Although there's no figures to help insurers gauge how much they really save, PBMs do "keep costs down in a relative sense," Selesnick said. "If insurers can save 5%, they'll take it."
In the wake of the federal government's decisions to block the mergers of Anthem with Cigna and Aetna with Humana, he thinks the next round of industry moves could be for insurers to set up their own full service PBMs. "One thing that could come out of the failed mergers could be the large insurers going into the PBM business." Selesnick said.
A return to almost half a dozen large PBMs could give the business the scale and negotiating leverage it needs to truly drive down drug prices.  
"If the Big Three becomes the Big Five, it could make a difference," he said.
Trending stories on TheStreet: