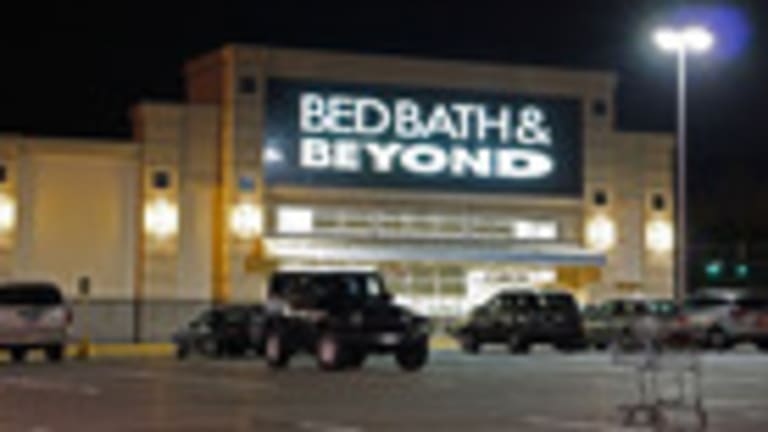 Bed Bath & Beyond Is Looking More Like a Potential Buyout Target
A deal seemed far-fetched, until Leonard Green & Partners disclosed in a 13F filed with the SEC that it had accumulated nearly 1 million shares in the retailer.
NEW YORK (The Deal) -- For about a year, retail industry watchers have pegged Bed Bath & Beyond (BBBY) - Get Report as a potential buyout target, but such a deal may have seemed a bit far-fetched, until now.
On May 15, Leonard Green & Partners disclosed in a 13F filed with the Securities and Exchange Commission that it had accumulated nearly 1 million shares in the Union, N.J.-based retailer.
Instead, the firm sticks to full-on leveraged buyouts. By taking a small stake in Bed Bath & Beyond, Leonard Green is suggesting to the home furnishings retailer's board that it is serious about acquiring the business.
A buyout firm will sometimes approach a publicly traded company about a potential deal, the industry source said.
The company, uncertain about the seriousness of the approach, usually gives the suitor the cold shoulder because it doesn't want to distract its management by engaging in talks if the flirting turns out to be fleeting. Amassing even a small stake, as Leonard Green has done here, can sometimes get the board to the bargaining table.
The move could also be a signal for activists to get involved and nudge the potential target into talks. And investors bidding the stock up on the news of Leonard Green's stake does put pressure on the board and management to prove that they are carrying out their fiduciary duties.
As previously reported, activist firms have become more willing in recent years to assist private-equity firms in LBOs by essentially putting a company on the auction block or reviving continuing but stalled deal talks.
Neither Bed Bath & Beyond nor Leonard Green responded to requests for comment.

Despite the headwinds that a more traditional brick-and-mortar retailer such as Bed Bath & Beyond appears to face, it is actually one of the more attractive LBO candidates on the retail landscape.
The company has significant and stable cash flow and adjusted earnings before interest, depreciation, taxes and amortization estimated to be close to $1.8 billion for its fiscal year ended Feb. 28, according to data provided by Bloomberg.
And revenue is expected to keep growing.
Moreover, Bed Bath & Beyond has remained viable, despite the onslaught of e-commerce.
One industry expert pointed out that the retailer continues to be a key destination for big events in consumers' lives: new homeowners outfitting their digs or college students decorating their dorm rooms.
The retailer is a one-stop shop with a wider selection than most other stores, an industry source said.
So consumers actually may find it easier to get everything they need -- furniture, utensils, linens, smoke alarms, hamster wheels -- in one trip, rather than hunt around online.
Not only has Bed Bath & Beyond remained relevant, but the company has been conservative financially over the years, preserving cash and keeping its debt low at nearly $1.5 billion, or less than one times EBIDTA. That is the kind of balance sheet that private-equity firms find attractive.
And its enterprise value is nearly $12.9 billion, based on its market capitalization of close to $12.4 billion while adding debt and subtracting cash. That is a multiple of almost 7.2 times EBITDA, still within range of what buyout firms historically have considered LBO territory.
The company achieved that multiple, despite a run-up in its stock from a 52-week-low of $54.96 a share to Wednesday's close of $71.16 a share.

So the company is doing well.
But Bed Bath and Beyond is a mature business in a market that values youthful disruption over sober steadiness. If Leonard Green -- or another suitor -- can come up with the right price, executives might prefer to face that challenge beyond Wall Street's critical gaze.