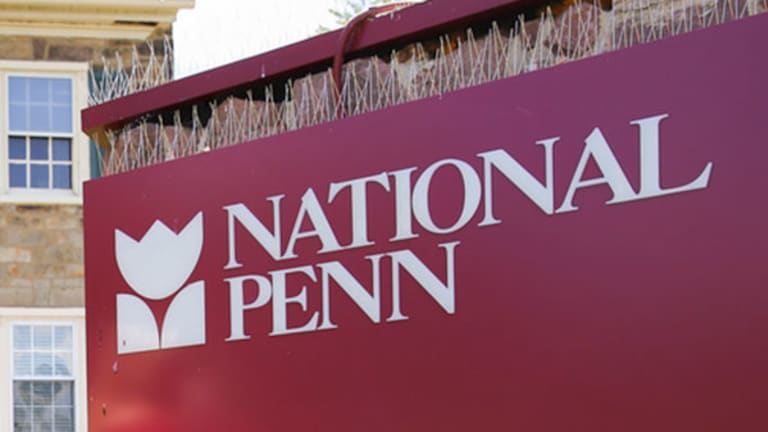 BB&T Expands With $1.8 Billion National Penn Deal
BB&T's latest deal puts it on track to be fourth-largest bank in Pennsylvania by deposits.
NEW YORK (The Deal) -- Fresh off the Federal Reserve's approval of another deal, BB&T (BBT) - Get Free Report has agreed to acquire Allentown, Pa.-based National Penn Bancshares (NPBC) for approximately $1.8 billion, BB&T announced Monday.
BB&T, based in Winston-Salem, N.C., paid 2.2 times tangible book for National Penn and expects the deal, which will consist of 30% cash and 70% stock, to close in mid-2016. The bank will add $9.6 billion in assets to its balance sheet as well as 124 bank branches in Pennsylvania, New Jersey, and Maryland to make BB&T the fourth largest bank by deposit market share in Pennsylvania. BB&T will mostly expand its footprint in Eastern Pennsylvania and the Philadelphia market.
Deal talks between the two banks began about 90 days ago, National Penn CFO Michael Hughes said in a phone interview. The deal was a directly negotiated deal with BB&T, he said. After the Fed approved BB&T's $2.5 billion acquisition of Lititz, Pa.-based Susquehanna Bancshares Inc. in July, National Penn became more attractive to the bank, he added.
As National Penn started approaching the $10 billion in assets mark, the bank believed it made most sense to sell, Hughes explained.
National Penn president and CEO Scott Fainor will be named group executive at BB&T, and will oversee several markets with deposits in excess of $30 billion in Pennsylvania and neighboring states, the BB&T announcement said. The bank also announced that it plans to establish a fourth community banking region based in Allentown and will name National Penn chief banking officer David Kennedy president of the region.
BB&T chairman and CEO Kelly King said "the acquisition of National Penn provides a tremendous opportunity to strengthen our franchise in Pennsylvania and continue building the scale necessary to operate efficiently."
There have been a slew of deals in Pennsylvania recently, also including Pittsburgh-based FNB's acquisition of Harrisburg, Pa.-based Metro Bancorp for $474 million earlier this month.
FBR Capital Markets analyst Bob Ramsey said one of BB&T's motivations in the Susquehanna deal was to deepen its franchise in Pennsylvania markets. With extensive geographic overlap between National Penn and Susquehanna branches, the two deals together make good strategic sense, he continued.
National Penn was not actively seeking a buyer prior to being approached by BB&T, given Warburg Pincus' exit from the bank in March at $10.50 a share, Ramsey said. If the bank had considered a sale, it would've made more sense when private equity was still involved, he said.
BB&T will continue to look for acquisitions, especially in Pennsylvania, Ramsey said, although the bank will need time to digest its recent deals. For example, the take-out of Susquehanna and National Penn will give Lancaster, Pa.-based Fulton Financial (FULT) - Get Free Report scarcity value, which will make it more attractive to potential acquirers, Ramsey said.
Another bank with an even larger presence in Pennsylvania, Indiana, Pa.-based First Commonwealth Financial  (FCF) - Get Free Report, will also become more attractive to buyers looking to grow in Pennsylvania, he said.
Jimmy Dunne and Emmett Daly of Sandler O'Neill provided financial advice to National Penn, while Edward D. Herlihy, Matthew M. Guest, Brandon C. Price, and Jeannemarie O'Brien of Wachtell, Lipton, Rosen & Katz provided legal counsel to National Penn.
Venkat Badinehal, Jason Braunstein and Eric Martinez of Deutsche Bank Securities served as financial advisor to BB&T, while Paul Scrivano, Chris Del Rosso, Robert Fisher, Bimal Patel and Angola Russell of O'Melveny & Myers served as legal counsel.