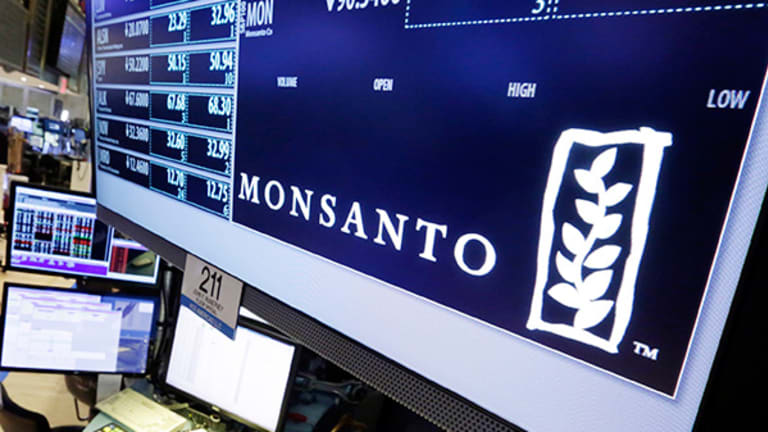 Bayer's New Bid Seen as Close to Monsanto's Price
Antitrust issues are substantial but could be overcome.
The risk arbitrage market does not seem to be buying that there is another option for Monsanto Co. (MON) than a sale to Bayer AG.
Monsanto has been suggesting there might be an alternative in the wings to the Bayer $58 billion stock merger offer that was raised Tuesday to $127.50 from an initial offer in May of $122 per share. That offer subsequently was bumped to $125.
While the expectation had been that Monsanto was asking for $135 per share, arbs are expecting the situation to end with a definitive agreement in the $129 to $130 range.
The prospects of another deal, either a spoiler bidder or some restructuring alternative are remote, arbs said.
There is some possibility that the final price could break $130 given that Bayer has only gone up about 5% from its initial public offer, an arb said. Another 5% bump would not be out of keeping with how unsolicited offers come to completion, which could get you to $134, the arb said. But companies with a German shareholder base have typically been reserved in unsolicited approaches and the Bayer base reportedly has some hesitations about the approach, he said.
Bayer Tuesday confirmed "advanced negotiations with Monsanto concerning a proposed transaction. While key terms and conditions have not yet been agreed, Bayer would be prepared to provide a transaction consideration of $127.50 per Monsanto share only in connection with a negotiated transaction. There can be no assurance that the parties will enter into an agreement."
A deal would be expected to take at least a year to pass through the regulatory process in the U.S. and Europe.
Monsanto shares traded essentially flat Tuesday on the increased offer from Bayer, reflecting a dimming hope for a bid north of $130 per share. At $107.50, Monsanto traded at a spread of $20, or 19%, to the current proposal. Without dividends, that represented an annualized return of about 16% to an Oct. 31, 2017 deal close. One arb speculated that with a definitive agreement that spread would narrow to roughly 10%, allowing for timing and antitrust risks.
Shares were up trading at $106.23 midday Wednesday.
Regardless of completion risks, the deal is doable, with BASF AG already indicating an interest in purchasing divestitures required to get a deal done, an arb said.
It sounds like there is a merger agreement under negotiation, which tells you the seller is open to a deal, at a price, which seems close, and under the right protections as far as a break-up fee goes, which apparently is also under negotiation, an arb said. Since this has been going on for several months, that suggests that a deal is likelier to happen than not. Monsanto shares are not that rich at this juncture, but certainly don't suggest the market expects a competing offer to the Bayer approach, the arb said.
EDITORS' NOTE: This article was originally published by The Deal, a sister publication of TheStreet that offers sophisticated insight and analysis on all types of deals, from inception to integration. Click here for a free trial.