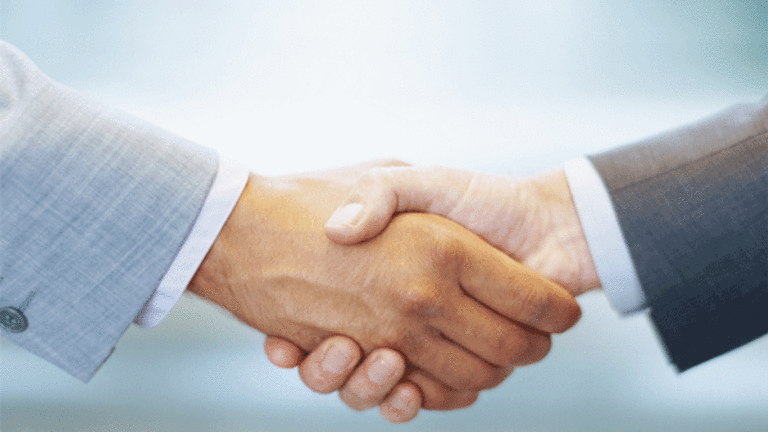 The Deal: Bayer Inks Deal With Israel's Compugen
Tie-up could bring $540 million for Compugen's cancer immunotherapy treatments.
NEW YORK (TheStreet) -- Germany's Bayer HealthCare (BAYRY) - Get Bayer AG Report is broadening its options for cancer pipeline candidates in a new deal with Tel Aviv-based Compugen (CGEN) - Get Compugen Ltd. Report.
Bayer said Monday, Aug. 5, it has signed a collaboration and license agreement with Compugen to research, develop and commercialize antibody-based therapeutics for cancer immunotherapies against two targets identified by the Israeli company.
Compugen could get more than $540 million for the deal. It is receiving an up-front payment from Bayer of $10 million and is eligible to receive more than $500 million in potential milestone payments for both programs. The deal also would provide up to $30 million in preclinical milestones.
Should either drug be approved for marketing, Compugen could also get mid-to-high single-digit royalties on global net sales.
Antibody-based immunotherapies, which stimulate the body's own immune cells to fight cancer cells, caused quite a stir at the recent meeting of the American Society of Clinical Oncology.
For example, both
Bristol-Myers Squibb
(BMY) - Get Bristol-Myers Squibb Company Report
and
Merck
(MRK) - Get Merck & Co., Inc. Report
showed positive data and received a lot of chatter about their respective anti-programmed death receptor 1, or anti-PD1, immunotherapies. Bristol's nivolumab is approaching Phase 2 trials for solid tumors and Merck's lambrolizumab is in Phase 2 for melanoma.
"Immunotherapy is one of our focus areas in oncology," Andreas Busch, head of Bayer's Global Drug Discovery, said in a statement.
Compugen chief executive Anat Cohen-Dayag said, "We believe that the prediction and validation of these two targets, through the use of our broadly applicable predictive discovery infrastructure, provides additional validation for our long-term commitment to establishing this unique capability."
The two targets are novel immune checkpoint regulators that are believed to play a role in immunosuppression. The antibody drugs would block the immunosuppressive function of the targets and reactivate the patients' anti-tumor immune response to fight the cancer.Even though therapeutic antibodies represent one of the fastest-growing areas of drug development, it is still difficult and time consuming to generate antibodies with the specific biological and therapeutic functions required to modify the right genetic targets. Compugen's Predictive Structural Biology infrastructure platform identifies functional interaction sites of proteins, providing the basis for rational drug design.
Compugen also relies on its earlier PPI Blockers discovery platform to conduct molecular analysis of antibody-antigen interactions.
In 2012, the company established a presence in California to develop oncology and immunologic monoclonal antibody therapeutic candidates.
The company also has an affiliate,
Evogene
, that develops products for agricultural biotechnology.
Bayer has a small but growing cancer franchise. Last year the company received approval in the U.S. for Stivarga, for which it has partnered with
Onyx Pharmaceuticals
(ONXX)
. The drug is an oral multikinase inhibitor to treat metastatic colorectal cancer.
The approval builds on the Bayer/Onyx franchise in Nexavar, approved first in the U.S. in 2005. It is indicated for primary kidney cancer and advanced primary liver cancer.
In May, Bayer gained FDA approval to use Xofigo for treatment-resistant prostate cancer and associated bone metastases. Algeta ASA is its partner on Xofigo.
Compugen trades on Nasdaq under the ticker CGEN. Its stock closed up Monday 44.5% on the news at $7.89 per share.
-- Written by Pamela Taulbee in New York