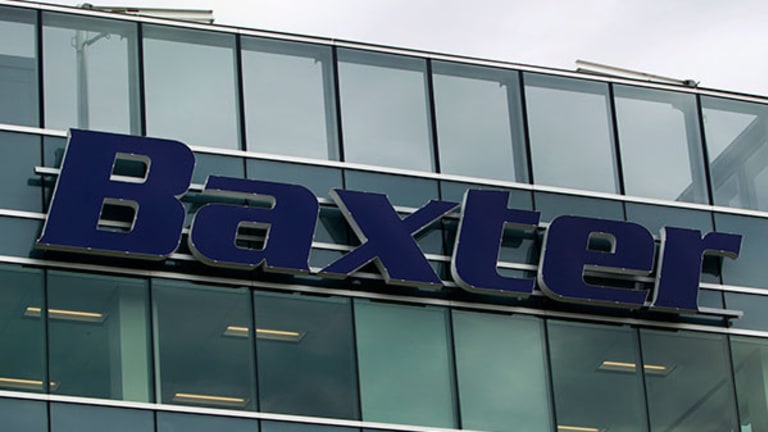 Baxter International to Split In Response to Macro Challenges
Baxter International's split was also characterized as a response to diverging dynamics between the two businesses and a rapidly changing macro-environment.
NEW YORK (TheStreet) - Healthcare giant Baxter International (BAX) - Get Baxter International Inc. Report said on Thursday it would split its pharmaceuticals business and its medical devices businesses into two publicly traded companies, allowing the two units to map out their own growth strategies and product offerings. The split was also characterized as a response to diverging dynamics between the two businesses and a rapidly changing macro-environment.
Baxter's pharmaceuticals business, BioScience, generated about $6 billion in 2013 revenue. It's portfolio of recombinant and plasma-based proteins treat hemophilia and other bleeding disorders, and its plasma-based therapies treat immune deficiencies, alpha-1 antitrypsin deficiency, burns and shock, and other chronic and acute blood-related conditions.
Baxter shares were rising over 15% in pre-market Thursday trading to $80.70.
The company's medical products business generated $9 billion in 2013 revenue and consists of a portfolio of intravenous (IV) solutions and nutritional therapies, drug delivery systems and administration sets, premixed and other injectable drugs, as well as inhalation anesthetics and hospital-based biosurgery products. The unit continues to integrate Gambro AB, a recent acquisition. Baxter said as an independent company, the medical products division will on geographic expansion and increased penetration in its existing network.
Both companies will remain headquartered in Illinois. Robert L. Parkinson, Jr., will serve as chairman and CEO of the medical products company, which will retain the Baxter International name. BioScience's current president, Ludwig N. Hantson, Ph.D., will be named chief executive officer of the new biopharmaceuticals company, which has yet to be named.
The split will occur in a tax-free distribution to Baxter shareholders and is expected to be completed by mid-2015.
"Baxter has an established history of executing successful spinoffs, and we have continued to evaluate the separation of these two businesses in response to diverging business dynamics and the rapidly changing macro-environment," Baxter CEO Parkinson said in a statement. "This decision underscores Baxter's commitment to ensuring its long-term strategic priorities remain aligned with shareholders' best interests."
Abbot Laboratories (ABT) - Get Abbott Laboratories Report recently completed a similar split, separating its AbbVie (ABBV) - Get AbbVie, Inc. Report pharmaceuticals unit. 
Exclusive of dividend payments, Baxter shares had fallen over 1% in the 12-months of trading as of Wednesday's close.
-- Written by Antoine Gara in New York