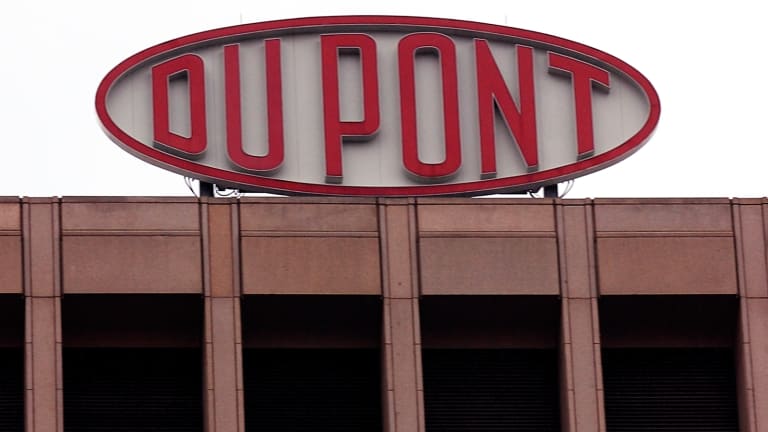 BASF Spoiler Bid for DuPont a Remote Possibility
BASF wants to break up the planned merger of DuPont and Dow, but that likelihood seems slim.
DuPont (DD) shares are trading above their value in the $56 billion merger with Dow Chemical (DOW) on speculation BASFundefined could pursue a spoiler bid, but that likelihood seems slim.
DuPont traded Monday at a premium of about $1.40, including a long and short dividends, to the value of the Dow/DuPont stock deal. BASF is reportedly talking to advisers about an approach to DuPont.
DuPont and BASF both declined to comment on the market speculation. 
Some risk arbitrageurs found the likelihood of a BASF spoiler bid to be low. TheStreet's Jim Cramer, whose charitable trust, Action Alerts PLUS, holds Dow, also doesn't expect that to happen.
According to Cramer and AAP Research Director Jack Mohr, while it is possible BASF could snap up some of the assets Dow/DuPont would be forced to shed because of the merger, "when it comes to the possibility of DuPont breaking off with Dow in lieu of BASF, it is quite clear the juice is not worth the squeeze."
Exclusive Look Inside:
You see Jim Cramer on TV. Now, see where he invests his money and why DOW is a core holding of his multi-million dollar portfolio. Want to be alerted before Jim Cramer buys or sells DOW? Learn more now.
The background of the merger section in the preliminary proxy, filed last week, suggests the exploration of alternatives that DuPont engaged in was lengthy, included consideration of interest in the agriculture business alone and involved a broad market check.
The merger agreement requires DuPont pay Dow a $1.9 billion termination fee if it enters an alternative deal with another party. That fee amounts to about $2.17 per share for DuPont.
The break-up fee is high, the antitrust risk significant and BASF would have to issue shares to execute the transaction. Yet BASF does not trade in the U.S., all of which points to no spoiler bid occurring, an arb said.
It is more likely that BASF is continuing to talk to advisers because it is exploring what options it has to respond to the Dow/DuPont deal and other activity in the sector rather than on pursuit of DuPont, which apparently already rejected BASF, another arb said.
The deal could be too big for BASF, an arb said. DuPont already explored its options and BASF would be issuing a lot of paper to do the deal, he said. German's are "finicky" about share issuance, and BASF has a significant gas business, which trades at a relatively low multiple, which would make a stock deal expensive, the arb said. It would appear BASF has been looking in the last few weeks, but perhaps it is just advertising for a bidding partner, the arb said.
In other words, BASF's bid would represent a hostile deal with regulatory risk at an expensive multiple and including multiple bidding partners, which would hardly seem to be promising conditions.
If BASF is interested in some aspect of the Dow/Dupont business, which will be split into its agriculture, specialty chemicals and materials segments about 18 months following the close, the German chemicals company could bid on a piece at that time.
Although the DuPont/Dow deal received a second request from the Department of Justice, the companies say they expect they can close the merger by the end of 2016.
While DuPont shares have moved to a negative spread, the merger has not traded at a significant positive spread since it was launched, arbs said. All in all, it is difficult to get excited about it, one told The Deal.