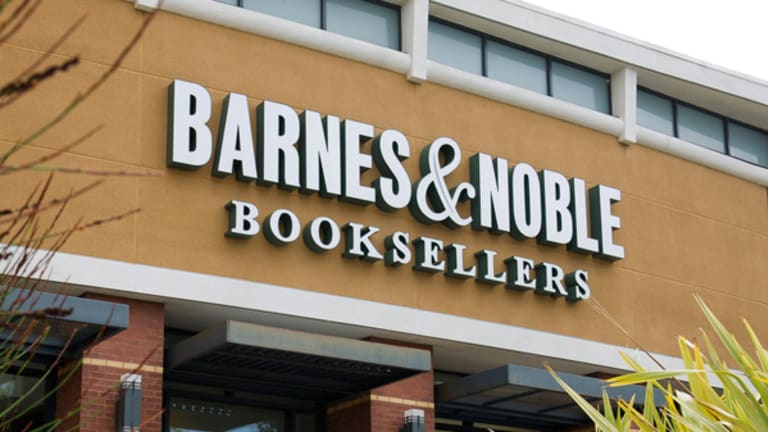 Barnes & Noble CEO Huseby Sees Value in Nook Spinoff
Barnes & Noble says it's preparing to spin off its Nook Media division into a new publicly traded company.
NEW YORK (TheStreet) -- After a multi-year wait, Barnes & Noble (BKS) - Get Free Report said on Wednesday it is preparing to spin off its Nook Media division into a new publicly traded company, separating its tablet and e-book unit from its retail and college bookstores. While Barnes & Noble characterized the move as a way to optimize shareholder value, investors have expressed disappointment in recent years that the bookseller didn't move faster to either separate or sell its Nook division.
Walgreen's US Fate Could Be Sealed By Labor Day
Barnes & Noble created Nook Media, its tablet and e-book division, in response to Amazon's (AMZN) - Get Free Report  success in the e-book market with the creation of the Amazon Kindle. For years, Amazon cut into Barnes & Noble sales with both online and book purchases within its Kindle e-reader and tablet ecosystem. The Nook was Barnes & Noble's effort to fight back.
While early models of the Nook tablet drew a strong positive reception from the tech community, it didn't have much commercial success.

WATCH: More market update videos on TheStreet TV
In April 2012, Barnes & Noble entered a partnership with Microsoft (MSFT) - Get Free Report to spin its Nook business to a separate subsidiary and take on the tech giant as a minority investor in the business. Microsoft invested $300 million for a 17.6% stake in Nook Media that valued the unit at about $1.8 billion. Media conglomerate Pearson also took a 5% stake in Nook Media at a similar valuation.
At the time, many investors said Barnes & Noble should move quickly to fully separate Nook from the company's struggling retail outlets. Instead, Barnes & Noble and Chairman Leonard Riggio entered into a confusing set of strategies to unlock value at the company.
In April 2013, Riggio attempted to buy Barnes & Noble retail outlets and the company's Web site, Barnesandnoble.com, leaving investors with the money-losing Nook business. Analysts and investors questioned whether Nook could stand on its own without the support of a declining but profitable retail business. For many, selling the bookstores to Riggio appeared to be the opposite of what the company had promised.
In July 2013, CEO William Lynch retired. Lynch had conceived of Barnes & Noble's Nook strategy and was seen as a turnaround artist who might have the savvy to move the company squarely into the digital age. Just a month later, Riggio suspended his efforts to buy Barnes & Noble retail outlets, leaving the company strategically adrift.
Shares in the company tumbled.
Barnes & Noble then appointed Michael Huseby, an executive in the Nook Media division, to become the company's next CEO. Huseby now appears to be pursuing some of the strategies that investors had long expected of Barnes & Noble.
The Spinoff Plan
Barnes & Noble hired investment bank Guggenheim Securities and law firm Cravath, Swaine & Moore to advise on its Nook Media spinoff, which the company said it expects to be completed in the first quarter of calendar 2015.
"We have determined that these businesses will have the best chance of optimizing shareholder value if they are capitalized and operated separately. We fully expect that our Retail and NOOK Media businesses will continue to have long-term, successful business relationships with each other after separation," Huseby said in a statement on Wednesday.
Huseby also said that Barnes & Noble retail outlets and its Nook division may both be in a better financial position to operate independently.
"In fiscal 2014 we have taken certain actions to strengthen the Company, including the ongoing rationalization of the NOOK business, growing the College business through new contract acquisitions and increased offerings to students and faculty, and initiatives to improve Retail's sales trends," Huseby said.
Nook Media Losses Are Declining
Earnings released on Wednesday showed significant progress.
In the fourth quarter, Barnes & Noble saw revenue grow 3.5% to $1.3 billion, while consolidated fourth-quarter earnings before interest, taxes, depreciation and amortization (EBITDA) rose to $11.2 million from a $124 million EBITDA loss a year ago. For the full year, revenue fell nearly 7% to $6.4 billion, while EBITDA rose to $251 million from just $7 million ia year ago.
Barnes & Noble's full-year results reflected stable revenue and profitability within its College bookstore business, significant declines in its ordinary retail outlets and a narrowing of losses within Nook Media.
For the full year, Nook Media revenue fell more than 35% to $505 million, while EBITDA losses were cut by more than 50% to $217 million. In the fourth quarter, Nook Media revenue fell over 22% to $87.1 million, while EBITDA losses narrowed nearly 70% to $56 million.
For fiscal 2015, Barnes & Noble said it expects its retail comparable bookstore sales and college bookstore sales to decline in the low-single digits. The company also said it expects EBITDA losses within Nook Media to continue to narrow.
Shares in Barnes & Noble were rising more than 6% in early trading on Wednesday. The shares have gained over 45% year to date.
Bottom Line: Perhaps, Barnes & Noble is finally making the right moves under new CEO Michael Huseby. However, time will tell whether the company missed its opportunity get a full valuation for Nook Media.
>> Read More: Hedge Funder Sees KKR's Next Deal In Washington Mutual's Shell
>> Read More: Pfizer Can Stay in Dow After British Move
>> Read More: TheStreet's Top 5 Dealmakers
-- Written by Antoine Gara in New York