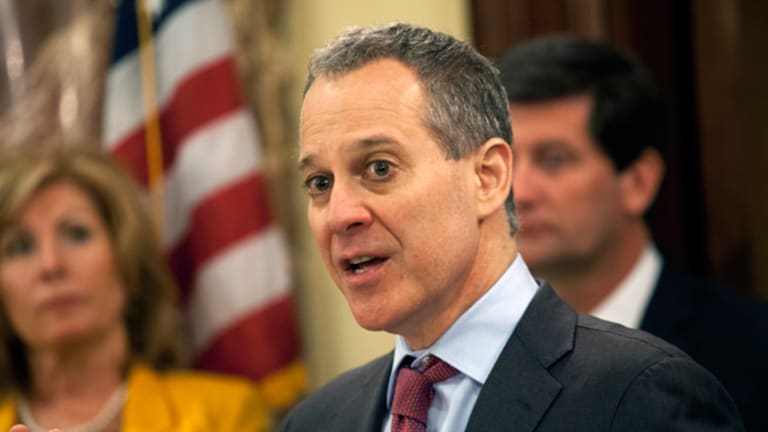 Barclays Charged With Fraud Over 'Dark Pool'
Barclays Capital committed fraud tied to a private, internal stock trading platform known as a 'dark pool,' according to charges filed Wednesday by New York Attorney General Eric Schneiderman.
NEW YORK (TheStreet) -- Barclays (BCS) - Get Free Report committed fraud in the sale and marketing of a "dark pool," an alternative trading platform used for large stock sales, according to charges brought by New York Attorney General Eric Schneiderman Wednesday.
In a press conference that allowed just two short questions from the roughly 10 to 15 reporters present,  Schneiderman argued Barclays falsely marketed its dark pool as being safe from what its internal marketing materials described as "predatory" "aggressive" and "toxic" activity by high frequency traders.
The complaint cited internal emails in which Barclays employees deliberately withheld or changed information about its dark pool to make it appear safer and more attractive to prospective clients such as mutual funds. Former Barclays employees assisted the Attorney General with his investigation, Schneiderman said. He declined to comment on whether he is looking at other banks for behavior similar to that he attributes to Barclays.
High frequency trading (HFT) -- rapid fire trades used by firms with highly sophisticated computers that allow them to jump ahead of other orders -- have come in for special scrutiny from regulators and the media lately following the publication of "Flash Boys" by Michael Lewis in March.
Schneiderman said he began looking into high frequency trading roughly a year ago.
Citing Barclays documents marked "internal use only," the complaint alleges that Barclays sought to capitalize on negative press and comments by Schneiderman himself to market its own trading products as helping "police trading behavior" and "deny access to predatory participants."
In an afterthought before leaving his press conference, Schneiderman referred to those Barclays internal documents, and comments made by Barclays executives "in response to your reporting," he told the reporters present, "to reports in the media and statements by me about HFTs when things were getting hot. And it's set forth in the complaint: they responded to that by providing additional misleading materials with which their personnel could rebut all the things that you printed in the media and that I said about HFT. So you guys are in here too," he said.
Barclays has the second-largest dark pool after Credit Suisse  (CS) - Get Free Report, according to weekly data made available by the Financial Industry Regulatory Authority. The complaint states there are several dozen dark pools operating in the U.S. which account for more that 40% of all U.S. equities trades.
Among the chief demands of the complaint are that Barclays disclose profits in its electronic trading division, "pay damages caused, directly or indirectly," by the alleged fraudulent behavior, and to "disgorge all amounts obtained in connection with" the behavior.
Barclays spokesman Mark Lane declined to comment on the charges brought by Schneiderman's office.
Citigroup Has Edge Over Bank of America in Mortgage Fine Talks
Bank of America Growth Challenges Go Beyond $17 Billion for Feds
Banks Face Serious Threat in Second Half
Disclosure: TheStreet's editorial policy prohibits staff editors, reporters and analysts from holding positions in any individual stocks.