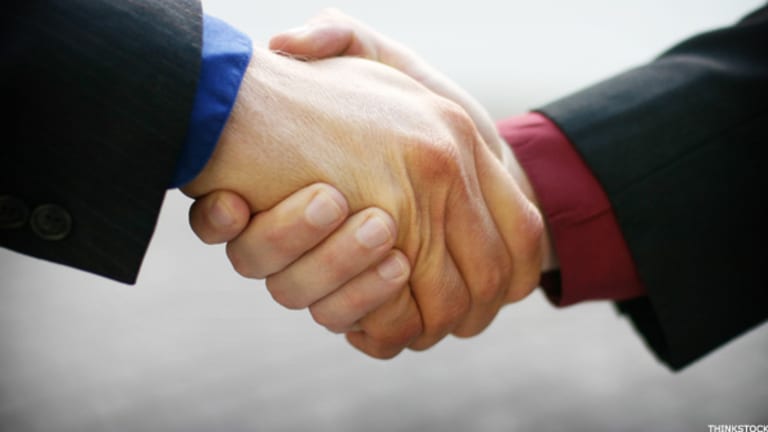 Bankrupt Lehman, Bank of America Planning Real Estate Deal
Lehman Brothers is reportedly interested in taking a $1.3 billion stake in Archstone, the real estate investment that's considered to be key in its demise.
Lehman Brothers is reportedly interested in taking a $1.3 billion stake in Archstone, the real estate investment that's considered to be key in its demise.
NEW YORK (
) - Bankrupt
Lehman Brothers
wants to buy up zombie real estate investments that are up for sale by capital hungry
Bank of America
(BAC) - Get Report
in order to double-down on a strategy that brought down the firm in 2008.
While real estate purchases by a housing-felled bank may sound more like something for the satire pages of
The Onion
, the deal is reportedly being floated to help the bank repay its creditors -- making it more of a real estate "double-down."
Lehman Brothers, now run by restructuring specialist Alvarez & Marsal, is reportedly interested in bidding on a 26.5% piece of real estate investment trust Archstone Smith owned by Bank of America and
Barclays Capital
(BCS) - Get Report
for $1.3 billion, according to
Bloomberg
. If the Lehman Estate were to increase its stake in Archstone, the move would be a doubling-down on the real estate bet that led to the investment bank's demise.
The Lehman Estate, which just received court approval to repay $65 billion in funds to creditors who are owed $450 billion, is looking at picking up its partner's 26.5% stake in Archstone because it says a December bid by Sam Zell-owned
Equity Residential
undervalues the real estate investment. Archstone, bought by Lehman Brothers and real estate titan
Tishman Speyer
in 2007 for $23.6 billion, was the second largest publicly traded real estate investment trust at the time, holding 88,000 apartments in 340 developments across the U.S.
For Lehman bondholders, who have suffered dramatic losses as a result of Lehman's bankruptcy, it's unclear whether a second Archstone bet will bring on gains compared to Lehman's initial 2007 investment.
To finance the Archstone purchase, Lehman took on significant amounts of debt, in a leveraged buyout that was emblematic of the debt-fueled pre-crisis takeover markets. Lehman and Tishman Speyer brought on Bank of America and Barclays Capital to take stakes in up to half of the riskiest equity pieces of the deal and in up to half of the debt needed to finance the takeover. The Archstone buyers thought they could syndicate pieces of the takeover to investors, however just as the deal closed, the razzle-dazzle real market lost its luster.
For Lehman and its overall $5.4 billion stake and $8.5 billion in debt financing commitments, holding Archstone debts and equity in a falling real-estate market turned out to be crippling. Overall, 76% of the Archstone enterprise value comprised of takeover debt - for Lehman the deal was its biggest single real estate investment.
Lehman's reported interest in making a $1.3 billion stake bid on Monday, ironically, is roughly equal to what the bank believed its overall Archstone profits would be in 10 years' time, according to a report by bankruptcy examiner Anton Valukas. Currently, Lehman is looking liquidate Archstone at a value of $6 billion, roughly a quarter of the real estate trust's 2007 buyout valuation, according to
Bloomberg
sources.
Just after takeover closed in early 2008, Lehman began writing off hundreds of millions in its Archstone investment. Those losses would turn to billions by the time the firm went belly up in September 2008, precipitating some of the darkest moments of the financial crisis.
After Lehman filed for bankruptcy on Sept. 15, 2008, Barclays Capital bought the U.S. operations of Lehman for $1.3 billion took on $47.4 billion in securities and assumed $45.5 billion in liabilities to keep the operations running. The move saved thousands of banking jobs and generated profits for the British investment bank, in addition to a flurry of lawsuits.
By doubling down on Archstone and buying 26% of Archstone, half of Bank of America and Barclay's stakes, Lehman is reportedly trying to realize a more fair value of Archstone for creditors in its liquidation plan.
Bloomberg
reports that Lehman's bid would increase Archstone's value to $6 billion from Equity Residential's $5 billion bid valuation.
"Lehman believes that the EQR purchase price does not take into consideration the value of Archstone's platform, including its management, which Lehman believes is the best in the industry, nor does it take into account Archstone's valuable strategic position within the apartment industry," the firm said in a regulatory filing with the
Securities and Exchange Commission
.
To be seen is whether a doubling down on Archstone will stem Lehman's prior real estate losses and add to creditor repayments. Currently, Lehman senior bondholders are expected to recover 21.1 cents on the dollar and its derivatives holders are expected to receive 27.9 cents on the dollar, according to the estate's most recent bankruptcy plan. Both amounts are lower than some previous estimates and competing restructuring plans.
-- Written by Antoine Gara in New York