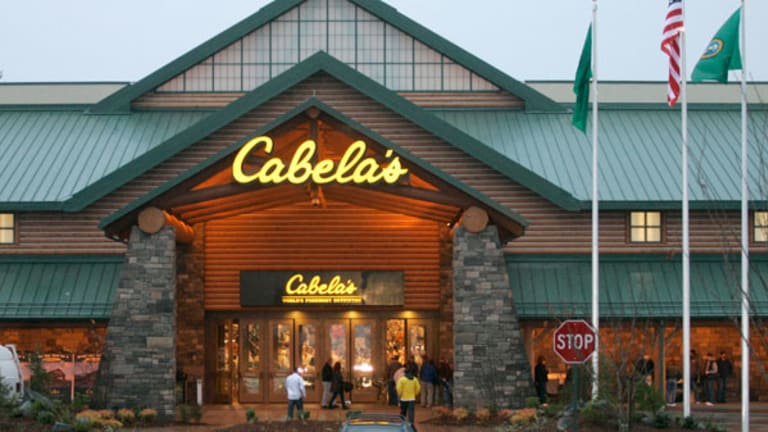 Banking Regulators Deal Setback to Bass Pro's Bid to Bag Cabela's
Capital One won't be able to carry out a side purchase of Cabela's credit card operation before Bass Pro's drop-dead date.
Shares of Cabela's (CAB) opened down sharply Friday on news that Bass Pro Shops may have to restructure its $5.5 billion buyout of its hunting and fishing supply rival after a side deal to sell Cabela's credit card business to Capital One Financial (COF) - Get Capital One Financial Corporation Report has gotten hung up by U.S. banking regulators.
Cabela's said in a securities filing Friday that it and Bass Pro are evaluating "potential alternative structures" that could permit a closing of their transaction by Oct. 3, 2017, the date the companies' merger agreement allows either party to walk away.
Cabela's stressed, however, that it cannot give any assurances that any acceptable alternatives will be agreed upon or whether the Bass Pro deal will close by Oct. 3 or at all.
The companies originally predicted their deal would close in the first half of 2017.
The news pushed Cabela's shares down sharply at opening Friday. After closing at $61.64 Thursday, they opened at $57.44 today and had inched up only a little through early afternoon trading to $58.65.
Cabela's said the credit card spin-off was snagged because of concerns raised by the Office of the Comptroller of the Currency, which must approve the credit card deal. Under terms of that agreement, Capital One agreed to acquire $5.2 billion in credit card receivables from Cabela's and other assets and assume approximately $5 billion in associated funding liabilities.
The hunting and fishing supply outfitter said Capital One has informed it that the financial institution no longer expects to receive approval from the OCC before Oct. 3.
Cabela's also disclosed that despite its efforts to avoid a lengthy antitrust review in the U.S., it received a second request for information from the Federal Trade Commission Thursday. The second request isn't a huge shock, as the company had disclosed late a month ago that Canadian competition officials had issued a supplementary information request, which is that country's equivalent of a U.S. second request.
Cabela's on Nov. 29 said it and Bass Pro pulled and refiled their antitrust notification with the FTC, a maneuver merging parties often undertake to stave off a second request, which can add months to the time it takes to get merger approval in the U.S. and add unwanted legal expense to an antitrust examination. Pulling and refiling a merger notification gives U.S. officials an extra 30 days to decide whether to issue a second request. Thursday was the FTC's deadline to make that call.
In a February 2015 earnings call, Cabela's officials noted that they compete with nearby Bass Pro stores in Chattanooga, Tenn. and Bristol, Tenn./Vir.; Phoenix, Ariz.; the Dallas-Fort Worth metroplex, Hamburg, Pa.; Chicago; Dundee, Mich. and Kansas City, Mo. In total, there are about 10 or 12 U.S. markets where the two companies' stores are near each other.
There also is cross-border overlap in the Lake Ontario region, where Cabela's has three stores in the area, two in Ontario and one in Cheetowaga, N.Y. Bass Pro has three in Ontario and three more in nearby Utica, Victor and Auburn, N.Y.
Overall, Bass Pro's 99 stores are mostly in the eastern U.S. and Cabela's 85 stores are mostly in the Western U.S. The companies have insisted they expect antitrust issues to be minimal and on Friday Cabela's reiterated that it believes FTC and Canadian competition clearance can be obtained in the first half of 2017.