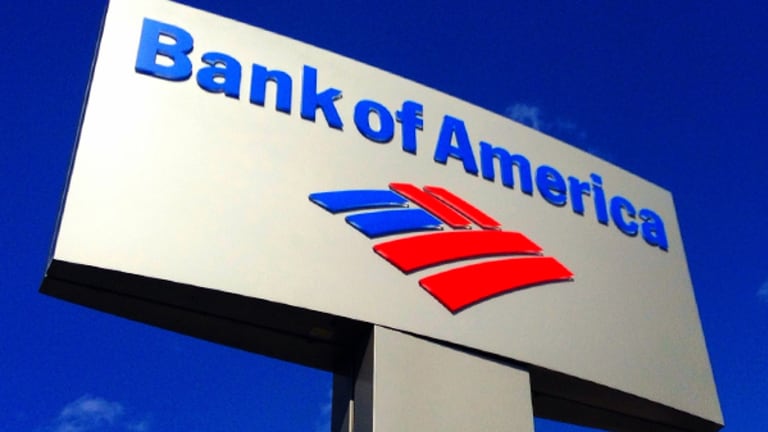 Bank of America May Be the Next Activist Target
Some activist investors have started buying large stakes in the mega-bank.
Some activist investors have started buying large stakes in the mega-bank.
A handful of activist investors have recently started accumulating stakes in Bank of America (BAC) - Get Report , raising the question once again of whether the mega-bank could ever become an activist target. Potentially adding to the interest, BofA's shares, like those of other big global banks, took a big hit on Friday in the wake of the U.K.'s vote to exit the European Union.
Insurgents Jana Partners' Barry Rosenstein and FrontFour Capital Partners' Stephen Loukas both accumulated $10.4 million stakes in the mega-bank between January and March, according to a May securities filing. Other activist funds with Bank of America shares include bank-specialists Basswood Capital Management and PL Capital's Richard Lashley, though they typically focus on significantly smaller market capitalization firms. interestingly, Rosenstein and Bank of America CEO Brian Moynihan both serve as trustees on the board of Brown University in Providence, R.I., according to relationship mapping provider BoardEx, a service of TheDeal. 
Even though the activists only own a small cumulative stake, a number of analyst firms in recent months have been making the case for why it would make sense for shareholders to have the institution broken up into two or more smaller publicly-traded institutions. The general argument is that BofA's parts are more valuable than the overall firm and that the true value is clouded in the cloak of the complexity of the too-big-to-fail bank. Separating Bank of America's commercial bank from its Merrill Lynch investment bank would do the trick, they contend.
"Set Merrill free," said Mike Mayo, analyst at CSLA, in an interview. "BAC has extra pressure to satisfy regulators and the pressure should stay on them to achieve either a higher stock price or find alternative means to recognize value for shareholders."
The regulatory environment for Bank of America that continues to complicate its super-sized existence, with expectations for tougher rules down the road is a key concern. On Thursday the Securities and Exchange Commission announced that its Merrill Lynch unit has agreed to pay $415 million and admit wrongdoing related to charges that it misused customer cash to generate profits for the firm through its own trading activities.
An activist could point to the charges -- and admission of wrongdoing -- as yet another justification to split off BofA's trading business from its commercial banking unit. 
In addition, capital restrictions have continued to grow and the Federal Reserve's top regulator, Daniel Tarullo, earlier this month said during an interview on Bloomberg TV that the largest financial institutions, including Bank of America, will need to hold significantly more capital in future stress tests most likely starting in 2017.
The tests are used to determine if BofA and others hold enough of a capital buffer to withstand a financial crisis similar to the one that shook the economy in 2008. That's bad news for Bank of America. Such a requirement, even though it is a ways away, could add to pressure on the mega-bank to break in half.
"There will be some offsets but effectively this will be a significant increase in capital," Tarullo said. "We need to have the eight most systemic important institutions more resilient than other banks in the economy. You have a smaller bank fail, the economy can absorb that. With the largest institutions there is much more of a systemic risk."
The tests use economic modeling to predict how Bank of America and others would fare during a hypothetical recession in which the unemployment rate peaks at 10% in the middle of 2017 and equity prices fall by about 50% through the end of 2016. The institution's performance determines the extent to which it is allowed to buy back stock or pay dividends.
This year, Bank of America did well on the first of its two reviews, known as the Dodd-Frank test, which only considers its existing capital distribution plans. It had a common equity tier 1 capital ratio of 8.1%, well above a 4.5% minimum, and a measure of leverage, BofA had a ratio of 6.4% -- well above a 4% minimum. Nevertheless, the second and more important set of tests, known as the Comprehensive Capital Analysis and Review, due to come out June 29 determines what shareholders buyback sand dividends they can make for the next 12 months.
All eyes will be on how BofA does and its results in the Dodd-Frank test won't impact whether it passes or fails with a key qualitative review by the central bank. Bank of America failed to obtain clean approval from the Federal Reserve's stress tests in two of the past three years. The central bank in March 2015 singled out BofA by ordering it to correct weaknesses in some elements of its capital planning and some of its internal controls. It was required to resubmit its share buyback and dividend distribution plan in September. The plan was approved in December, allowing BofA to continue to pay a 5-cent quarterly dividend and complete its plan announced in March to repurchase $4 billion in common stock over five quarters.
CLSA's Mayo said he expects BofA will be permitted to increase its capital distribution plans substantially over the next twelve months to $10 billion in buybacks and dividends from $5 billion. However, those distributions will still put Bank of America well below the average distributions as a percentage of earnings for all the large banks undergoing the tests. "BAC has had problems in two of the last three years with its CCAR," Mayo said. "If it is another year of problems that could add momentum to actions seeking to drive more aggressive restructuring one way or another."
With higher capital buffers needed for 2017 stress tests expect rank-and-file shareholders to be more supportive of such a division of Bank of America into pieces.
Even so, there is little interest by C-Suite managers in doing so. "There is little doubt that regulation has punished the shareholders of most large banks, reducing profitability, trapping capital, and limiting returns," notes Keefe, Bruyette & Woods analysts in a recent report. "Investors who want to look at the large banks on a sum-of-the-parts basis, with potential value creation from significant spin out and break ups, are likely to be disappointed by the lack of management interest in such strategies."
KBW suggests that executive compensation structures at Bank of America and other large banks may explain why top level managers aren't interested in breaking up. "The lack of management interest is well founded by the way compensation is structured," the note said. "This raises concerns about the returns that shareholders can achieve at the banks that are deemed globally systemic and that face continued increases in regulatory hurdles."
Already a fair number of shareholders have concerns about Bank of America's future. The California State Teachers' Retirement System and the California Public Employees' Retirement System launched a much publicized campaign in 2015 taking issue with Bank of America's controversial move to recombine the role of chairman and CEO after shareholders had previously voted to separate it. Roughly 37% of shares voted against Moynihan retaining both CEO and chairman positions - not enough to oust him from the chairman position but enough to suggest that shareholders could revolt down the road.
Anne Sheehan, director of corporate governance at the California State Teachers' Retirement System, notes that a key reason that she and other funds raised concerns was that shareholders had publicly voted to separate those positions and despite that the institution had chosen to recombine the roles. "The issue at Bank of America was that shareholders had voted to separate the position," Sheehan said.
Bank of America's board unilaterally recombined the roles in 2014, undoing a binding 2009 shareholder vote to separate the two positions after shareholders expressed outrage over former CEO Ken Lewis' role in the move to have the mega-bank acquire Merrill Lynch in the midst of the 2008 financial crisis.
CLSA's Mayo suggests that Bank of America has the potential to be an event-driven stock because a sum-of-the-parts analysis suggests that BAC's market capitalization should equal 40% more than its current public float. "The pressure is on BAC to show that it can satisfy regulators," Mayo said.
However, the gargantuan size of the institution and its $137 billion market capitalization suggests that any activist campaign would be difficult if not impossible to achieve. The activist hedge funds so far haven't made any noises and their cumulative stakes amount to between 1% and 2% of the big bank's capitalization.
Only the largest, most high-profile activists with a track record of successfully installing dissident director candidates onto corporate boards could accumulate the kind of relevant stake at BofA needed to get traction from institutions. Billionaire Carl Icahn could fit the bill.
However, if his recent campaign at American International Group (AIG) - Get Report is any indication, it's not likely that even he could force a breakup. Icahn urged AIG to separate into three public corporations -- life, property & casualty and mortgage insurance -- because he believed it would convince a council of regulators in Washington to significantly reduce regulatory costs on the resulting companies. Nevertheless, Icahn failed -- for now -- in achieving that break up result though he succeeded at getting two seats on AIG's 16-person board.
It's possible that Icahn's director candidates could push AIG into breaking up down the road. However, for now, the battle suggests even Icahn could have trouble with another effort to break up a large financial institution.
To be sure, such a break-up-the-bank campaign would also come with some wind in its sails as concerns about too-big-to-fail banks have made headlines due to Democratic candidate Bernie Sanders making it a key central point of his presidential campaign. But with Sanders appearing to wind down his campaign expect public pressure around the issue to diminish.
For now, expect BofA to remain intact. However, when 2017's tougher BofA stress tests emerge expect to see a new round of break-up pressure materialize.
This article originally appeared in The Deal, a sister publication of
focused on deals and dealmakers, on June 24. For more information about The Deal
.