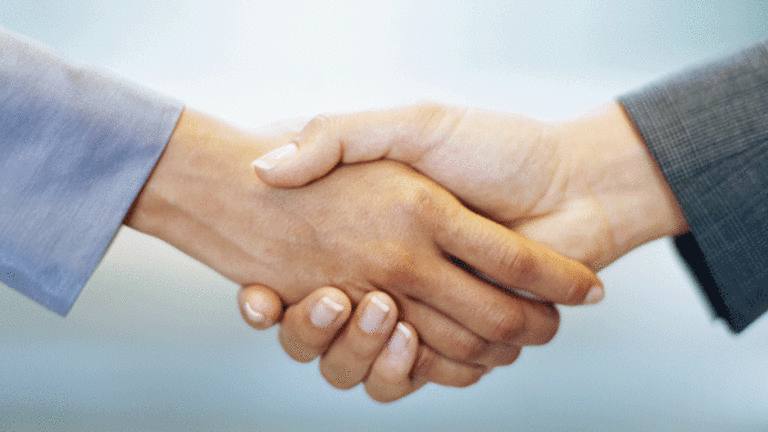 Shelly Sterling Relents, Sells Clippers to Ballmer for $2 Billion
'Lob City' franchise sets new valuation height in sale forced by NBA.
'Lob City' franchise sets new valuation height in sale forced by NBA.
NEW YORK (The Deal) -- Just days before National Basketball Association team owners were set to vote to force Los Angeles Clippers owner Donald Sterling to sell his team, Sterling's wife, Shelly, said late Thursday that she had sold the franchise to former Microsoft (MSFT) - Get Report CEO Steve Ballmer for a record $2 billion.
Ballmer, who is known for his boisterous speeches at Microsoft developer conferences, reportedly beat out two serious bidders, one led by media mogul David Geffen which offered $1.6 billion and also included Oprah Winfrey and Oracle (ORCL) - Get Report CEO Larry Ellison. Additionally, Guggenheim Partners--which led a group that bought Major League Baseball's Los Angeles Dodgers last year--and a group including former NBA All-Star Grant Hill also made overtures, according to reports.
"I am delighted that we are selling the team to Steve, who will be a terrific owner," said Shelly Sterling in a statement released by San Francisco public relations firm G.F. Bunting PR. "We have worked for 33 years to build the Clippers into a premiere NBA franchise. I am confident that Steve will take the team to new levels of success."

WATCH: More videos from Jim Cramer on TheStreet TV
The $2 billion price tag is the highest price ever paid for any NBA franchise, almost quadrupling the previous record set by the Milwaukee Bucks, which sold for $550 million to hedge fund investors Wesley Edens and Marc Lasry on April 16.
The sale is the second-largest sports franchise deal, behind only the Los Angeles Dodgers Major League Baseball team, which sold for $2.1 billion to a group led by Guggenheim that included Hall of Fame basketball player Earvin "Magic" Johnson.
"I thank Shelly Sterling for her willingness to entrust the Clippers franchise to me, and I am grateful to NBA commissioner Adam Silver and his colleagues for working collaboratively with me throughout this process," Ballmer said in statement.
While the sale is still contingent on gaining approval from three-fourths of NBA owners, Ballmer is seen likely to be quickly approved because he was a part of a group that made it to the final round of bidding for the Sacramento Kings in mid-2013.

Donald Sterling received a lifetime ban from the NBA on April 29 and was fined $2.5 million after his reported mistress released tapes of him making racist comments. He has publicly threatened to contest the ban in court and has still not paid the fine. Reports earlier this week said Donald Sterling had transferred sole control of the team, and the trust that control the team, to his wife.
"Shelly Sterling was acting under her authority as the sole trustee of the Sterling Family Trust which owns the Clippers," said her representatives in a statement.
Donald Sterling, a former personal injury attorney turned real estate mogul, acquired the Clippers in 1981 for around $12 million, according to Forbes. Others bidders rumored to make plays at the Clippers include boxer Floyd Mayweather Jr. and shoe company Skechers USA (SKS) .
Donald Sterling's attorney Maxwell M. Blecher of Los Angeles-based Blecher Collins Pepperman & Joye PC and Bobby Samini of Costa Mesa, Calif.-based Samini Scheinberg PC did not respond to calls seeking comment. Bank of America Merrill Lynch, which is representing Shelly Sterling and the Sterlings' trust, also did not respond to calls.
It is unclear if Ballmer used financial advisers for his bid.