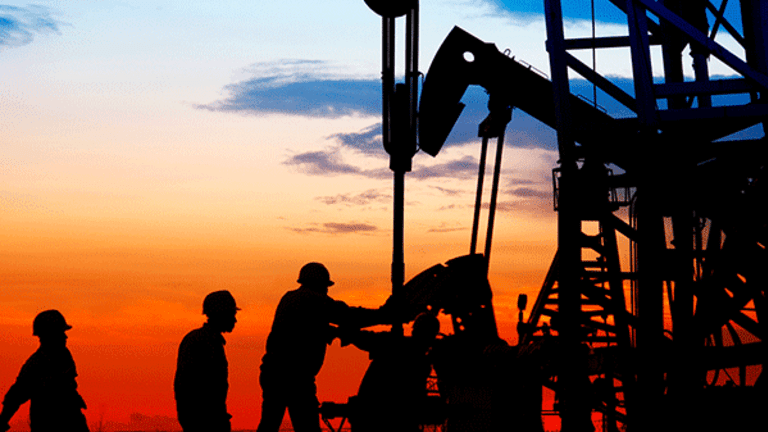 Publish date:
Baker Hughes Deal Not so Great for Oversupplied U.S. Fracking Industry
The company's newly formed pressure-pumping joint venture might result in 1.3 million horsepower of idled hydraulic fracturing equipment one day re-entering an already oversupplied North American market.
The company's newly formed pressure-pumping joint venture might result in 1.3 million horsepower of idled hydraulic fracturing equipment one day re-entering an already oversupplied North American market.
In what is being viewed by some analysts as the first move in an attempt at garnering the best market valuation for a combined Baker Hughes (BHI) and General Electric (GE) - Get Report oilfield services unit, Baker Hughes announced late Tuesday it would once again separate its pressure-pumping segment.
While the deal is viewed as a positive for Baker Hughes, as it will simplify its corporate structure and reduce the amount of capital it needs to commit to maintain exposure to the North American hydraulic fracturing business, creating an independent North American pressure pumping company with 1.9 million hydraulic fracturing horsepower of equipment in its arsenal may be cause for concern for the U.S. fracking industry.
"This could structurally maintain the oversupply of pressure pumping equipment in the U.S.," Stephens analyst Matthew Marietta said in an interview with The Deal, a sister publication of TheStreet. "From an E&P perspective, this news is welcomed, but this could hurt rival pressure-pumping companies."
Marietta's thesis is that a deal to create an independent pressure-pumping services company levered to the North American land drilling industry with dedicated co-investors implies Baker Hughes's idled pressure-pumping equipment will eventually come back online, rather than remain idled for good. 
Editors' Note: This article was originally published by The Deal, a sister publication of TheStreet that offers sophisticated insight and analysis on all types of deals, from inception to integration. Click here for a free trial.
According to RBC Capital Markets analyst Kurt Hallead, Baker Hughes has about 1.3 million hydraulic fracturing horsepower that is currently idled.
Hydraulic fracturing is one of the key components of pressure-pumping services, along with cementing services, sand control services and acidization. Pressure pumping is the process of creating fractures through layers of rock using pressurized fracturing fluid and then pumping cement into the well bore to complete it. 
Baker Hughes, which is currently working to complete a $6.4 billion tie-up with General Electric's oil and gas unit, said after the markets closed Tuesday, Nov. 29, it had reached an agreement with private equity firm CSL Capital Management and West Street Energy Partners Offshore, a fund managed by Goldman Sachs & Co.'s merchant banking division, to create a pure-play North American land pressure-pumping company that will operate under the BJ Services brand.
Baker Hughes' North American fracking and cementing services business currently operates under the trade name BJ Services. Baker Hughes initially spun-off BJ Services in a 1990 IPO, but then re-acquired the business in 2010 for $6.9 billion, of which $800,000 was cash. 
The new BJ Services will continue to be privately held, with Baker Hughes owning 46.7%, and the remaining stake split between West Street and CSL, which will contribute to the joint venture its pressure pumping business Allied Oil & Gas Services. CSL just acquired Allied Oil & Gas in April for an undisclosed sum. 
CSL Capital Management and West Street will together contribute $325 million in cash to the new company, of which $175 million will be used to bring the JV's debt to zero, while the remaining $150 million will be paid to Baker Hughes.
The transaction does not include Baker Hughes' international pressure pumping business or its offshore Gulf of Mexico pressure pumping operations. 
A deal for Baker Hughes' U.S. land pressure pumping assets is no surprise, Stephens' Marietta said Wednesday, since the company has publicly stated its intent to separate from the segment as the business has been a serial underperformer.
That being said, the thought was any deal would mean the majority of Baker Hughes' equipment would leave the market completely, providing relief to a North American pressure-pumping industry that is currently heavily oversupplied, he noted. 
The company has instead opted for a deal that will create a debt-free independent competitor with a market share that falls just short of the U.S. market leader Halliburton (HAL) - Get Report , which commands a fleet with 2.6 million hydraulic horsepower. BJ Services will also leave smaller competitors RPC (RES) - Get Report and Patterson-UTI Energy  (PTEN) - Get Report , both commanding fleets with around 1 million hydraulic horsepower, in the dust.
Moreover, the deal at a glance appears to create a disparity between how pressure-pumping assets are being valued in private transactions and on the public market, Marietta said. The analyst said the $375 million value of the deal implies the new company's pressure-pumping equipment is being valued at around 40% of the cost it would take to replace such assets, while the public market is currently valuing such assets at 100% of replacement cost.
In theory, this could create an even more competitive landscape for U.S. fracking services providers by giving incentive to private operators to buy up pressure-pumping assets at a discount then launch an IPO, bringing their company to public markets where the assets could be worth twice as much in the eyes of investors.
Marietta said Cerberus Capital Management LP-backed Keane Group Holdings LLC, which acquired Trican Well Service Ltd.'s U.S. pressure pumping business in March for $247 million, comes to mind when considering potential IPOs. Cerberus acquired an 80% stake in Keane, then Keane & Sons Drilling, in April 2011 for $100 million.