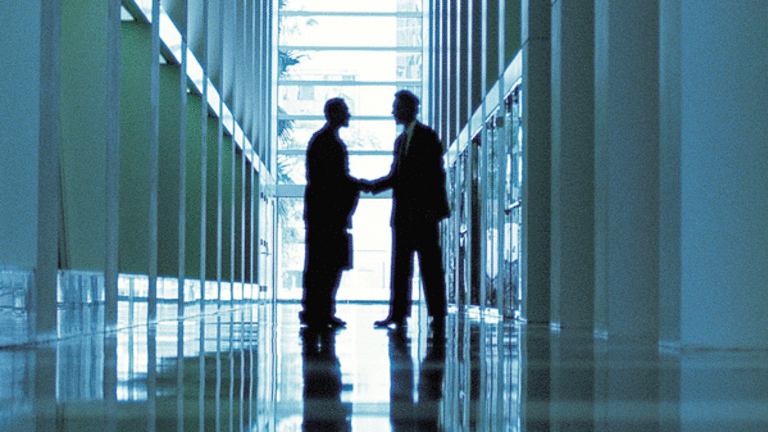 Bain Capital Boasts as Sandy Hits: Street Whispers
As Sandy hits land, Bain Capital's Pagliuca sees an opportunity to boast buyout brains.
As Sandy hits land, Bain Capital's Pagliuca sees an opportunity to boast buyout brains.
NEW YORK (
) - In case you've been glued into
Comcast's
(CMCSA) - Get Report
The Weather Channel
as Hurricane Sandy hits land but are undecided on how you feel about private equity,
Bain Capital
executives want to take a moment to point out how their investing savvy is helping you survive.
On Monday, as Sandy barrels towards the northeast, Bain Capital Managing Partner Steven Pagliuca took to
Twitter
and
Facebook
(FB) - Get Report
to remind his smattering of social media followers that the private equity giant co-founded by Republican presidential candidate Mitt Romney is a large investor in The Weather Channel.
According to Pagliuca, viewers tracking every twist and turn in Sandy's path and expected storm surge can rest assured that he's a board member of the cable TV station and that it has the resources to meet the technological and communications needs of viewers preparing for what is being called a once-in-a-hundred year storm.
"At Bain Capital we are an investor in The Weather Channel and I have served on the board of the company. Today...," wrote Pagliuca, in an abbreviated Twitter post that linked to a larger post by the private equity executive on Facebook.
In the full length Facebook post, Pagliuca went on to add, "Today we are very glad to have the technology and ability to communicate information to as many people as possible. Rest assured that there are a large number of very smart, hard-working people at TWC working to get those who need it the best weather information possible online, through mobile apps and via cable television. Please be safe."
In July 2008, Bain Capital,
The Blackstone Group
(BX) - Get Report
and NBCUniversal - then a unit of
General Electric
(GE) - Get Report
-- paid $3.5 billion for The Weather Channel, according to
New York Times
reports. After control of NBCUniversal was sold to cable giant Comcast in a 2009 joint venture, the value of that investment's gained significantly.
In July of 2012, The Weather Channel announced a deal to buy competitor Weatherunderground, in an effort to bolster its meteorology and online services.
In an election year where the role of private equity stands out as a key piece of candidate Romney's economic improvement platform and as part of President Obama's message of economic fairness, private equity firms and trade groups have been pressing the connection between their investments and benefits to consumers and the economy.
In 2009, Pagliuca ran as a candidate in a Massachusetts special election to fill the late Ted Kennedy's U.S. senate seat; however, he failed to win the Democratic party's primary nomination. Outside of Bain Capital, Pagliuca is a co-owner of the Boston Celtics, after he and a group of other financial services executives bought the popular basketball team in 2003.
For more on connections between private equity financial wizardry and the ordinary public, see why
a Bernanke dividend boom is hitting PE-backed stocks
.
See why
, for more on private equity and the election. Also see why Blackstone is investing in energy fundamentals over an election year
.
Follow @agara2004
-- Written by Antoine Gara in New York