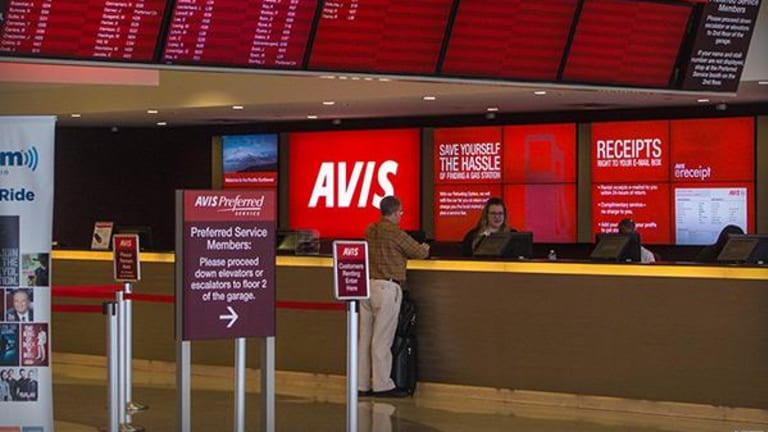 Avis Budget Installs Anti-Takeover Pill as Activist Hovers
The car rental company said they were worried about "creeping control" in a move that comes as an agreement between the company and SRS Investment Management is set to expire.
Avis Budget Group (CAR) - Get Free Report  on Monday said it installed an anti-takeover protection poison pill in a move designed partly to block a reluctivist investor, SRS Investment Management, which has a large stake and installed a dissident director on the car rental company's board a year ago.
Specifically, Avis Budget said it installed the pill, also known as a shareholder rights plan because they were worried about "creeping control" that it believes could harm stockholders. The provision essentially prohibits any one investor from owning a stake of 10% or more of the company's common shares.
Specifically, the car rental company noted that SRS Investment Management owns a 28.5% stake in Avis, made up of a 9.7% equity stake and 18.8% derivatives investment and that a settlement agreement between the company and the fund expires on Wednesday, January 25.
It's unclear if SRS Investment plans to take any action once the settlement expires. However, Avis Budget appears to be concerned that the rental car company's continued effort to buy back shares over the next year, resulting in fewer shares outstanding, could significantly increase SRS Investment's percentage stake -- and influence at the expense of other investors -- even if no additional shares are purchased. 
The two side in January 2016 reached a settlement to add an SRS Investment partner, Brian Choi, to the Avis board. Also, SRS was entitled to add another director candidate to the Avis board, which it did. In March Avis added Sanoke Viswanathan, a chief administrative officer at JPMorgan Chase & Co.'s corporate and investment bank.
It is unclear what SRS Investment, a New York-based long-short hedge fund, wants to see take place at Avis. The fund has never launched a director-election proxy contest, and a person familiar with the situation noted that other than the January 2016 agreement, SRS Investment has never put people on corporate boards. Also, SRS Investment has owned shares in Avis for at least six years, he added.
Nevertheless, it appears SRS Investment, at the very least, may be agitating to have Avis to hike its capital distribution efforts -- the rental car company has been very aggressive in buying back shares in recent years. When the settlement with SRS Investment was announced in January 2016, Avis also said that the board has increased its share repurchase authorization by $300 million. In its release on Monday, Avis noted that it has repurchased over $1 billion of its shares over the past three years, reducing its shares outstanding by about 20%. In November, Avis Budget said it increased its share repurchase authorization by $250 million, expecting to "repurchase a significant amount of shares" this year.
Also, it's possible that SRS Investment would like to see Avis Budget consider a sale, a common tactic among activists, soon or down the road. In addition to SRS, another quasi-activist fund, Glenview Capital Management, has a 9.44% stake, according to FactSet.
The SRS campaign comes after embattled car rental company Hertz Global Holdings (HTZ) - Get Free Report recently switched its CEO and moved to remove three directors, in a situation that is likely pleasing to billionaire raider-turned-activist Carl Icahn, who owns a 35% stake and is by far the largest investor there. 
An analyst noted that activists have done a lot of work at both Hertz Global Holdings and Avis and that it appeared to be a prudent move by Avis to put in the anti-activist protection. He said he was skeptical that the activists could drive consolidation in the car rental space, noting that significant consolidation has already happened and that Hertz and Avis Budget are the only two publicly traded car rental companies in the U.S. In addition to owning Budget, Avis also owns Zipcar, a car sharing network company.
Another main competitor, Enterprise, which owns Alamo Rent A Car and National Car, is privately held. He added that consolidation was unlikely even as the incoming Trump Administration might loosen antitrust prohibitions in the coming months.
Nevertheless, one possibility is that a private equity firm could seek to acquire Avis Budget - such a deal would likely pass antitrust muster. Buyout shop Catalyst Capital Group . in 2014 completed its acquisition of Advantage Rent a Car, the fourth largest car rental company in the U.S.
An SRS official declined to comment.
The Avis pill expires on Jan. 22, 2018.