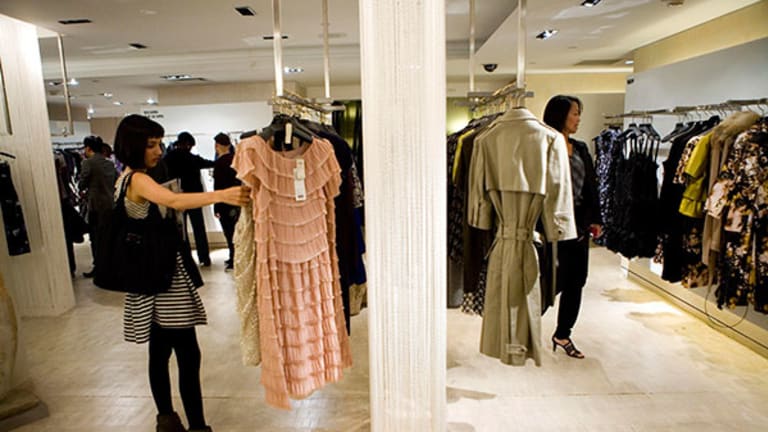 Authentic Brands Acquires Jones New York Apparel Brand From Sycamore Partners
Sycamore began a strategic review of Jones New York's intellectual property in January as it shuttered the unit's retail and wholesale operations.
NEW YORK (TheDeal) -- Authentic Brands has acquired the intellectual property of the Jones New York apparel brand from private equity firm Sycamore Partners, it announced on Thursday. Terms of the transaction were not disclosed.
The buyer is a New York-based marketing and branding company that generates revenue by collecting royalties from licensing out the brands it owns. It is backed by PE firm Leonard Green & Partners.
New York-based Sycamore gained ownership of Jones New York when it acquired the brand's parent Jones for $2.2 billion in late 2013.
Mark Weber, the former CEO of LVMH's (LVMUY) Donna Karan International business and PVH (PVH) - Get PVH Corp. Report, will serve as a strategic adviser to the brand.
The target has close to $1 billion in sales at retail, according to the announcement. According to an industry executive, royalties on sales at retail can range from a low of 6% to a high of 12% of sales, but usually are about 8%, the standard. At the standard royalty rate, Jones New York could potentially generate up to $80 million in revenue for Authentic Brands.
And the EBITDA generated from that kind of royalty revenue can be substantial.
For example, another consumer brands company, Sequential Brands (SQBG) - Get Sequential Brands Group, Inc. Report, said it had revenue of nearly $42 million for the fiscal year ended Dec. 31, and adjusted EBITDA of $24 million.
The company recently recently acquired a 62.5% stake in the holder of the intellectual property of the Jessica Simpson brand for almost $120 million. That celebrity brand is said to generate about $1 billion in sales at retail.
Sequential Brands said as a result of its deal for the Jessica Simpson brand, its royalty revenue would jump to nearly $90 million and adjusted EBITDA of almost $55 million. EBITDA at that level for Jones New York could be almost $49 million based on royalty revenue of $80 million. (Jessica Simpson is a newer brand aimed at a younger demographic, whereas Jones New York has been around for 40 years.)
In January, Jones New York's parent Jones Holding, an entity through which Sycamore owns and operates the brand, said it was conducting a strategic review of the brand's intellectual property as it shuttered its retail and wholesale operations. A source at the time told The Deal that options included a sale of the company's intellectual property.
The restructuring will involve shuttering all of Jones New York's 127 outlet stores. The Jones New York label sold in department store chains such as Macy's-owned (M) - Get Macy's Inc Report Macy's and Bloomingdale's chains, as well as Hudson's Bay' (HBC) Lord & Taylor department store banner, according to the brand's website.
A source previously told The Deal that the cost structure of Jones New York no longer made sense for the mature brand as it is losing market share in a struggling category. Its wholesale business to department stores, in particular, was flagging because of difficulties in that segment. Not only are department stores generally in decline, they are also paring down on the brands they sell.
The source said that out of all the businesses acquired as part of Sycamore's leveraged buyout of Jones Group, Jones New York was the "problem child" where most of the losses occurred. The rest of the brands are largely profitable, the source said.
Authentic Brands did not respond to a request for comment and Sycamore declined to comment.