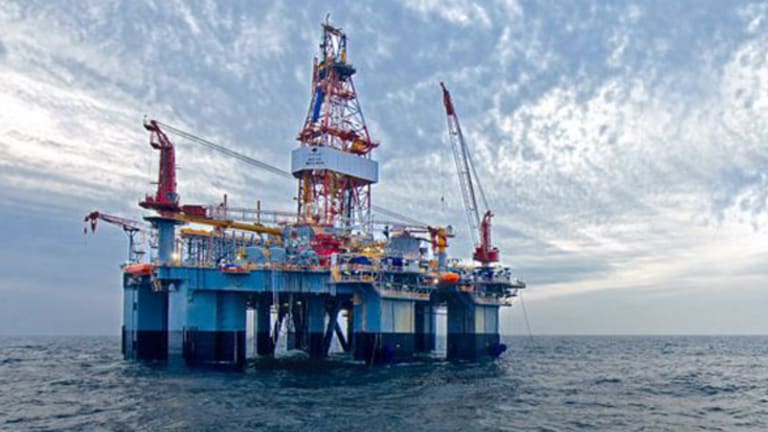 Atwood, Seadrill Continue to be Top Offshore Takeover Picks
Industry followers continue to see M&A as a way to fuel a turnaround for the beaten down space, and are now looking for first movers with oil above $50.
Offshore drilling has by far been among the worst hit segments of the oil and natural gas industry by a prolonged commodity downturn. Now with oil prices bubbling over the psychologically significant $50 per-barrel mark, industry followers see a wave of M&A as the next potential catalyst to turn the space around. 
Atwood Oceanics ( (ATW) ) and Rowan ( (RDC) ) are two offshore drilling services providers that would make tasty morsels for some of their peers, particularly those companies who have larger market caps or older fleets, Stephens analyst Matthew Marietta told The Deal in a phone interview. 
To be sure, Atwood Oceanics is a fan favorite when it comes to takeover talk. Tudor, Pickering, Holt analysts said in September that the Houston company's stock bludgeoning was likely to bring potential suitors to the door. 
Atwood's near-term contract coverage, with four of its rigs idled or stacked and three more set to come off contract by year-end, along with its shrinking funds were just a few of the reasons the company has found itself in a vulnerable position, the Deal reported then. Atwood has a dozen rigs in its marketed fleet, two of which are new, uncontracted floating rigs. 
But Atwood's situation doesn't seem to trouble bondholders very much at this point, said Bob Robotti, the founder of investment firm Robotti & Co. 
"The debt market looks at Atwood at says 'OK this company's debt is pretty good,' " Robotti opined. "Meanwhile, on the equity market, 40% of the interests are shorting the stock."
But its balance sheet could make Atwood Oceanics attractive to a larger industry veteran like Diamond Offshore Drilling ( (DO) - Get Diamond Offshore Drilling, Inc. Report ) or Transocean ( (RIG) - Get Transocean Ltd. Report ), since it would provide access to a much younger fleet, Marietta explained. 
A young fleet might make even a highly leveraged company like Seadrill ( (SDRL) - Get Seadrill Ltd. Report ) appealing, Robotti added. Others with older fleets that might be looking for younger equipment include Ensco ( (ESV) ), Marietta said.
Such consolidation could help alleviate part of the problem facing the industry—an oversupply of equipment. But Robotti cautions that these scenarios are not very likely simply because of resistance on the part of management.
"My thinking is they probably have a feeling about each other that makes it hard for them to dance together," he said of offshore drilling management teams. 
Still, if any deals do come to fruition in this period of cautious optimism, both Marietta and Robotti assert it could be very beneficial to the industry, which has garnered some of the worst sentiment on Wall Street. 
Unlike investors who consider deepwater dead, he believes offshore drilling can still be salvaged.
"We don't believe that's the case," Robotti opined. "We believe there are onshore wells economic below $40 [per barrel], and we also believe there are offshore places economic below $40." 
Witness Schlumberger's (SLB) August 2015 acquisition of deepwater services provider Cameron International Corp. for $12.7 billion. Considering industry-leading Schlumberger likely has a database of info on the oil and natural gas industry better than any other company due to the extensive geographies they work in and the variety of companies they work for, Robotti said paying a near 60% premium for Cameron suggests the buyer thinks offshore is still profitable.
While Robotti is less convinced a wave of consolidation will play out in offshore drilling in the near term, he feels stronger signs of recovery could be a precipitating event. Potential sellers that may have been hesitant to do a deal out of weakness may be emboldened with commodity stabilization. 
Other industry followers continue to be highly skeptical of offshore market fundamentals at the moment, however. RBC Capital Markets analyst Kurt Halead said it's too early to get involved in the space as the firm expects offshore drillers will underperform through 2017. 
"Definitive signs of a bottom remain elusive," Halead wrote in an Oct. 19 note. "Drillers say they are starting to receive more inbound rig inquiries from customers regarding rig type, pricing, and availability. However, this is typically for assets available in 2018. For now, day rates continue to fall closer to cash break-even levels."
RBC's Brent crude forecast has oil trading at $58 per barrel on average through 2017 and $66 per barrel in 2018.
"While the offshore drillers continue to execute well in a tough market, the overall fundamentals for the space remain negative for the foreseeable future," he said. "Industry sources suggest the market probably needs to see $50 oil to spur shallow, infill, and development drilling in the [Gulf of Mexico] and North Sea and more than $60 for [deepwater] exploration.