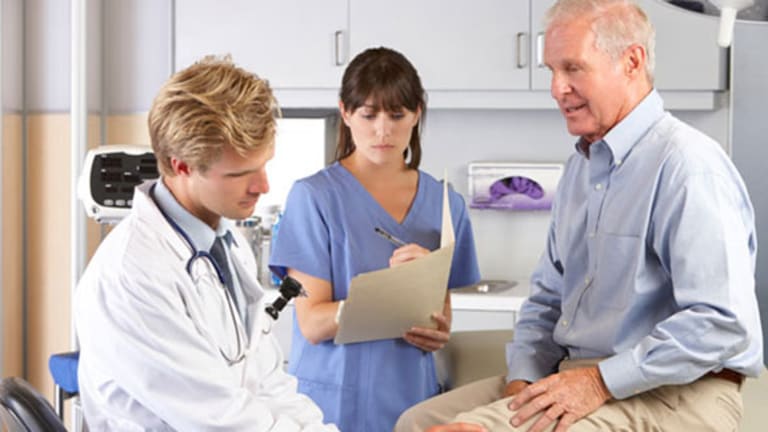 Attention Shifts to TeamHealth, Mednax as Amsurg and Envision Unite
While the healthcare giant undoubtedly will be a force to reckon with in the years ahead, TeamHealth and Mednax may be in a position to benefit during the integration period.
The physician services supergroup that will be formed via the union of AmSurg (AMSG) and Envision Healthcare Holdings (EVHC) may not be structured as shareholders of the latter had hoped, but in the long term, the combined entity is likely to be an even more prolific acquirer.
At the same time, the transaction might actually place peers of the two companies -- TeamHealth Holdings (TMH) and Mednax (MD) - Get MEDNAX, Inc. Report , the former of which came close to combining with AmSurg last year -- in a position to benefit over the next several months.
Envision shares were off 6.2% to $25.81 in afternoon trading Thursday, while AmSurg shares were up 1.2% to $78.42.
Shares of TeamHealth dropped about 0.5% to $42.70 midday, erasing earlier losses of up to 3.7%. Mednax shares were flat at $69.12, having slid about 1.7% earlier on. 
The all-stock merger-of-equals transaction between Envision and AmSurg was announced late Wednesday. The parties will combine to create a physician services behemoth with an enterprise value of about $15 billion and market capitalization of about $10 billion, with shareholders of Envision and Amsurg owning approximately 53% and 47%, respectively, of the combined company.
The anticipated deal comes after AmSurg in November abandoned its efforts to purchase TeamHealth after hiking the cash component of its $7.8 billion offer.
The losses seen by TeamHealth and Mednax on Wednesday are probably more of a normal, short-term reaction by investors than anything, according to at least one analyst. 
RBC Capital Markets' Frank Morgan said Thursday that over the next 12 to 18 months, if anything, "you could make the argument that it might present a competitive advantage for TeamHealth until the combined entity really integrates." 
It won't be until around the back end of 2017 that Envision and AmSurg truly begin to recognize some of the strategic merits and revenue synergies, he noted. In other words, that potentially leaves TeamHealth and Mednax -- which like Envision and AmSurg have proved to be serial acquirers -- in a position to execute on any strategic initiatives. 
"It will certainly raise interest in what the other players are doing," added Sonny Allison, an M&A partner at Perkins Coie. 
Wednesday's merger announcement represents yet another indication of the appetite for healthcare services M&A, Allison said, noting that "in theory" the tie-up would put pressure on both TeamHealth and Mednax to do deals. 
That shouldn't really be a problem, though, given their history. 
It was only a few days ago that Mednax -- which last year completed 12 acquisitions and announced five deals in the first quarter of 2016 alone -- emerged as the winning suitor for Cardon Outreach, announcing a $400 million deal for the revenue cycle management company. 
Mednax CEO Roger Medel told investors on a late April conference call that the Sunrise, Fla., company has about half a dozen letters of intent submitted and another dozen LOIs in the pipeline. The executive specifically cited radiology as an area of opportunity for M&A.  
Management of TeamHealth, which in March agreed to appoint Jana Partners' three-person slate of dissident director nominees to its board, indicated on its first-quarter call with investors that M&A would be "a little bit more targeted" and "smaller scale." That comes as little surprise, as the Knoxville, Tenn., company is still working to integrate its $1.6 billion acquisition of IPC Healthcare that closed in November. 
As AmSurg and Envision work toward completion of their deal by year's end, management of the latter likely will need to continue addressing the logic of the deal from its standpoint.
Based on the deal's exchange ratio of 0.334 AmSurg shares per Envision share, that implies a price of about $25.80 for Envision -- hardly a premium over the $25.66 that shares of the Greenwood Village, Colo., company traded at on June 7, one day before a Wall Street Journal report that revealed the two companies were in advanced discussions about a deal.  
Had the transaction been structured more similarly to AmSurg's proposed transaction with TeamHealth, which included a cash component and promised more than double the synergies, RBC's Morgan said he had anticipated a price tag would have come in around the low $30s per Envision share. 
While the valuation may have disappointed Envision shareholders, the combined company will have a strong balance sheet -- with an expected net debt-to-adjusted Ebitda ratio of 4.2 times post-transaction -- that gives it the fuel to to be an even greater force on the M&A front going forward. 
With a rationale driven by much greater flexibility and leverage as emphasized by both companies on a Thursday call with investors, Morgan said he expected a continuance of dealmaking on the physician services side for Envision as well as continued anesthesia rollup from the AmSurg side. 
Since 2010, Envision and AmSurg have deployed about $6 billion combined on acquisitions. AmSurg CEO Chris Holden noted on Thursday's call that he and Envision CEO Bill Sanger began a dialogue following its $2.35 billion deal for Sheridan Healthcare in May 2014, having reengaged in the conversation after going through a process with TeamHealth last year. 
AmSurg, Envision, TeamHealth and Mednax representatives didn't immediately return requests for comment.