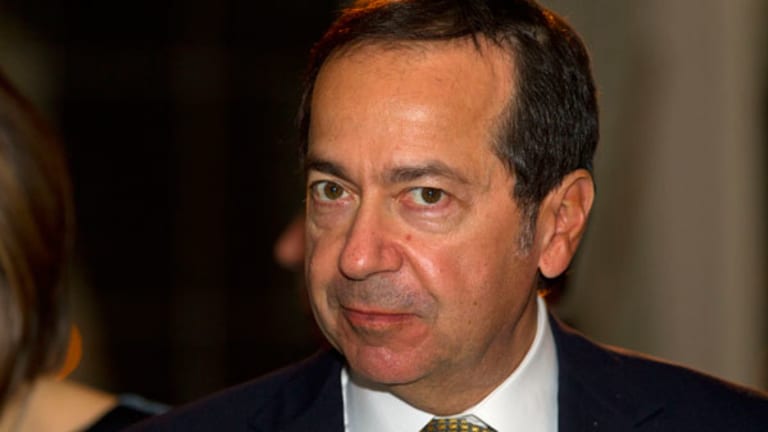 AT&T to Buy Leap Wireless, Cashing Out Paulson's Telco M&A Bet
Hedge funds profited big in wireless M&A frenzy.
NEW YORK (
) --
AT&T
is buying
Leap Wireless
(LEAP)
for $15 a share, in a deal that could bolster the telecom's wireless capacity and adds to a frenetic two years of consolidation in the industry.
AT&T will pick up Leap's Cricket brand name and about 5 million subscribers on its CDMA network, in Friday's proposed deal. Cricket customers may benefit from accessing AT&T's recently upgraded network, the company said.
"Cricket's employees, operations and distribution will jump start AT&T's expansion into the highly competitive prepaid segment," AT&T said in a statement.
The telco giant will also acquire valuable 4G LTE and AWS spectrum, in a move that helps to fulfill its network expansion efforts.
At this time 24 months ago, AT&T was lobbying with the
Department of Justice
to win approval of its proposed $39 billion merger with
T-Mobile USA
(TMUS) - Get T-Mobile US, Inc. Report
. When that deal was blocked on antitrust grounds, it set off a rapid consolidation of the industry among second-tier players.
T-Mobile acquired MetroPCS in October while, most recently, industry third player
Sprint
(S) - Get SentinelOne, Inc. Class A Report
was taken over by Japanese telecom
SoftBank
of Japan. Sprint also recently acquired
of
Clearwire
(CLWR)
.
Friday's proposed merger between AT&T and Leap Wireless comes at a near 90% premium to Leap Wireless' closing share price of $7.98 and signals the nation's biggest telecom by revenue believes the DoJ will allow it to be an aggressor in the wireless sector.
Consolidation among industry third and fourth players such as Sprint and T-Mobile may have altered market concentration figures and those surrounding all important wireless spectrum. Leap Wireless is also a regional service provider, a big contrast to T-Mobile, which is the industry's fourth biggest national player.
The DoJ has expressed an interest in fostering at least three or four nationally competitive wireless providers, meaning Leap may mark the twilight for the telecom sector merger wave.
For satellite TV giant
Dish Network
(DISH) - Get DISH Network Corporation Class A Report
, Sprint, T-Mobile and now Leap's proposed acquisitions leave the Charlie Ergen-chaired company in a bind as it seeks to deploy its billions in wireless spectrum assets. AT&T was considered by analysts to be a potential acquirer of Dish's spectrum and Leap Wireless was will within the reach of its M&A appetite.
Dish had been an aggressor in trying to win Clearwire from Sprint and Sprint from SoftBank. Recent proxy filings also indicate Dish Network was likely a suitor for MetroPCS and T-Mobile.
Sitting in the background of telecom industry consolidation are hedge fund titans who made savvy bets on a merger frenzy.
John Paulson of
Paulson & Co.
was chief among hedge funds in targeting potential wireless consolidators and has played a crucial role in the industry's realignment.
Paulson successfully lobbied for lower levels of debt in T-Mobile's acquisition of MetroPCS, a large holding, and he cast a crucial vote of support on SoftBank's efforts to win Sprint amid a heated fight put up by Ergen and Dish Network.
While Paulson may have made billions on stakes in Sprint and MetroPCS after buying both companies shares when they were priced for bankruptcy, he is also poised to see big profits from a deal for Leap Wireless at $15 a share, or in any potential bidding war.
The fund holds nearly 10% of Leap's outstanding shares, according to
Securities and Exchange Commission
filings, after taking a large position in the first half of 2012. Other large investors include MHR Fund Management, Magnetar,
Blackstone
(BX) - Get Blackstone Inc. Report
and Owl Creek Management.
Leap Wireless shares were rising over 110% in after-market Friday trading to $16.80, well above AT&T's proposed price. Given rising merger prices in the takeovers of MetroPCS, Sprint and Clearwire, investors appear to be betting a similar outcome may occur in AT&T's effort for Leap Wireless.
Those bets, however, come as AT&T likely tests the DoJ's appetite for its merger ambition.
In a press release, Leap Wireless said 29.8% of its outstanding shares have entered into an agreement to vote in favor of the transaction. Paulson & Co. couldn't immediately be reached for comment.
With Clearwire Sprint Moves Onto Final Act of Wireless Drama
.
Glenview's Obamacare Bet Matches Paulson's Wireless Windfall
.
-- Written by Antoine Gara in New York