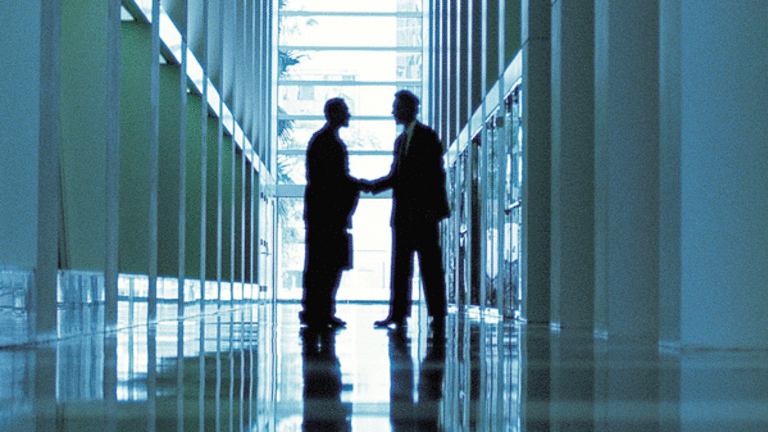 AT&T Needs to Build a T-Mobile
After its merger has come under pressure, AT&T may need to build a T-Mobile out of a regional player.
NEW YORK (
) -- New reports that
AT&T
(T) - Get Report
is working an "11th-hour deal" to revive a $39 billion merger with
T-Mobile USA
beg the question: Why the second largest wireless carrier in the U.S. waited till a late deal making hour to alleviate antitrust concerns?
The specter of a blockage from antitrust regulators has loomed large since the outset of the deal. If AT&T were to fail it would have to pay $3 billion cash and $3 billion spectrum assets to T-Mobile, according to deal terms. Additionally, if asset divestitures to alleviate antitrust issues reach $7.8 billion, the price of the merger - currently the largest of the year - could be renegotiated entirely. With Monday's reports by the
New York Times
that those involved in merger negotiations gave the deal as low as a 60% chance of approval, the surprise is that scattered reports of potential divestitures only started to seep out after the
U.S. Department of Justice
blocked the deal in August. Why wasn't AT&T more prepared?
The FCC joins its opposition to AT&T's $39 billion T-Mobile merger.
New reports that AT&T will look to divest up to 50% of T-Mobile to competitors like
Leap Wireless
(LEAP)
and
MetroPCS
(PCS)
from
Bloomberg
and reports by the
Wall Street Journal
in September that the company had hired
Bank of America
(BAC) - Get Report
to conduct up to $8 billion in asset sales such as 4G spectrum, signal grave miscalculations in AT&T's merger. While AT&T lawyer's highlighted the competitiveness of regional wireless markets when announcing the merger, in its August antitrust suit, the DoJ tested the merger on national grounds, accounting for the fees regional providers pay to connect with the national networks of AT&T and Verizon.
"I think that it is incredible that the experts would say there was only a 40% chance of failure," said Eleanor M. Fox a professor of antitrust law at NYU Law School when asked if AT&T had been prepared to make divestitures to remedy antitrust issues when cutting the deal. Fox now now characterizes the merger as "extremely unlikely" and adds, "this merger is so anticompetitive in its essence, it's not terribly fruitful to try to get antitrust approvals through spins."
The miscalculation is a result of a disagreement in what AT&T and its regulators define as the wireless market. Five or more carriers service a majority of regional wireless markets, meanwhile on a national level, the industry has become concreted to the point that only three major players would remain after the deal.
If AT&T completed the deal, it and
Verizon
(VZ) - Get Report
would control roughly 70% of the U.S. wireless market, leaving Sprint in a far off third with a sub-20% share.
Leap Wireless
(LEAP)
and
MetroPCS
(PCS)
holds sub 3% market shares of the overall North American wireless market, according to 2010 data compiled by
Bloomberg Industries
.
With T-Mobile, AT&T is trying to extend its 4G coverage with added spectrum in an attempt to close the gap between it and market leader Verizon. The boost to 4G service is critical for AT&T after it lost exclusivity to sell
Apple's
(AAPL) - Get Report
iPhone and is working to meet wireless data demands of consumers using smartphones.
Because the miscalculations, AT&T is scrambling to put into place a massive divestiture plan to appease antitrust regulators. Bert Foer president of the American Antitrust Institute says according to DoJ's market definition, AT&T will have to "find a company and build it up to the point where the Justice Department could view it as a competitive equivalent to T-Mobile."
However, its unclear whether such a Herculean effort will prove effective. "The fact that the DOJ filed to block the deal before AT&T offered any divestitures wasn't because they weren't aware that divestitures were an option. It's because they couldn't envision any divestitures that would be sufficient," says Craig Moffett of Sanford C. Bernstein
Divestitures are complicated by an already concentrated wireless market, where smaller players like Leap and MetroPCS would need huge investment to come close to being strong national players. Selling 4G spectrum to a large player like Verizon or Sprint will do little to build up a fourth competitor.
"It leaves a limited number of willing and able parties to acquire enough assets to make the deal likely... and their interest is to acquire assets within their current markets," says Michael Nelson a telecommunications research director with Mizuho Securities. Currently, T-Mobile has 33.7 million customers compared with MetroPCS's 9.1 million customers and Leap's 5.8 million customers as of September.
A tragic element of the deal that pops up in management comments and in the flurry of AT&T responses to regulatory roadblocks is that the company is trying to bolster its 4G spectrum and capability to reach rural markets, which President Obama has made a priority. About doing the merger, Nelson says, "I think they were initially encouraged by the Obama administration's desire to expand broadband coverage through rural America."
Another cornerstone of the Obama administration has been the tightening of antitrust law enforcement and regulation of the financial and energy industries, among a host of changes from previous administrations. For AT&T and their lawyers, the change may have been a rude awakening.
AT&T's General Counsel Wayne Watts joined Southwestern Bell in 1983, one of the "baby bells" after the Justice Department broke up AT&T on antitrust concerns, and then worked in the company's general counsel office as it cut mega-acquisitions such as Pacific Telesis in 1997, Ameritech in 1998 and Cingular in 2004 for $41 billion. Those deals returned AT&T to its past dominance and may have been a sign of a permissive merger environment.
When announcing the deal in a call to analysts this spring, Watts said, "We understand this regulatory process. We understand it will include a detailed, market-by-market analysis. And, as in the past, we expect we will have to discuss some divestitures." Clearly, as general counsel, he hadn't been prepared for the treatment that the deal would then get from the Justice Department and the FCC.
As it stands, AT&T is in the process of withdrawing the merger from the FCC and it is scheduled to go to court on the Justice Department's suit in February 2012. If a solution to the deal can't be found before then, or litigation doesn't go to AT&T's favor, it will have till September 2012 before the merger application is cancelled entirely.
About AT&T's merger history, Foer of the American Antitrust Institute said that it may have clouded the company's vision on antitrust and increased market concentration. Foer adds that for AT&T, its merger with T-Mobile is the deal that shows the "barn door is closed" on deals.
Through February, AT&T is going to go down two paths, working to negotiate a settlement with the DoJ, while also preparing for a court fight, says Nelson of Mizuho. Whether AT&T will have to argue that the U.S. wireless market is regional or whether it will have to work with bankers to build a resemblance to T-Mobile out of a regional carrier.
-- Written by Antoine Gara in New York
Readers Also Like:
10 Dividend Stocks to Keep You Safe Into 2012