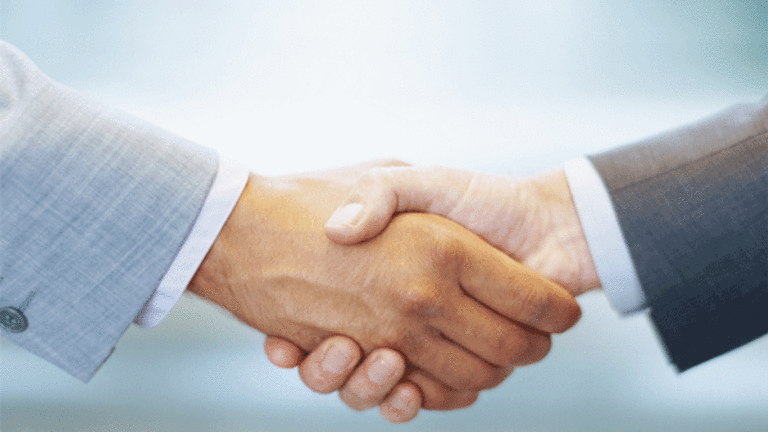 AT&T Ends $39 Billion T-Mobile Bid (Update 1)
AT&T has cancelled its merger with T-Mobile, citing regulatory headwinds.
Updated to include WSJ reports of divestiture talks and added information starting in 11th paragraph.
NEW YORK(
) --
AT&T
is ending its $39 billion bid for
T-Mobile
after increased antitrust scrutiny made the deal untenable.
In a Monday statement, the company also announced it would take a $4 billion charge related to a breakup fee in the fourth quarter of 2011. Additionally, AT&T will enter a "mutually beneficial roaming agreement" with T-Mobile owner
Deutsche Telekom.
AT&T cited objections to the by both the
U.S. Department of Justice
and
the Federal Communications Commission
as the reason for its cancellation to the merger, which would have been the biggest acquisition in 2011. The company's shares fell less than 1%, to $28.54, in after-hours trading
In dropping its bid, AT&T maintained its perspective that the deal was pro-competitive and that it would have long-term benefits for wireless consumers. Calling the U.S. wireless market "one of the most fiercely competitive industries in the world," AT&T said that its proposed combination with T-Mobile would have addressed a spectrum shortage as an increasing number of mobile consumers use high-data load smartphones.
AT&T Chief Executive Randall Stephenson said that the company will continue to invest in adding wireless spectrum in spite of the setback. "To meet the needs of our customers, we will continue to invest," Stephenson said.
"The mobile Internet is a dynamic industry that can be a critical driver in restoring American economic growth and job creation, but only if companies are allowed to react quickly to customer needs and market forces," he added.
The proposed deal would have combined the second and fourth wireless companies, creating the leading U.S. wireless provider surpassing
Verizon
(VZ) - Get Verizon Communications Inc. Report
in size and customers.
For more on social media, see our portfolio of 10 new dividend aristocrats for 2012 for more on AT&T.
For AT&T, its next immediate step in bolstering wireless service is a $1.93 billion purchase of wireless spectrum from
Qualcomm
(QCOM) - Get Qualcomm Inc Report
announced in December 2010. Monday, AT&T urged regulators to approve the spectrum purchase, which is currently pending before the FCC.
As part of the deal struck in March, AT&T agreed to pay T-Mobile $3 billion in cash and an additional $3 billion in spectrum assets and roaming agreements if the merger were to fall through.
When announcing the deal, AT&T also kept open the possibility of entering divestitures to remedy antitrust concerns. According to the deal terms, if AT&T were to divest more than $8 billion in T-Mobile assets, it could renegotiate the merger price. After previously reporting that AT&T was in talks to divest assets to
Leap Wireless
(LEAP)
,
Dish Network
(DISH) - Get DISH Network Corporation Class A Report
and
MetroPCS
(PCS)
, the
Wall Street Journal
reported on Monday that asset sale talks had "gone cold."
Without a plan for divestitures, the deal became increasingly unlikely and lead to Monday's cancellation. In previous reports, antitrust experts told
TheStreet
that AT&T would potentially have to build a wireless competitor
, if the deal were to pass.
In August, the Department of Justice blocked the deal on antitrust grounds and in November, the FCC also moved to challenge the merger in courts. In December, AT&T withdrew its merger application with the FCC and was preparing for a February hearing to contest the DoJ's antitrust suit, until withdrawing its bid on Monday.
In October, AT&T wrote a letter to the FCC stating that the deal could preserve over 20,000 call-center jobs in the United States and return another 5,000 jobs from overseas. Throughout the merger process, AT&T stated that the combination would put its service within reach of rural communities and bolster its 4G network coverage, making it better equipped to serve the data needs of consumers using smartphones like
Apple's
(AAPL) - Get Apple Inc. Report
iPhone.
The deal would have also added T-Mobile's 33.7 million customers to AT&T's 100.7 million subscribers, making it pass Verizon Wireless as the largest wireless carrier, according to
Bloomberg
reports.
For competitors like
Sprint
(S) - Get SentinelOne, Inc. Class A Report
, who objected to the merger, as well as Verizon, the merger may be welcome news. Sprint, the wireless industry third with a waning market share and its partner
Clearwire
(CLWR)
saw shares rise 5% in after-hours trading.
Sprint wrote of AT&T's decision to end its merger attempt with T-Mobile, "This is the right decision for consumers, competition and innovation in the wireless industry," in a Monday press statement.
Meanwhile, as AT&T's spectrum purchases remain up in the air, it's competitor Verizon has picked up spectrum in multiple recent deals with cable companies. Earlier in December, Verizon cut a $3.6 billion deal to pick up spectrum assets from
Comcast
(CMCSA) - Get Comcast Corporation Class A Report
,
Time Warner Cable
(TWC)
and
Bright House Networks
, in addition to marketing partnerships. Last Friday, Verizon also bought $315 million of spectrum assets from
Cox Communications
.
As it looks at possible alternative deals to a T-Mobile merger, AT&T will continue to pursue its Qualcomm spectrum purchase and its 4G LTE deployment, as it tries to catch up with Verizon. "Over the past four years we have invested more in our networks than any other U.S. company," said CEO Stephenson in a statement.
-- Written by Antoine Gara in New York