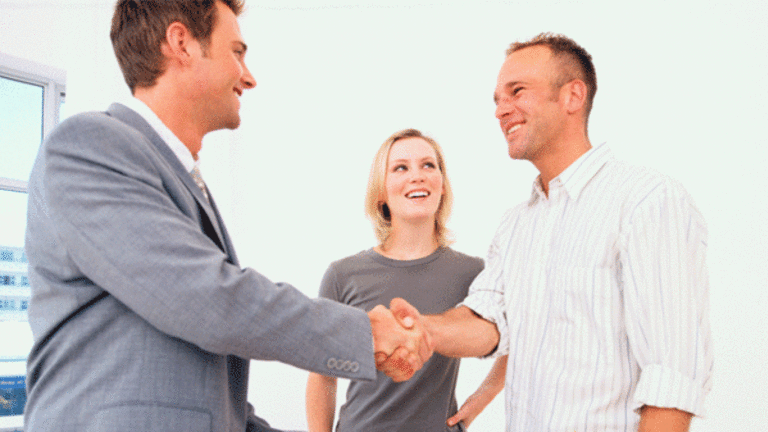 AT&T, DirecTV Aggressively Defend Merger
The heads of AT&T and DirecTV Groupon Tuesday twice defended their planned $67 billion merger from critics.
WASHINGTON (The Deal) -- The heads of AT&T (T) - Get AT&T Inc. Report and DirecTVGroup (DTV) on Tuesday twice defended their planned $67 billion merger from critics who said that service enhancements the companies vow will accompany the deal offer little benefit to consumers.
Those critical of the deal contend that the companies are promising little more than upgrades to expansion plans they already had in the works before the deal was announced.
The scrutiny of the companies' plans to form an integrated entity better able to offer bundled telecom and satellite TV services happened during two separate hearings on Capitol Hill -- the first in the morning by the House Judiciary's antitrust subcommittee and then in the afternoon by the House panel's Senate counterpart.
John Bergmayer, senior staff attorney for Public Knowledge, a public interest group focused on telecom and digital information issues, said the merger could only contribute to the continuing consolidation of the telecom industry with very little payoff for consumers. Bergmayer said the public interest benefits the companies have offered to secure approval from the Department of Justice and the Federal Communications Commission are mostly system improvements the companies would undertake anyway.
"AT&T has history of using its existing plans as a merger promise," Bergmayer told the committee. He noted that in 2011 when AT&T was attempting to buy T-Mobile USA it committed to cover 250 million Americans with long term evolution technology (LTE), also known as 4G networks, by the end of 2013. By the end of 2013, however, AT&T covered 270 million Americans with LTE even though a DOJ lawsuit resulted in AT&T terminating the merger. That AT&T not only met, but exceeded, its promise shows that its claims that a merger was necessary to improve service must be viewed with skepticism, he said.
"When you strip away previously-announced plans, even AT&T's best case for this merger is less than it appears," Bergmayer said. "For the most part, AT&T is simply stating that it will upgrade portions of its network. That is not much. For instance, adding a new kind of home wireless service to an existing wireless coverage area is not as significant an investment as an initial wireless build-out."
In order to convince the regulators that the deal will benefit consumers, AT&T is offering to abide by the FCC's previous net neutrality rules for three years and build out their broadband service to 15 million additional homes, primarily in rural areas. It is also offering to allow customers who only want a broadband service to continue obtaining video through streaming services like Netflix or Hulu at speeds of at least 6 Mbps (megabits per second) in areas where AT&T now offers wireline IP broadband service. Prices for that service will be guaranteed for three years after closing. AT&T also has pledged not alter its plans to bid at least $9 billion in the FCC's spectrum auctions later this year and in 2015.
But Bergmayer said those promises are insufficient. "Based on the record so far, AT&T has not met its burden." The rollout will likely leave rural areas with an inferior wireless broadband product and may allow AT&T to expand broadband video service delivered in a discriminatory way as compared to urban markets. He also warned that in more than 60 markets where AT&T offers its U-Verse pay TV service, consumers would be losing an option from which to choose. "The three-year price pledge doesn't address the structural problem caused by higher concentration," he said.
To the extent AT&T is offering to add some new services, Bergmayer warned that "AT&T has a spotty record with regard to past merger commitments." He contended that AT&T failed to live up to promises made in regard to its 2006 merger with BellSouth Inc., when AT&T committed to providing broadband to 100% of the residences in its wireline footprint. "This commitment included a promise to provide wireline broadband to 85% of the residences. Yet by 2012, promises of future broadband buildout were still on the table."
AT&T chairman and CEO Randall Stephenson and DirecTV chairman and CEO Michael White didn't let the criticism go unchallenged. As to the claim that the BellSouth commitments have been unfilled, he said Bergmayer was basing his attack on a Huffington Post blog that has since been discredited. "We fully complied with every single condition imposed in that merger," he said.
DirecTV's White said that the companies' plans for bundled service and broadband expansion could not be carried out without the merger. "The only way for us to get a seamless, integrated bundle," is to have one company "that can spread the cost over that one install."
White added, "So, for us, every time we sign up a new customer, we spend $850. We can probably reduce that by 20% with a one call, one truck roll, build the router into the set-top box."
The companies' chiefs also had to defend their plans against criticism from Ross Lieberman, senior vice president of governmental affairs at the American Cable Association, the trade group for small cable operators. Lieberman said because of DirecTV's control of regional sports networks in several cities and its interests in some other national networks, it is also a programmer. Therfore, merging with AT&T would give it more leverage to drive up programming prices. "This gives Direct TV an economic incentive and ability to charge its rivals higher fees for its programming, especially its regional sports networks," he said.
Stephensen rejected the assertion that the deal will lead to higher programming costs as well. He said because the combined company will have more diffuse sources of revenue it will have more leverage to resist price increases from programmers.