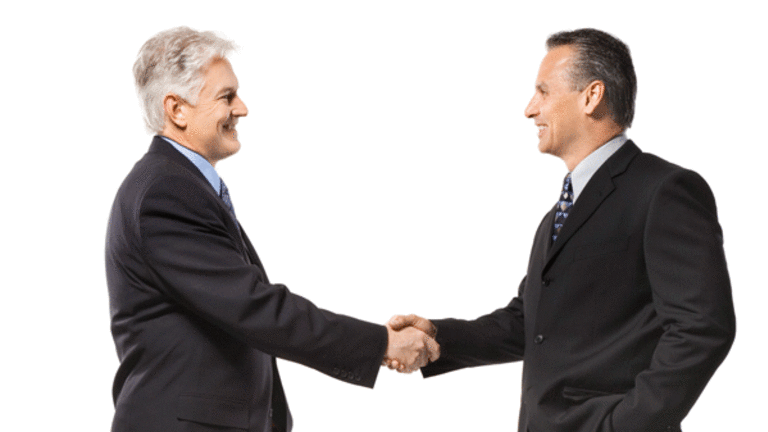 AT&T Deal Bust Could Force Cell Tower Land Rush
AT&T's failed $39 billion merger with T-Mobile may reignite a cell tower land grab.
AT&T's failed $39 billion merger with T-Mobile may reignite a cell tower land grab.
NEW YORK(
) -- After
AT&T's
(T) - Get Report
$39 billion merger with
T-Mobile
to pick up wireless spectrum was
, the knock-on effects may be felt first in a cell tower land grab among operators like
Crown Castle International
(CCI) - Get Report
,
American Tower
(AMT) - Get Report
and
SBA Communications
(SBAC) - Get Report
.
The merger breakup will compel tower operators to fight for towers to connect the mobile-phone calls of wireless carriers such as
Verizon
(VZ) - Get Report
,
Sprint
(S) - Get Report
, AT&T and T-Mobile for two reasons, according to industry watchers.
First, it puts in play $2 billion worth of cell tower assets that T-Mobile may return to the selling block. Secondly, the blocked consolidation among the second and fourth largest U.S. wireless carriers removes concerns that the companies would find tower usage efficiencies. Now, they may need to expand networks, increasing use of tower services.
Before its proposed $39 billion merger with AT&T in March, T-Mobile was reported to be interested in selling its 7,000 cellular towers for as much as $2 billion as part of an effort by its parent
Deutsche Telekom
to raise capital and exit the U.S. Without AT&T as an acquirer, T-Mobile may revert back to its previous tower sale plans.
"T-Mobile will likely try to sell its US towers... This would be a sizable tower deal at around $2 billion. Crown Castle and American Tower as well as private companies Global Tower Partners and TowerCo are possible buyers," says Clayton Moran of The Benchmark Company, who also notes SBA Communications could show interest.
Cell towers have become the domain of specialist operators like American Tower and Crown Castle, who rent the mobile phone connection services to national carriers. Their specialty comes from previous tower divestitures of carriers like Sprint and a wave of tower acquisitions in the mid-2000s to build up capacity ahead of a smartphone-based surge in wireless data usage.
For more on telecom and tower investments, see our portfolio of 5 Telecom picks for 2012.
In 2005, American Tower spent $3.7 billion to buy the cell towers of
Spectrasite
, adding to its lead as the nation's largest tower operator. Not to be outdone, in 2006, Crown Castle spent $4 billion to buy
Global Signal
in a competitive push to challenge American Tower's industry lead. After AT&T's failed merger, similar competition may emerge for T-Mobile's 7,000 towers.
As AT&T fought to build spectrum to handle increasing smartphone data loads with its T-Mobile merger proposal, national tower operators watched for a knock-on impact to their bottom line. With tower revenue contingent on the ability for national carriers to service ever-increasing wireless traffic, the deal breakup signals that telecommunications giants may not be able to wrench out tower usage synergies through consolidation.
"Carrier consolidation has always been a fear for tower investors. AT&T and T-Mobile run the same network technology so network consolidation is feasible... The percentage of rental revenue at risk due to possible site decommissioning for American Tower, Crown Castle and SBA is 4%, 6% and 7%," writes Clayton Moran of the primary risks that AT&T's merger posed to tower operators like Crown Castle in a research note.
With the merger dead, fear may turn to greed as carriers may be forced to build out their wireless networks, adding to tower usage.
On news of the merger breakup, the stocks of tower operators have jumped, adding to 2011 gains. Shares of the largest U.S. tower operators like Crown Castle, American Tower and SBA Communications all gained at least 3% in Tuesday trading.
"Tower infrastructure is relatively closed to new competition," writes Moran. He adds that new demand for wireless data and application infrastructure will add to growth for tower demand -- similar to demand expectations for wireless data loads.
In the proposed merger, AT&T wanted to add spectrum to aid its 4G LTE expansion efforts, meanwhile T-Mobile was trying to add U.S. users to its network, says Frank Louthan of Raymond James in a research note. Without a deal, "we believe the tower companies will benefit from AT&T's need to densify its network and T-Mobile's need for a 4G LTE solution," writes Louthan.
Meanwhile, as tower operators look at bolstering their services as a "toll road" for mobile service, the AT&T deal failure will add to an already shifting spectrum landscape. In December, Verizon spent nearly $4 billion in two separate deals to buy wireless spectrum from cable companies like
Comcast
(CMCSA) - Get Report
,
Time Warner Cable
(TWC)
and
Cox Communications
.
With the merger dead, T-Mobile, AT&T and others may look to bolster their spectrum service in new ways, creating a windfall for some tower operators.
After AT&T withdrew its bid on Monday, Jonathan Schildkraut of Evercore Partners wrote that, "this points AT&T (and potentially T-Mobile) back in the hunt for spectrum. With SpectrumCo and Cox no longer available, this leaves just
Dish Network
(DISH) - Get Report
and
Clearwire
(CLWR)
as companies with excess spectrum assets." If AT&T or T-Mobile were to consider picking up spectrum from Sprint partner Clearwire, it would be a boost to Crown Castle who generates a significant percentage of revenue from the partnership, notes Schildkraut.
Already, Crown Castle has reemerged as a big spender in adding capacity to handle carrier wireless data loads. In December, Crown Castle spent $1 billion to buy NextG Networks a distributed antenna systems leader, which produces ground-based networks to handle mobile data loads. In urban areas, football stadiums and malls crammed with holiday shoppers among other dense areas, DAS can be a key part of carrier mobile service.
"The deal marks the return of Crown Castle into the acquisition game," said Schildkraut after its acquisition on Friday. After Monday's AT&T deal withdrawal, Schildkraut added of Crown Castle's deals appetite, "We believe
Crown Castle - even after accounting for its recent announcement to purchase NextG Networks - would be the likely contender to purchase
T-Mobile's towers."
As AT&T's wireless spectrum push to service smartphones looks increasingly up-in-the-air, expect a land grab for the tower and DAS infrastructure to service national carriers' wireless networks. For American Tower, Crown Castle and potentially even SBA Communications, it might lead to a revival in deals to bolster U.S. assets after a wave of acquisitions in the mid-2000s.
-- Written by Antoine Gara in New York