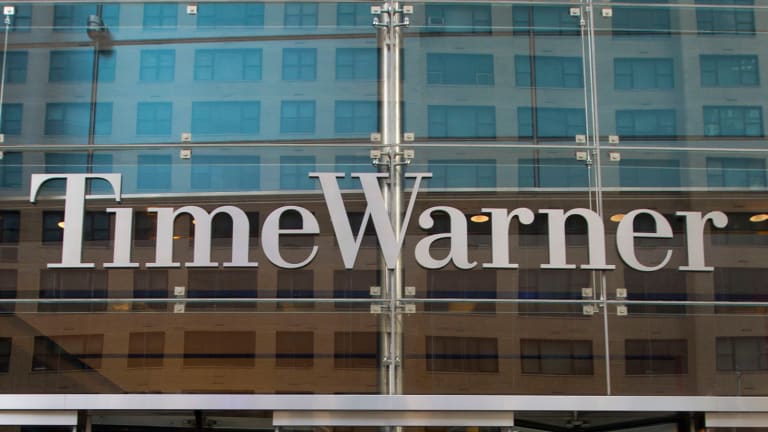 Trump's DOJ Demands CNN Be Sold If AT&T Wants to Buy Time Warner
AT&T CEO Randall Stephenson says he has no intention to sell CNN.
What was once mere speculation has apparently become reality.
President Trump's Department of Justice has told AT&T Inc. (T) - Get AT&T Inc. Report that if it wants to win regulatory approval for its $85.4 billion acquisition of Time Warner Inc. (TWX) , it has to sell CNN, the Financial Times reported on Wednesday, Nov. 8. Given that there didn't appear to be clear anti-trust grounds for such an order, the demand smacked of smacks of political motivation given that Trump has often accused CNN of making him look bad.
In response AT&T CEO Randall Stephenson struck back, declaring that his company has no plans to sell the network.
"Until now, we've never commented on our discussions with the DOJ," Stephenson said in an e-mailed statement. "But given DOJ's statement this afternoon, it's important to set the record straight. Throughout this process, I have never offered to sell CNN and have no intention of doing so."
CNBC and Axios confirmed the FT report, adding that the DOJ has told AT&T it must sell Turner Networks, which includes CNN, or unload DirecTV. The surprising development, which comes more than a year after the deal was announced, sent Time Warner shares tumbling 5.9% on Wednesday afternoon to $89.11. AT&T stock was up 1% to $33.40.
The regulatory demand sparked recollections from a year ago when Trump, as the Republican presidential nominee, said he would block an AT&T-Time Warner merger on grounds that no company should be allowed to get so big. Trump also has made clear that he has been bothered by CNN's reporting despite the network producing hundreds of stories about his campaign and administration that were subsequently confirmed by other news outlets.
CNN declined to comment on the FT report. AT&T and the Department of Justice couldn't immediately be reached for comment.
AT&T CEO Randall Stephenson has argued for more than a year that the proposed deal qualified as a vertical merger -- combining a content company, Time Warner, with its own distribution networks, wireless and broadband -- and thereby wouldn't conflict with antitrust law. The DOJ has routinely approved vertical mergers for decades, so a change in that policy would constitute a historical break with precedent.
Adding to presumptions that the demand is politically motivated, Trump's newly appointed head of the DOJ's antitrust division, Makan Delrahim, a well-regarded attorney, said a year ago that the AT&T acquisition of Time Warner appeared to be well within grounds for antitrust approval.
For his part, Stephenson has said in recent months that AT&T would be willing to go to court to stop regulators from blocking the deal. Whether AT&T would head to court to prevent the DOJ from forcing it to sell CNN, or more significantly, whether the DOJ has grounds to demand such a sale, remains unclear. 
"We would have to ask what's the theory to this Republican Department of Justice to block this type of deal," Blair Levin, a former chief of staff at the Federal Communications Commission, told CNBC. "In effect, this would take us back to a time when Republican departments of justice thought big is bad. For all kinds of investment bankers, that has precedential problems for a lot of other stuff we've been thinking about."
In an apparent hint that something was afoot, AT&T finance chief John Stephens earlier on said the timing for closing the Time Warner transaction was "now uncertain." For months, Stephenson has been saying that he expected the deal to close by the end of 2017.
Speaking at a Wells Fargo investor conference in New York on Wednesday, though, Stephens said the regulatory process had slowed as Delrahim, who wasn't approved by the Senate until Sept. 28, becomes more involved in assessing the deal.
More of What's Trending on TheStreet: