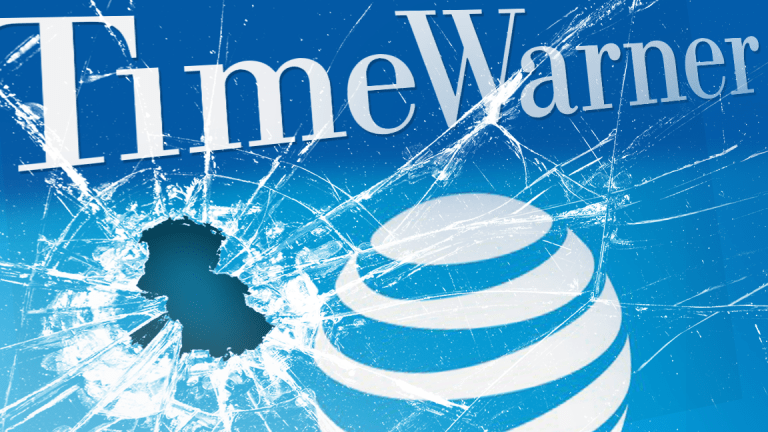 AT&T and Time Warner Tap Lawyers from Hollywood to Beltway
The merger partners want a February trial, though the government says AT&T has dragged its feet and does not deserve an early start.
As AT&T Inc. (T) - Get Free Report and Time Warner Inc. (TWX) try to beat back the Department of Justice's law suit to block their deal, the company has retained counsel from inside the Beltway to Hollywood. 
Time Warner's team includes Christine Varney of Cravath, Swaine & Moore LLP, who was the Department of Justice antitrust chief who approved Comcast Corp.'s (CMCSA) - Get Free Report purchase of a majority stake in NBCUniversal. "The antitrust division worked in close cooperation and unprecedented coordination with the Federal Communications Commission (FCC) to reach a result that fully protects competition, allowing businesses to bring new and innovative products to the marketplace, providing consumers with more programming choices," she said in a press release announcing approval of the deal.
Varney is "the only person to have served as both the U.S. Assistant Attorney General for antitrust and as a commissioner of the Federal Trade Commission," her bio on Cravath's web site states. In addition to the merger of AT&T and Time Warner, Varney's current assignments include Qualcomm Inc. (QCOM) on its purchase of NXP Semiconductors NV (NXPI). 
U.S. District Judge Richard Leon, who is hearing the case, is well versed in the precedent of the ComcastNBCUniversal deal. Leon approved the transaction himself, though he voiced reservations about the impact of the deal on online video distributors.
Leon will hold an initial status conference on Dec. 7 in the U.S. District Court for Washington, D.C.
AT&T and Time Warner cite the government's approval of Comcast-NBCUniversal when they filed their Tuesday answer to the DOJ suit. "[T]he Government elected in 2011 not to litigate the vertical merger between Comcast and NBCUniversal, even though Comcast is typically the clear pay-TV leader in its local service areas and NBCUniversal owns one of the Big Four broadcast networks," AT&T lawyer Daniel Petrocelli of O'Melveny & Myers LLP states in pleadings. 
Petrocelli is from outside the beltway but is close to the merger partners. He took part in the Nov. 20 webcast with AT&T Chairman and CEO Randall Stephenson and Time Warner CEO Jeff Bewkes announcing their intent to fight the DOJ.
The O'Melveny partner made a name for himself representing the family of Ronald Goldman in the wrongful death case against O.J. Simpson in 1996, obtaining a $33.5 million award for the family. Since then he has developed a list of high-profile clients. He represented Trump University in a suit brought by former students, who settled for $25 million; Walt Disney Co. (DIS) - Get Free Report in litigation over royalties from "Winnie the Pooh;" former Enron CEO Jeff Skilling in criminal defense; singer Kesha Rose Sebert's dispute with producer Dr. Luke; and, according to the New York Times, Harvey Weinstein in a harassment dispute with an actress that settled out of court for $100,000.
AT&T has also retained a team including Rob Walters of Gibson, Dunn & Crutcher, who was the lead trial counsel defending Blockbuster and Hollywood studios in a class-action antitrust litigation by local video stores in 2002, and to Intel Corp. (INTC) - Get Free Report in 2012 securities litigation related to its $8 billion purchase of McAfee Inc. 
AT&T and Time Warner are pushing for a Feb. 20 start to the trial. "We believe that this is both necessary and appropriate in view of the April 22, 2018 deadline in the merger agreement and the fact that the civision has already had more than one year to investigate and evaluate the transaction," Petrocelli explained in a November letter l to DoJ antitrust head Makan Delrahim that was filed with the court. 
Department of Justice lawyer Craig Conrath recounted that AT&T and Time Warner set the April 22 date themselves and could change it "with the stroke of a pen," in his response. "Defendants would shortchange the United States and the court of the full benefit of discovery to meet the self-imposed option date from defendants' merger agreement," Conrath argued, requesting that the trial start on May 7 or later. Before the DoJ filed its lawsuit, Conrath added, AT&T dragged its feet by taking nearly four months to provide the government with documents. 
Conrath recently served as lead trial lawyer in the division's suit alleging American Express of violating antitrust laws with its treatment of merchants, which he won in 2015, and the government's successful effort to block the $34 billion merger of health insurers Aetna Inc. and Humana Inc. earlier this year.
AT&T and Time Warner got support from an unlikely source on Wednesday, when the International Brotherhood of Electrical Workers came out in favor of the deal. IBEW President Lonnie Stephenson said the merged companies would "provide healthy competition" to Internet video providers Amazon.com Inc. (AMZN), Netflix Inc. (NFLX) and Alphabet Inc.'s (GOOGL) - Get Free Report Google. Stephenson suggested that AT&T-Time Warner would treat its workers better than the tech giants. 
While the advances that Amazon, Netflix and Google's YouTube have made strengthen AT&T's arguments, the government's approval of the Comcast-NBCUniversal deal will loom over the case. Leon had concerns about the vitality of the online video providers back in 2011, they must have been at least somewhat allayed by the explosion of streaming video. 
FCC Chair Ajit Pai Takes an Axe to Net Neutrality
Did You Score a Cheap iPhone X on Black Friday? The Answer: No
AT&T, Time Warner Extend Deadline to Finalize Deal
AT&T has borrowed from Comcast's regulatory playbook, Craig Moffett of MoffettNathanson LLC noted in a Wednesday report. The analyst pointed to the carrier's efforts to assuage DOJ concerns about the possibility for AT&T to boost prices for Turner. The telecom pledged in its answer that Turner would not go dark on distributors if disputes arise, and it would allow an arbitrator to resolve rate quarrels. Both pledges hold for seven years—the same term of the conditions applied to Comcast's purchase of NBCUniversal. 
"This both reduces pressure on Judge Leon—he no longer has to consider the deal as if it has no behavioral remedies whatsoever, as would have been the case absent this commitment—and increases it, as it now becomes much harder to reject the deal when AT&T is committing to exactly the same behavioral remedy to which Comcast committed (and for the same amount of time)," Moffett wrote.
Editor's note: This article originally appeared on The Deal , our sister publication that offers sophisticated insight and analysis on all types of deals, from inception to integration. Click here for a free trial.
AT&T, Comcast and Google are holdings in Jim Cramer's Action Alerts PLUS Charitable Trust Portfolio . Want to be alerted before Cramer buys or sells (T) - Get Free Report , (CMCSA) - Get Free Report or (GOOGL) - Get Free Report ? Learn more now.
More of What's Trending on TheStreet: