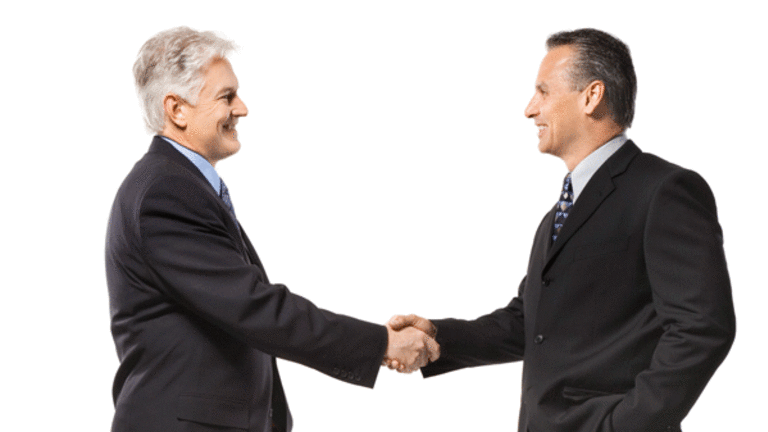 At Chipotle, Hot Stock Price Insulates Executives From Anger Over High Salaries
The restaurant chain's compensation package elicited the most opposition in the industry last year, but activists are unwilling to challenge the strong-performing company.
NEW YORK (The Deal) -- Last year, Chipotle Mexican Grill (CMG) - Get Chipotle Mexican Grill, Inc. Report earned the dubious honor of garnering the largest protest vote by shareholders against its executive pay packages of any U.S. company. According to a recent report by Semler Brossy, an executive pay consulting company, only 23% of Chipotle shareholders voted for its executive compensation scheme in 2014, putting it on the bottom of a list of 60 companies that failed their so-called "say-on-pay" votes throughout the year.
The negative vote was so strong that at least two large institutional investors are hoping an activist investor will come in and launch a campaign that they hope at the very least will oust directors on the restaurant chain's compensation subcommittee.
It wouldn't be the first time that an activist hedge fund has launched a campaign at a company that had previously received a substantial negative vote on its CEO's pay. In fact, taken with other economic factors, failed say-on-pay votes could be good indicators for subsequent activist campaigns. For example, after Staples (SPLS) executives received a failed say-on-pay report of only 46% support in June 2014, activist investor Starboard Value in December launched an insurgency that quickly drove the national office supply chain into a February deal to merge with Office Depot (ODP) - Get ODP Corporation Report. And after Rovi (ROVI) received only 40% support for its executive pay packages last year, Engaged Capital launched a proxy fight in March. Other companies with huge negative pay votes that subsequently received activist pressure include American Realty Capital Properties (ARCP) by Corvex Management and Biglari Holdings (BH) - Get Biglari Holdings Inc. Class B Report by Groveland Capital.
So Chipotle is vulnerable, right? Actually, no. Several factors suggest that at least in the immediate future an activist hedge fund is unlikely to target the eatery chain -- though an institutional investor could have some success with a "just vote no" campaign to embarrass its compensation committee members.
Chipotle's biggest ally is its stock price. The company's shares trade at roughly $640 each, giving it a $20 billion market capitalization. But the restaurant chain has also made progress in improving its pay packages for fiscal 2015.
Lynne Collier, an analyst at Sterne Agee, said she would be "absolutely shocked" if an activist targeted Chipotle, largely because the stock is so strong. "I think it's very unlikely," she said. "Activists target stocks that haven't worked and this stock has worked."
In addition, some of the financial engineering tactics activists often employ simply are not available at Chipotle. For example, unlike Bob Evans Farms (BOBE) and Darden Restaurants (DRI) - Get Darden Restaurants, Inc. Report -- both targeted by activists -- Chipotle doesn't own any of the real estate under its stores. As a result, an activist can't pressure for a stock-price-improving REIT spinoff or sale-lease back.
That doesn't mean that the company is completely inoculated. Even a high stock price can be pushed higher. For example, Chipotle owns all its restaurant operations. An activist could try to pressure the chain to sell off stores to franchisees and use the proceeds for dividends or its stock buyback program. One labor-backed institutional investor who would like to see an activist involved pointed to efforts this year by Glenview Capital Management to have McDonald's (MCD) - Get McDonald's Corporation Report franchise more of its restaurants, among other proposals, as an example of what an activist could do at Chipotle.
But several observers said such a move would be pointless. "There is no upside to franchising their restaurant locations," explained John A. Gordon, principal at Pacific Management Consulting. "They tried that in the past when they were owned by McDonald's and had awful results."
Collier said she believes most investors wouldn't back such a move and she adds that Chipotle's co-CEOs -- Steve Ells and Montgomery Moran -- would be opposed to it as well. She noted that the cash-on-cash returns of Chipotle's stores top 70%. "Why would you give up a business that is doing that well?" she asked. "You want to have a 100% company-owned model when things are going well."
Chipotle does have a lot of cash on hand, Collier added, roughly $543 million as of March 31. An activist could urge the company to distribute some of that cash to investors. However, she contends that such a move is unlikely as long as the stock price is so high.
So what about that lousy pay package? Well, if the stock price slips, an activist could be tempted. "The shareholders like the returns and think governance and compensation are abhorrent and viewed as worst-in-class," said one corporate defense adviser. "The board is completely captured and the CEOs have really very little equity."
Waheed Hassan, senior managing director at Alliance Advisors, said it was more likely that an institutional investor would try to embarrass the board. "Even with the strong performance of the stock price, someone can run a vote-no campaign against directors, especially those on the compensation committee," he said. Most board members don't want to be perceived as unfriendly to shareholders -- a perception that could be created by a large withhold vote. "This is a reputational issue for them as it directly impacts their ability to serve on other boards in the future," he said.
Perhaps acknowledging the danger, Chipotle has taken steps to appease institutional investors. It significantly toned down what had originally been its anti-shareholder "proxy access" proposal. More importantly, the company also agreed to submit an investor-friendly nonbinding shareholder access proposal that would allow a group of investors with a 3% stake for three years to nominate up to 25% of the board.
Many big Chipotle institutional investors have been advocating for such a change and their pay concerns may be offset by the new ability to nominate dissident directors. In addition, the restaurant chain expanded investor communications, reduced officer equity grants and made the awards more performance-oriented -- all in an effort to keep investors happy.
The executive pay plan improvements went far enough to earn a qualified green light from proxy advisory firm Institutional Shareholder Services. According to an April 25 ISS report obtained by The Deal, the changes for fiscal 2015 "mitigate" several of the problematic aspects of the current incentive structure. However, ISS qualified its comments and urged shareholders to pay close attention to the issue, given Chipotle's "troubling track record" on pay. In addition, ISS still gave Chipotle its worst governance rating of 10 out of 10 and recommended that investors back the investor-friendly proxy access measure.
A Chipotle spokesman did not return calls.
Will the stock price drop enough for an activist fund to jump in? One analyst argued that Chipotle is the biggest stock "balloon" in the restaurant industry and "someday that balloon has to burst." However, he added that the stock would have to drop for at least 12 months before an activist would smell blood.
Of the classic symptoms of a vulnerable company -- a troubled brand, poor same-store sales, costly headquarters, pricey private airplanes and high CEO salaries -- only the pay issue afflicts Chipotle.
"An activist targets a company when investors perceive that there is more interest in enriching management than shareholders," said Gordon of Pacific Management. "High CEO salaries are certainly there but most of the other negative factors that drive an activist to engage aren't." To get involved at Chipotle, an activist would have to see the whole enchilada.