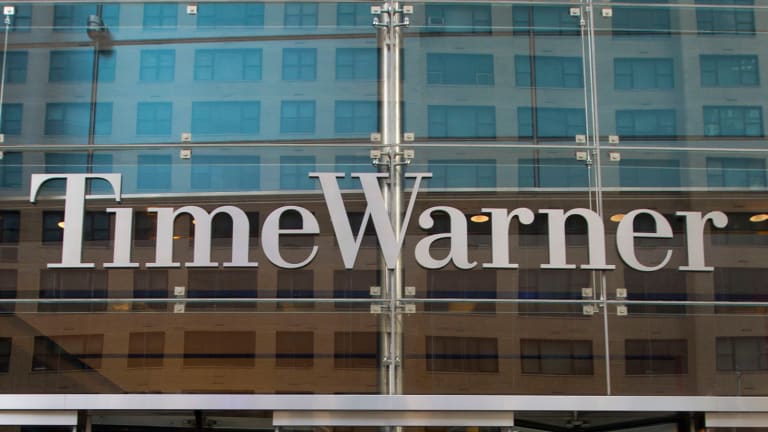 AT&T Will Buy Time Warner in $85.4 Billion Deal to Merge Telecom With Media
AT&T says it will buy Time Warner in $85.4 billion deal that would combine a global telecom operator with the media company steeped in television and film.
AT&T (T) - Get Report said on Saturday it will buy Time Warner (TWX) in an ambitious $85.4 billion deal that would create a powerhouse in global telecommunications, television and film. The agreement was approved by the boards of both AT&T and Time Warner, the companies said in a statement. 
The deal, which would be half in cash and half in stock, values Time Warner at $107.50 per share, a 20% premium to its $89.48 closing price on Friday. Time Warner shareholders will receive $53.75 per share in cash and $53.75 per share in AT&T stock. The total transaction value is $108.7 billion after including Time Warner's net debt.
The merger, which will need regulatory approval, would combine AT&T's extensive broadband and wireless operations in North and South America with Time Warner's HBO, its cable-TV networks TBS, TNT and CNN, as well as the Warner Brothers film studio.
"This is a perfect match of two companies with complementary strengths who can bring a fresh approach to how the media and communications industry works for customers, content creators, distributors and advertisers," AT&T CEO Randall Stephenson said in the statement. "Premium content always wins. It has been true on the big screen, the TV screen and now it's proving true on the mobile screen. We'll have the world's best premium content with the networks to deliver it to every screen."
But Jack Mohr, TheStreet's chief investment strategist, believes AT&T is paying way too much for Time Warner.
"I think we're seeing this deal come from a sense of competitive urgency and a need to maintain relevance," he said. "Mix in fear, desperation and paranoia that an Alphabet (GOOG) - Get Report , (GOOGL) - Get Report or an Apple (AAPL) - Get Report will come out of the woodwork and AT&T has made a gorilla offer like this." (Click here to read more of Mohr's initial take on the merger.)
The deal's size and scope are sure to shake the U.S. media industry, which has spent recent years seeking how best to position itself as viewers and advertisers move increasingly to digital and mobile devices. For AT&T, the deal is about owning content for its broadband pipes and wireless network. For Time Warner, the transaction is about gaining greater reach on mobile devices and internationally where AT&T has long been a global presence.
"This is a great day for Time Warner and its shareholders," Time Warner Chairman and CEO Jeff Bewkes said in the statement. "Combining with AT&T dramatically accelerates our ability to deliver our great brands and premium content to consumers on a multiplatform basis and to capitalize on the tremendous opportunities created by the growing demand for video content."
The deal comes just two years after AT&T paid $48.5 billion to acquire DirecTV, the satellite-TV provider that has been at the center of the company's efforts to offset a sluggish telecom business.
But AT&T's willingness to pay up to secure a deal with Time Warner reflects Randall Stephenson's keen desire to own content rather than just license it. Owning Time Warner will give Stephenson more flexibility to package television, film and video of all shapes and sizes on his wireless network as well as on DirecTV, which plans to launch its own online multichannel streaming service later this year. 
AT&T's aggressive move is also partly a response to Comcast's  (CMCSA) - Get Report  acquisition of NBCUniversal, as well as Verizon's  (VZ) - Get Report  more recent foray into content through a pending purchase of Yahoo (YHOO) and the 2015 acquisition of AOL.
Like Rupert Murdoch, whose 21st Century Fox (FOXA) - Get Report  tried but failed to acquire Time Warner two years ago, Stephenson is said to covet HBO, the premium pay-TV service that launched its own stand-alone streaming platform last year with great success. HBO may be the one stand-alone media property that can challenge Netflix (NFLX) - Get Report as the streaming service steps up its international expansion.
AT&T will also control extensive sports rights to the National Basketball Association, Major League Baseball and the NCAA Men's Basketball Tournament, as well as the Cartoon Network, TNT and CNN, which has broken its own record this year for ratings and revenue.
Stephenson's move appears to demonstrate that AT&T is intent to not only equal or exceed the media holdings of its foremost broadband rivals, but also to head off the convergence of tech heavyweightsApple and Google, which have made clear their interest to own content properties. Google is planning to launch its own multi-channel streaming service called Unplugged early next year.
Saturday's deal also comes 16 years after an upstart Internet portal named AOL was able to raise a stunning $160 billion in debt and acquire Time Warner in 2000 despite having just $1 billion of revenue at the time. But today, that transaction is widely viewed as the worst deal in U.S. corporate history. AOL had to take a staggering goodwill write-off of nearly $99 billion just two years later.
AT&T will be under pressure to prove that its own acquisition of Time Warner won't be a repeat of that history. However, many questions still must be answered before the deal becomes a reality.
First among them is price. AT&T has a relatively small $7.2 billion in cash on hand and held $120 billion in net debt as of June 30, a result of having to borrow to acquire DirecTV. Taking on more debt to acquire Time Warner is sure to prompt ratings agencies to reassess the status of the company's credit.
At $110 per share, AT&T would be paying $21.50 more than Rupert Murdoch offered in 2014, a hostile offer which was firmly rebuffed by Bewkes. AT&T said it will finance the deal's cash portion with new debt plus cash on AT&T's balance sheet. AT&T has an 18-month commitment for an unsecured bridge term facility for $40 billion, the company said.
Second among AT&T's obstacles to close a deal will be convincing U.S. regulators that a combination of two companies with extensive global assets doesn't violate antitrust statutes.
A year ago, regulators shot down Comcast's bid to acquire Time Warner, arguing that Comcast -- a firm that was both the country's largest broadband provider and a large owner of media content through its NBCUniversal subsidiary -- shouldn't be allowed to get even bigger through a merger. Some regulators still had lingering misgivings about approving Comcast's acquisition a few years back of NBCUniversal, a global television and film powerhouse of its own.
Experts say they expect the U.S. government to eventually greenlight the merger if AT&T and Time Warner make some concessions. But regardless of whether the deal wins approval or not, Saturday's announcement comes at a time when AT&T and Verizon -- the two largest telecoms -- have had to look to new lines of business for growth as telecom services matured. 
Roger Entner of telecom consultancy Recon Analytics said that the FCC's net-neutrality regulations have complicated efforts to develop business models for wireline and wireless broadband and given the carriers extra incentive to seek new revenue streams.
The expert said AT&T and Verizon have taken different approaches to the same problem. He said Verizon plans to grow by monetizing advertising, which is why it's acquired AOL and is buying Yahoo. Both of those Internet pioneers wound up in the bargain bin even though they've developed potentially valuable online ad technology.
Entner said that in contrast to Verizon's strategy, AT&T "is planning to grow by expanding into content, its production, sales and distribution." He said purchasing Time Warner's studios and the vast satellite-TV distribution system of DirecTV will help with that.
AT&T took financial advice from Woody Young and Anne Hamilton of Perella Weinberg Partners as lead banker, and from JPMorgan's (JPM) - Get Report Curt Simon, Marco Caggiano, Mark Giammatteo and Albert Wong. AT&T's legal adviser was Sullivan & Cromwell, led by Joe Frumkin and Eric Krautheimer, while  Weil, Gotshal & Manges LLP advised the company's banks, led Matt Gilroy, Eoghan Keenan, Kevin Kitson and Morgan Bale.  
Time Warner tapped Allen & Co.'s Ketan Mehta, Citigroup's (C) - Get Report Ray McGuire and Morgan Stanley's (MS) - Get Report Rob Kindler and Max Herrnstein as its financial advisers for the deal. A Cravath, Swaine & Moore team led by Faiza Saeed, Eric Schiele and Christine Varney provided outside counsel to the target.
(Chris Nolter, David Marcus and Jerry Kronenberg contributed to this story.)