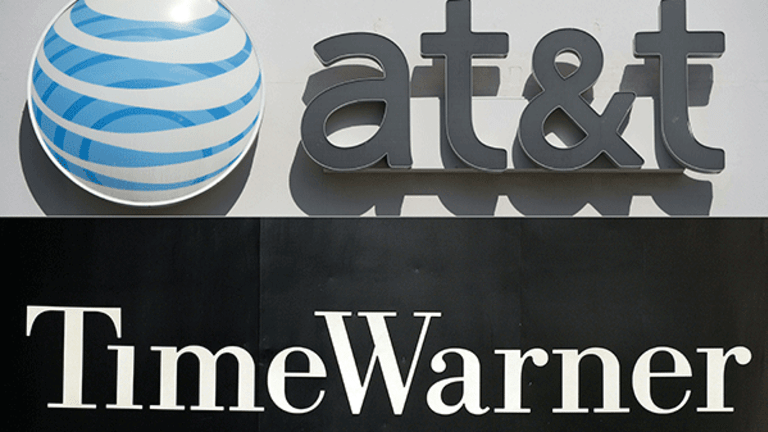 Publish date:
AT&T-Time Warner Deal Spurred by Frustrations With Slowing Media Industry
AT&T's Randall Stephenson and Time Warner's Jeff Bewkes showed they had at least one thing in common: frustration with an industry more interested in protection than innovation.
AT&T's Randall Stephenson and Time Warner's Jeff Bewkes showed they had at least one thing in common: frustration with an industry more interested in protection than innovation.
On a largely upbeat conference call with Wall Street analysts on Monday, AT&T (T) - Get Report CEO Randall Stephenson and Time Warner (TWX) CEO Jeff Bewkes gave the typical ebullient declarations about how their $85.4 billion deal is a grand win-win for all parties involved.
But underneath their merrymaking were the lines of frustration that prompted the leadership of both companies to pursue a deal that stands to reshape global media and telecommunications.
For Stephenson, the future is all about selling streaming video to AT&T's more than 100 million broadband, TV and especially, its wireless customers worldwide. For Bewkes and Time Warner, the future is all about distribution, selling programming direct-to-the consumer, much as it already does with HBO Now.
In the conference call, Stephenson repeatedly stated that he'd grown frustrated with the slow and cumbersome process of having to negotiate licensing contracts with each and every individual company that creates content, a not-so-veiled reference to Disney (DIS) - Get Report , 21st Century Fox (FOXA) - Get Report , Comcast's (CMCSA) - Get Report NBCUniversal and others. 
Stephenson's couldn't hide his delight in proclaiming that DirecTV Now, the multi-channel streaming platform that he said will launch next month, will own HBO, Warner Bros. and the Turner networks of TBS, TNT and CNN once AT&T closes on the transaction, which he said should occur by the end of 2017.
"When you're talking about doing really tight integration, ownership is always best," Stephenson said. "If you have to innovate quickly, it's really difficult to do in a partnering, arms-length negotiated-type transaction. When it's completely owned, you just move a lot faster."
If AT&T's $85 billion deal to acquire Time Warner does win regulator approval, both CEOs hinted that their rivals in pay-TV and content creation will be forced to be similarly innovate, accelerating the decline of the traditional cable-TV bundle.
The unveiling of DirecTV Now comes as Google is set to launch its own streaming multi-channel service called Unplugged early next year, and Hulu does the same. Add to the mix ever-expanding platforms from Amazon (AMZN) - Get Report  and Netflix (NFLX) - Get Report as well as Dish Networks's (DISH) - Get Report SlingTV and Sony's (SNE) - Get Report PlayStation Vue, and the AT&T's motivation for buying Time Warner becomes clearer. 
The advent of subscription-based streaming platforms is the result, of course, of the movement by viewers to online and mobile viewing. Linear television based on the traditional cable-TV is losing viewers, a trend that shows all signs of accelerating in the coming years.
Television ratings fell 6% across the board in the second quarter, according to Nielsen. And though recent headlines have put a spotlight the National Football League, viewing for almost all primetime programming is also lower than a year ago. More people are bypassing cable-TV for their news and entertainment.
The percentage of households with pay-TV a service fell to 81.3 in the second quarter, down from more than 87% in 2010, according to MoffettNathanson, the media analyst group.
For Time Warner, a deal with AT&T will eliminate what Bewkes called his own frustration with the slow pace of innovation by cable-TV and satellite operators, though he was quick to single-out Comcast and AT&T as exceptions to that protectionist lethargy.
Time Warner, Bewkes said, has wanted to make more of its content available on video-on-demand services but has been unable to force the pay-TV industry to adopt anything that might jeopardize the traditional 150-channel bundle that has long dissatisfied cable-and-satellite-TV subscribers looking for skinnier and lower-costing options on mobile devices.
"We've been trying, at Time Warner, to get more video on demand on not just our networks, but have it become a universal thing," Bewkes said. "What we saw is that the various cable and other kinds of distributors took a long time to create that offering across every other kind of network, and often the reason was they're waiting for various negotiations of this cable company versus that network growth, and you just didn't see a universal offering."
To be sure, AT&T's eagerness to buy Time Warner, and at a price that some investors say is too high, is also a response to heightened competition in wireless. Buying HBO and Warner Bros., Time Warner's most valuable assets, is a bold move to diversify away from wireless.
AT&T's third quarter sales of $40.8 billion fell short of analyst expectations, and shares of Dallas-based AT&T were falling 1.8% on Monday to $36.81.
The AT&T-Time Warner deal, both men said, will allow the combined company to offer a variety of streaming video packages, skinny-bundles or medium-sized-bundles, with sports or without sports, both mobile and in-home, and at various price points. 
The deal is also meant to counter Google (GOOGL) - Get Report and Facebook's (FB) - Get Report domination of digital advertising. A Pivotal Research study showed that in 2015, Facebook and Google received 64% of the $59.6 billion in U.S. digital ad spending.
"If you look at what's happening in that world, advertisers need more competition and this will give them another outlet and not just Google and Facebook," Bewkes said.
Being acquired by AT&T can also remedy some of Time Warner's technological deficiencies. For example, to distribute HBO Now, the very popular subscription-based platform, Time Warner uses MLB Advanced Media, the technology group for which Disney took a 33% stake in August.
Comcast, Google and Facebook are holdings in Jim Cramer'sAction Alerts PLUS Charitable Trust Portfolio. Want to be alerted before Cramer buys or sells CMCSA or GOOGL or FB? Learn more now.