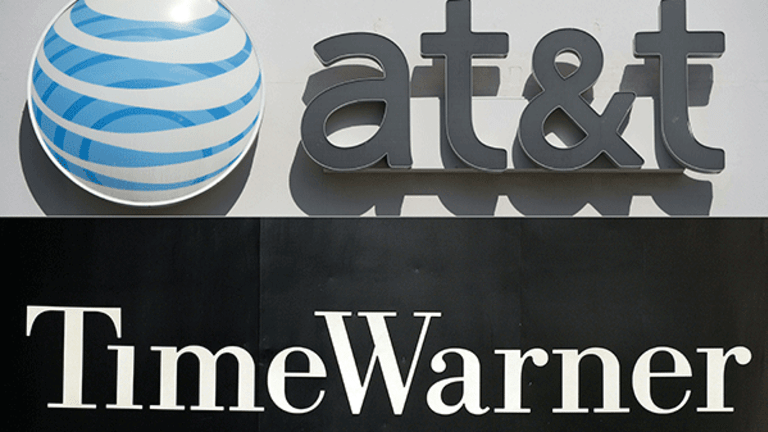 AT&T CEO Stephenson Has 'Vision for the Future,' Tech Reporter Explains
Investors are mixed when it comes to support for the $85.4 billion AT&T/Time Warner merger.
AT&T (T) - Get Report shocked the business world when back in October it announced its intention to acquire cable company Time Warner (TWX) for $85.4 billion. The merger reveal came just months after the company completed its purchase of DirecTV. The Time Warner deal was met with trepidation and concerns about antitrust issues.
Even President-elect Donald Trump voiced his uneasiness about the deal. He vowed to block the combination during the campaign.
At the helm of AT&T is CEO Randall Stephenson, BloombergGadfly columnist Tara Lachapelle appeared on Wednesday afternoon's "Bloomberg Markets: Americas" to profile the CEO and discuss what the deal means to investors.
"When you look at Randall Stephenson and you hear him speak he definitely doesn't strike you as someone who is about to be running one of the biggest businesses in Hollywood. So I think that's one reason the deal is really interesting. But also if you remember back towards sort of the second half of this year before the deal was announced, investors were getting a little concerned about AT&T," Lachapelle said.
Investors were worried about the loss of customers to rival wireless phone company T-Mobile. (TMUS) - Get Report Another issue was that AT&T's in-house pay-TV business was losing customers, even with the new additions from DirecTV, the pay-TV business was losing more subscribers than DirecTV was pulling in.
"I think investors were thinking 'what does Randall Stephenson do?' I think they wanted to see him have a vision and this deal wasn't necessarily what anyone was expecting, but I think it definitely does show he has a vision for the future," Lachapelle said.
The current mood over the deal is somewhat split, Lachapelle explained. Some shareholders she has spoken with are happy with the deal. They do understand the risks to the deal and if it goes through getting it to actually work. However, there are those that are not happy with the plan from the standpoint of AT&T is spending a lot of money.
"I think of it from the point of view that, if this is going to be a trend that we're going to see these cross industry mergers more and more...then I think it pays to be the first mover or an early mover at least," Lachapelle said. "I think it could be interesting, but obviously it's going to come down to execution."
Shares of AT&T are lower Wednesday afternoon.
(AT&T is held in the Dividend Stock Advisor portfolio. See all of the holdings with a free trial.)