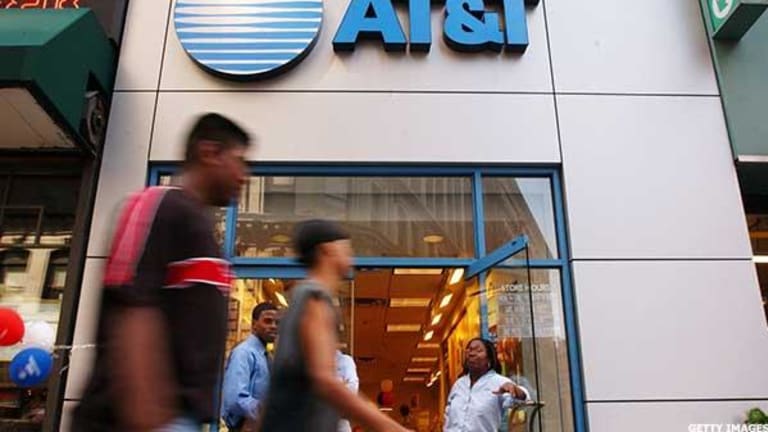 Publish date:
AT&T Buying Time Warner Is Shot at Google, Amazon, Facebook, Apple
AT&T's stunning $85 billion deal to acquire Time Warner could set off countermoves from the country's biggest technology companies. Here's what's at stake.
AT&T's stunning $85 billion deal to acquire Time Warner could set off countermoves from the country's biggest technology companies. Here's what's at stake.
AT&T (T) - Get Report  buying Time Warner (TWX)  for $85 billion in cash and stock is a shot across the bow of Apple (AAPL) - Get Report , Google (GOOGL) - Get Report , Amazon (AMZN) - Get Report and Facebook (FB) - Get Report , the global technology companies that are increasingly getting into the content game.
As AT&T CEO Randall Stephenson said on Monday, the motivation for doing a deal that skeptics say is too expensive is DirecTV Now, an internet streaming service that the Dallas company expects to launch by year's end. Over time, Stephenson said he envisions DirecTV Now will incorporate the jewels of the Time Warner media empire, HBO and Warner Bros.
AT&T's emphasis on building out DirecTV Now comes as Google is expected to launch its own multichannel streaming service, internet-based pay-TV platform Unplugged, in the coming weeks, a platform that has already signed up CBS (CBS) - Get Report and is expected to do the same with Disney (DIS) - Get Report and 21st Century Fox (FOXA) - Get Report .
Unplugged would join an increasingly crowded group of online multichannel services -- known in the industry as over the top -- all eager to re-create pay-TV online without the headaches and bloated packages.
Amazon (AMZN) - Get Report and Netflix (NFLX) - Get Report  have been stepping up their original programming expenditures, sinking more money into their respective video platforms. Dish Network's (DISH) - Get Report SlingTV and Sony's (SNE) - Get Report PlayStation Vue continue to market their skinny bundles, while early next year they'll be joined by Hulu and Alphabet's  (GOOGL) - Get Report Google, which is planning to roll-out a service called Unplugged.
It should be noted that in August, Time Warner said it had taken a 10% stake in Hulu, which had been a joint venture between Disney, Fox and Comcast's (CMCSA) - Get Report NBCUniversal. If Time Warner does become part of AT&T, it's reasonable to assume it would look to sell its stake back to its original owners.
Alphabet, Apple, Comcast and Facebook are holdings in Jim Cramer's Action Alerts PLUS Charitable Trust Portfolio. Want to be alerted before Cramer buys or sells GOOGL, AAPL, CMCSA and FB? Learn more now.
The elephant in the room, however, is Apple, which has been hinting for years that it wants to make a very big splash in television, something the industry now simply calls video.
A year ago, Apple unveiled a new version of its set-top box that included a dedicated app store, a brand new remote, voice control and a new operating system. Since then, we've gotten nothing but speculation and rumor about a full-scale TV offering that can appeal to the more than 20 million U.S. households that don't have pay-TV.
That Apple was said to have considered making a bid for Time Warner but then decided otherwise "perhaps suggests that they are either pessimistic about traditional media's prospects, or, perhaps worse, that they are more interested in disrupting the traditional ecosystem than buying into it," Craig Moffett and Michael Nathanson of MoffettNathanson said in an investor note Monday.
For AT&T, a service like DirecTV Now will allow it to go national rather than be restricted to its coverage area in just 21 states, a footprint that leaves out the mid-Atlantic from Virginia to Maine as well as large swaths of the northern U.S. from Minnesota to Washington state. An expanded AT&T is also likely to prompt Comcast and the beefed-up Charter Communications (CHTR) - Get Report to go over the top as well, Barclays media analyst Kannan Venkateshwar said. 
In addition, Time Warner's marriage of content with AT&T's distribution is also sure to put pressure on Disney.
As BTIG media analyst Rich Greenfield emphasized in an investor note Saturday, Disney CEO Bob Iger just two weeks ago acknowledged that even a company with as much globally popular content as Disney may be is limited in the media business if it doesn't own the means to distribute that content.
"It's one thing to be as fortunate as we are to have Disney, ABC, ESPN, Pixar, Marvel, Star Wars and Lucasfilm," Iger said. "But in today's world, it's almost not enough to have all that stuff unless you have access to your consumer."
As Google and Facebook have shown, having access to the consumer affords them an enormous amount of user data, which allows them to push a more individualized package of content and advertising. A Pivotal Research study showed that in 2015, Facebook and Google received 64% of the $59.6 billion in U.S. digital ad spending.
For Disney, not owning that data or not being able to control the delivery of its content put the world's largest entertainment company at something of a disadvantage.
Speculation is certain to rise in the coming weeks about Disney making a stab for Netflix, a deal that likely would exceed AT&T's agreement to acquire Time Warner. Iger did make clear that the company would continue to make investments in technology even after agreeing in June to pay $1 billion for a one-third stake in BAMTech, the video-streaming unit of MLB Advanced Media. 
"If not Netflix, unclear what Disney is thinking about to fix its lack of distribution," Greenfield said in an investor note.
Time Warner's HBO Now uses BAMTech to carry its standalone streaming service. But that could change if and when AT&T wins regulator approval for the Time Warner acquisition.