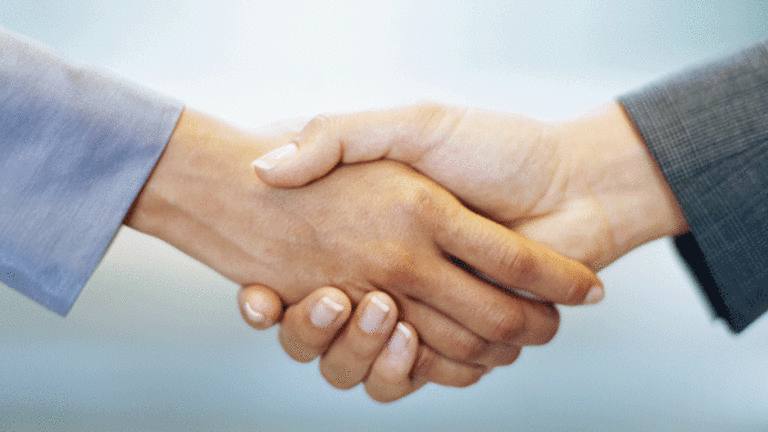 AstraZeneca Lays Out Sales Targets to Fight Pfizer Bid
The U.K.'s AstraZeneca said on Tuesday it wants to almost double revenue to at least $45 billion by 2023 as it launched its defense against Pfizer and its unwanted $107.2 billion bid.
LONDON (The Deal) -- The U.K.'s AstraZeneca (AZN) - Get Astrazeneca PLC Sponsored ADR Report said on Tuesday it wants to almost double revenue to at least $45 billion by 2023 as it launched its defense against Pfizer (PFE) - Get Pfizer Inc. Report and its unwanted 63.1 billion pounds ($107.2 billion) bid.
The London pharmaceuticals company insisted it was headed back to a growth trajectory after patent expiries weighed on 2013 revenue and earnings. In February it reported 2013 revenue of $25.7 billion, a decline of 6%, with operating profit from its core business down 25%, at $8.4 billion. AstraZeneca on Tuesday predicted 2017 revenue would be "broadly in line" with the 2013 level.
"From 2017 to 2023 AstraZeneca is targeting strong and consistent revenue growth leading to annual revenues of greater than $45 billion by 2023. Operating leverage is expected to result in core earnings growth in excess of revenue growth during this period," the company added.
As it brought forward the anticipated timing of certain Phase II and Phase III trials, it also said it sees peak sales for pipeline products of about $63 billion, or $23 billion after adjusting for risk.
"AstraZeneca is completing its transformation, and now has the right size, focus and team to deliver on one of the most exciting pipelines in the pharmaceutical industry," said CEO Pascal Soriot in a statement.
Chairman Leif Johansson added that its independent strategy will provide " benefits that should fully accrue to AstraZeneca's shareholders."
AstraZeneca rejected a sweetened 5,000 pence-per-share, stock-heavy proposal from the New York maker of Viagra on Friday, arguing that it was both way too low and motivated by so-called tax inversion -- Pfizer wants to change its tax domicile to the U.K. to benefit from the country's lower corporate tax rate.
Pfizer, which is considering its options, has until May 26 to either make a firm offer, or announce its retreat.
The target's shares have held resolutely under the 5,000 pence level of its most recent proposal, reflecting some doubt that the takeover will happen. On Tuesday afternoon in London, AstraZeneca stock was down 130.50 pence, or 2.7%, at 4,677.50 pence.
As Pfizer's deliberations continue its bid has become a lightening rod for political concerns that Britain's "open" takeover regime leaves its companies vulnerable to asset stripping and its employees exposed. With a year to go before general elections, the opposition Labour Party has ridden to AstraZeneca's rescue, accusing the Conservative-Liberal Democrat government of acting as "cheerleaders" for the American bid.
AstraZeneca chairman Johansson on Friday urged Prime Minister David Cameron to take a neutral stance, the Financial Times reported on Monday, citing people familiar with the conversation.