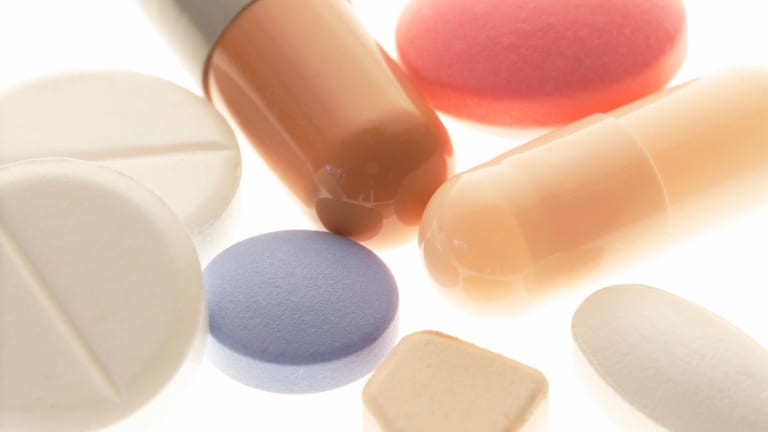 AstraZeneca Is Buying a Majority Stake in Acerta Pharma for $4 Billion
The deal will give AstraZeneca a potential blockbuster cancer drug, and an option to buy the other 45% of the company later for about $3 billion.
The deal will give AstraZeneca a potential blockbuster cancer drug, and an option to buy the other 45% of the company later for about $3 billion.
The U.K.'s AstraZeneca (AZN) - Get Report announced an agreement Thursday to buy a 55% stake in Acerta Pharma in a $4 billion deal that will give it a potential blockbuster cancer drug, with an option to buy the rest of the company later.
The price tag breaks down into an initial $2.5 billion payment for the closely held Dutch biopharmaceutical company, plus another $1.5 billion unconditional payment when Acerta's experimental drug acalabrutinib is approved for any indication in the U.S. or at the end of 2018, whichever comes first.
Acerta shareholders also have an option to sell, and AstraZeneca has an option to buy, the remaining 45% stake for about $3 billion. The timing is tied to the first approval of Acerta's cancer drug in both the U.S. and Europe and "when the extent of the commercial opportunity has been fully established," the companies said.
Acerta is based in Oss in the Netherlands, and has its U.S. headquarters in Redwood City, Calif. At least one of its shareholders in a venture capitalist firm, Dutch investor Biogeneration Ventures, which bought into the company in 2013. It was not immediately clear how big a stake the VC holds or whether it is selling out completely or retaining 45% of its holding for now.
AstraZeneca shares were up 1.45% in London at 4,480 pence, for a total market value of around £56.8 billion ($85.4 billion).
Acerta's acalabrutinib is being tested as a treatment for various types of leukemia, lymphoma and other cancers. The New England Journal of Medicine recently published positive results of early clinical testing of the drug, which is seen as a rival to Johnson & Johnson (JNJ) - Get Report and AbbVie's (ABBV) - Get Report Imbruvica and as a potential blockbuster treatment.
AstraZeneca CEO Pascal Soriot is on a mission to almost double the company's revenue to $45 billion by 2023. The company is also seeking to strengthen its pipeline to make up for a loss in patent protection by the end of 2017 on three key products --  heartburn medication Nexium, Seroquel for schizophrenia, and cholesterol medicine Crestor -- that account for nearly 40% of its revenue.
In Thursday's statement, Soriot said the Acerta investment "is consistent with our long-term growth and reflects the role targeted business development plays in our business model."
"We are boosting a key area in our comprehensive oncology portfolio with a late-stage, potential best-in-class medicine that could transform treatments for patients across a range of blood cancers," he added.
AstraZeneca said it aims to bring six new cancer medicines to patients by 2020, with a pipeline focused on ovarian, lung, breast and blood cancers. It sees Acerta's cancer drug as "potentially transformational for the company's future, becoming the sixth growth platform."
Thursday's news comes just a day after AstraZeneca unveiled a $575 million deal to buy respiratory drugs owned by Japan's Takeda Pharmaceutical.
AstraZeneca plans to complete the Acerta deal by the end of the first quarter and fund the initial $2.5 billion payment from cash and debt.
The buyer said it expects the acquisition to be "moderately dilutive" to core earnings in the near term. It is scheduled to publish 2015 full-year results, along with its guidance for 2016, in early February.