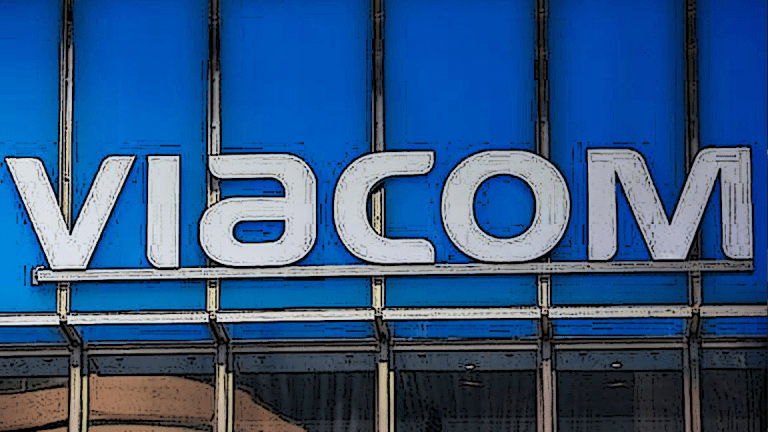 Viacom and CBS Reunification Prospects: Will Second Time Be the Charm?
Shari Redstone failed to merge Viacom and CBS in late 2016. The odds look better in early 2018.
The Redstone family failed to merge Viacom Inc. (VIAB) - Get Report and CBS Corp. (CBS) - Get Report in 2016. The merger effort occurred during a dumpster fire of a year for Viacom that included courtroom and boardroom battles and the ouster of former CEO Philippe Dauman.
Just a year later, Shari Redstone is reportedly resurrecting a plan to combine the companies. Despite the results in 2016, JBL Advisors analyst Jeff Logsdon suggests a merger of the media companies is inevitable if Shari Redstone and her 94-year-old father, Sumner Redstone, who control CBS and Viacom through cinema chain National Amusements Inc., are resolved to make it happen. Shari Redstone serves as the vice chairman of both Viacom and CBS.
"National Amusements or Shari wants this to happen and ultimately they will find a way," Logsdon said.
Shares of Viacom rose nearly 5% Thursday to $39.70. CBS gained 1.9% to $60 per share.
Challenges await. For starters, valuation. In recent months Viacom has gone from the high $20s to the high $30s as anticipation of a deal has risen. 
"It certainly doesn't warrant a big premium," Logsdon suggested of Viacom, pointing to the media company's struggles. "Why should National Amusements get a premium for something it already controls?" he asked. A deal could even be a take-under, with CBS paying less than market value.
CBS boss Les Moonves also could resist a merger with Viacom, as he successfully did in 2016. 
A merger with CBS would bring Viacom full circle. 
When Sumner Redstone announced Viacom's $37.3 billion purchase of CBS in 2000, it was the largest media deal ever.
He envisioned a global media powerhouse, but just five years later the amalgamation of cable, broadcast and film production companies had become too complicated. Viacom spun off CBS in late 2005 to make the companies easier for investors to value and invest in -- and for management to run.
Today, Viacom in particular looks undersized in a media landscape that Netflix Inc. (NFLX) - Get Report and Amazon.com Inc. (AMZN) - Get Report increasingly dominate.
While Viacom's revenue gained 6% in fiscal 2017 to $13.3 billion, Wall Street expects sales to decline about 2% in fiscal 2018. The top line in 2017 was smaller than it was in 2012. 
CBS also has bounced up and down. Analysts expect $13.5 billion in revenue for calendar year 2017, a 2% increase from 2016. Wall Street anticipates a 4% increase for 2018. 
Walt Disney Co.'s (DIS) - Get Report  planned purchase of Twenty-First Century Fox Inc.'s (FOXA) - Get Report film, television and global distribution businesses has focused attention on traditional media consolidation in the age of Netflix.
"If Disney and Fox need to merge to get to 'scale' in a direct-to-consumer, data-driven, multi-screen world, how can Viacom and CBS be at scale today?" BTIG LLC analyst Rich Greenfield wrote in a 2018 preview report. "Aggregate value has been destroyed over the past year of waiting to recombine the two companies." 
A merger could be more about protecting NAI's investment in Viacom than gaining market power.
If the deal were solely about beating back Netflix, Logsdon suggests, CBS might buy a company like Lions Gate Entertainment Corp. (LGF.A) , which produced the Hunger Games and Twilight franchises and made Mad Men for AMC Networks Inc. (AMCX) - Get Report . Lions Gate is a relative bargain, with a $6.9 billion market cap that is less than half Viacom's $14.3 billion total equity value. 
"That would seem to me to be a whole lot more interesting for the investor mindset today than folding in Viacom, but National Amusements isn't going to let Viacom become an orphan," Logsdon said. "CBS can function perfectly well if they never heard the word Viacom again."
Editor's note: This article was originally published by The Deal, a sister publication of TheStreet that offers sophisticated insight and analysis on all types of deals, from inception to integration. Click here for a free trial.
More of What's Trending on TheStreet: