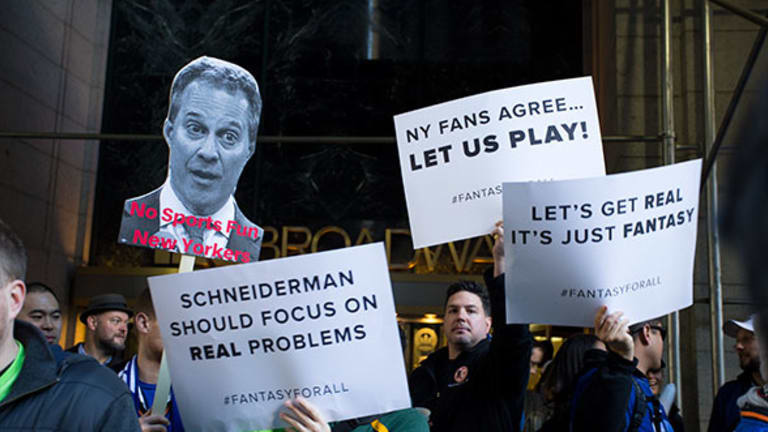 As Big Fantasy Sports Sites Face Judge, Small Sites in Focus
A hearing in New York may not decide the fate of big fantasy sports sites, but is already scrambling the rest of the industry.
As New York Supreme Court Justice Manuel Mendez weighs opening arguments in the case for and against the legality of daily fantasy sports gambling in the Empire State, the pending decisions have many in the industry wondering what will happen to the large bets placed on DraftKings and FanDuel by heavyweights ranging from the National Football League and Comcast (CMCSA) - Get Free Report to KKR  (KKR) - Get Free Report .
Currently in New York there are loose guidelines that attempt to define a game of chance as something that depends on future events that bettors can't control. Federal regulation that stems from the Unlawful Internet Gambling Enforcement Act of 2006, under which season-long fantasy is permitted but rules for daily play are not specified. The statute left it to the states to decide whether other forms of fantasy gaming constitute illegal sports betting.
No question, New York is a key market. But with armies of lawyers at the ready and resources to weather regulations at the federal or state level, the large players are expected to shrug off an unfavorable outcome there. Not so, perhaps, the start-ups and other small companies seeking to gain a following among fantasy fans. They may be forced to align or merge with their bigger counterparts, or fold altogether if New York and other states considering similar restrictions come down hard on their businesses.
Some smaller players like Greg Lambrecht, CEO of SinglePoint, are anticipating the potential fallout from new regulations by creating a vehicle for others looking for scale in a changing industry.
"The New York debate has really helped us accomplish what we are trying to do," said Lambrecht, an over-the-counter-traded payment processor that has partnered with Dynasty Dealings, a sports consulting business, and is seeking outside investment to roll up smaller daily fantasy websites. "There is no question that Draft Kings and FanDuel are going to have a much better chance of dealing with potential regulations. Some of the smaller companies seem much more willing to talk with us in the face of the regulations."
Lambrecht said the company is in talks with six potential targets: Three that have already launched and have existing customer bases and another three that are on the verge of launching. He declined to name the parties.
Lambrecht's interest in rolling up the industry comes at a time where the industry is already in a state of flux. On Wednesday, New York Justice Mendez will hear opening statements from DraftKings, FanDuel and New York Attorney General Eric Schniederman as to whether participation in so-called "daily fantasy sports," or DFS, is gambling or a game of skill. Massachusetts's AG Maura Healy last week proposed regulations in her state that would restrict the DFS games to patrons 21-years and older and limit the contests offered for DFS play in her particular state. California's attorney general Kamala Harris has been rumored to be taking a look at the issue.
Despite pending regulations, users continue to flock to daily fantasy sports sites.
DFS sites that pale in comparison to DraftKings and FanDuel in terms of users but continue to gain traction among players looking for alternates to the big boys include: DraftDay, a Sportech plc-owned company; StarsDraft, a site owned by Amaya Gaming, the parent of PokerStars; Draft, a mobile-focused company founded with money from a range of venture investors, including Upfront Ventures and SV Angle; and start-ups Draft Ops and FantasyDraft. Yahoo!, for its part, has one of the largest season-long fantasy player pools and is ramping up its DFS presence.
Joey Levy, founder of DraftPot, a DFS site that has received $2 million in venture funding, says his company is continuing to gain traction.
"Despite all of this, the growth has been very strong and we are consistently paying out almost $440,000 per week in winnings," said, Levy, who founded his company with backing from Dorm Room Fund, a venture fund run by college students that is back by San Francisco-based First Round Ventures. "We will continue to acquire customers and grow our user base."
The DraftPot founder insists that his company is focused on organic growth but acknowledges that acquisitions could come down the road as consolidation beckons and that he has received inbound interest.
For SinglePoint, acquisitions will not only provide scale but also give investors liquidity at a time of uncertainty. "Moving the companies into a public entity like SinglePoint gives them the upside in an exit strategy many may be seeking and this is reflected in our conversations with acquisition candidates," Lambrecht said in a statement, adding that his company has been approached by one of the "leading funding entities" in the sector about providing the capital necessary to negotiate a substantial stake in the DFS universe.
Although gambling regulation is a state matter, New York is the largest state to examine DFS so far, and has one of the highest percentage of players on a per-state basis (Draftkings and FanDuel both say that more than 10% of their patrons are located in New York State). Spectators say that it is unclear what the impact of a New York ruling could have on how other states view DFS.
Not everyone thinks New York will decide much about the industry's future. "Even if New York comes down one way it doesn't mean that other states will see it the same way. Regardless of the outcome here I think courts and states could still legalize it... I don't think daily fantasy sports is going away," said Bowditch & Dewey LLP's David Viens, who advises on gaming related issues.
Currently only a handful of states have weighed in specifically on DFS. Unlike season-long fantasy, which Congress has deemed not to be gambling under the Unlawful Internet Gambling Enforcement Act, DFS is a much less long-lived game with no clear regulation at the federal level. This leaves the onus on states to weigh in and make their own decisions in regards to DFS.
Smaller states, including Washington, Arizona, Louisiana, Iowa and Montana, have all ruled that daily fantasy is sports betting. Las Vegas has asked that DFS operators apply for gaming licenses, which subsequently pushed the players out of the state. Kansas and Maryland have deemed it legal but its unclear if there will be an attempt to further regulate the industry by those states. New York and Massachusetts are the most recent states to weigh in. New York Attorney General Schneiderman has been adamant that the games are illegal gambling, and has asked that the cites be shut down. He is seeking a preliminary injunction Wednesday to shut down FanDuel and DraftKings' operation in New York, but there are no official rules on the books in New York state in regards to DFS.
Some observers contend the potential crazy-quilt of state regulation calls out for federal intervention, as the 2006 law that exempted fantasy games conducted on a seasonal basis from state laws has led to confusion about how to treat non-seasonal fantasy gaming. "The differing Massachusetts and New York positions illustrate what a quagmire DFS has become," said Dan Etna, partner at Herrick Feinstein LLP. "The situation cries out for a federal overlay of uniform nationwide regulation to avoid a piecemeal, state-by-state approach to DFS."
In fact, some companies have pulled back as a result of state regulations. TopLine Game Labs, which operates four daily fantasy sites, recently stopped accepting customers in New York. Vantiv, a payment processor for some sites, asked some of its customers to stop accepting payments from New York players.
The question will come down to which sites can provide the most up-to-date and easy to use user interface while dealing with regulatory curve balls and costs.
"We tell our casino clients that you should budget at least $1 million per state for gambling licenses and that doesn't count all the other regulatory items that could arise," said Adam Steinberg, research director of Spectrum Gaming Capital, an advisory firm that does work for the gaming industry.
"Our feeling here that fantasy sports isn't going to go away, but its just likely to get looked at state by state. Some will take an aggressive posture while others won't," adds Robert Heller, Spectrum's CEO. "We think its going to survive but we think its going to survive in a more regulated way that may give an advantage to larger players because of the [regulatory] hurdles. That could change the economics of the business and raise the barriers to entry."