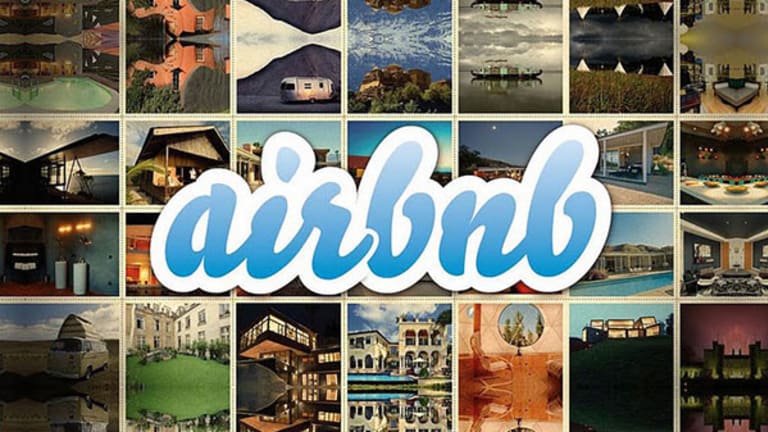 As Airbnb Enters the Fray, Hotels Are the New Airlines
The hotel industry's best days could be over, as airlines recover from a dark period.
NEW YORK (TheStreet) - "Men as smart as myself have got their asses handed to them on a sling with the airlines." -- Gordon Gekko, Wall Street

Gekko, the iconic character played by Academy Award winner-Michael Douglas in the 1987 classic Wall Street, remarked airlines have historically been a terrible investment.
Just about every major carrier in the U.S. has gone through some form of bankruptcy since the 1990s. They may be on the mend though, as a merger between American and U.S. Airways created the world's largest airline, supplanting Delta (DAL) - Get Free Report and UnitedContinental (UAL) - Get Free Report, who've both also undergone large consolidations in recent years. Many expect airlines will finally regain pricing power.
If airlines are on a steady mend, it might be time for investors to begin worrying about the lodging industry, especially as home sharing website Airbnb and its publicly traded competitor HomeAway (AWAY) seek to disrupt consumers' travel habits.
HomeAway currently carries a near $4 billion market capitalization on the Nasdaq. Airbnb is reportedly in the process of a $400 million-to-$500 million fundraising round that will value the home sharing network at approximately $10 billion, according to a report by TheWall Street Journal. 
Yet, as Airbnb continues to raise money ahead a long-speculated initial public offering, something simply doesn't add up in the industry. Industry wide tourism spending data in the U.S. indicates that if airlines are on the verge of a renaissance, hotels may be on the cusp of a dark age.
Data gleaned from GDP reports indicates that in 2013, the pricing of air travel was inversely correlated with the pricing of hotels. For the lodging industry, that's worrisome given a significant increase in overall hotels and rooms in the U.S. in 2013, and a strong backlog of in-construction rooms -- especially among a new breed of publicly traded hotel chains like Hilton (HLT) - Get Free Report, Extended Stay and, eventually, La Quinta.
In the fourth quarter, GDP data shows that prices for 'traveler accommodations' fell 8%, after falling in the third quarter. In contrast, prices for 'passenger air transport' rose 7.9% in the fourth quarter, an acceleration from the 5.7% price increase reported in the third quarter. When air transport prices slumped in the second quarter, lodging prices surged. There seems a clear correlation, judging from 2013 data provided by the Bureau of Labor Statistics.
Underlying that pricing data is a strongly recovering economic climate for the travel industry, whether it be airlines, hotels, or restaurants. Real spending on travel and tourism accelerated at an annual rate of 4.2% in the fourth quarter, after rising 3.1% in the third quarter. Those figures are roughly double overall GDP growth and hint at where all the discretionary dollars that are missing from retail earnings are being spent.
A Zero-Sum Game?
But if there is a zero-sum game on pricing between airlines and hotels, it seems evident that this time is different: airlines may win out.
Consolidation has dramatically reduced the overall supply of flights, particularly in some oversupplied markets. Around 30% of capacity has been taken out of the industry in the U.S. as carriers have consolidated their operations and routes.
Other parts of the travel industry, for instance car rental companies, are also addressing supply issues. Hertz (HTZ) - Get Free Reportsaid earlier this week supply issues in the rental market could be resolved in the first quarter. The company recently closed its acquisition of down market competitor DollarThrifty, a deal Hertz had been eyeing for years.
Guess who is dramatically increasing capacity after years of limited supply growth: Hotels.
According to STR data, there was an about 10% rise in the overall number of hotels in the U.S. between 2012 and 2013. Total rooms in the U.S. grew to 2.7 million in 2013, the data show, up from 2.3 million at the end of 2012. That indicates an about 17% year-over-year increase in supply after room counts remained virtually flat between 2010 and 2012, as firms repaired their balance sheets and reined in construction.
Things might get worse, especially if you read the prospectuses of new-or-soon-to-be-public hotel chains. Blackstone Group (BX) - Get Free Report has built a strong pipeline of new hotels and rooms by imparting a franchising strategy to some of its biggest holdings such as Hilton Worldwide (HLT) - Get Free Report and La Quinta.
Others in the industry, such as Marriott (MAR) - Get Free Report and Wyndham (WYN) are also implementing franchise growth strategies, given the returns on capital shown by Blackstone.
Construction and supply-increases abound in the hotel industry and particularly in urban areas, with hotel chains currently enjoying strong revenue growth. Again, they are serving a market that appears to be growing twice as fast as the wider economy. Travel spending, it should be noted, fell faster and recovered faster than the wider economy through the crisis, BLS data show.
Today's top-line growth, however, might turn into tomorrow's headache if the industry becomes oversupplied.
Here Come the 'Disruptors'
In comes Airbnb and HomeAway, two companies attempting to turn the apartments and houses of ordinary Americans into de-facto hotels. The hotel industry's best markets like New York have been relatively insulated from both companies, however, given restrictive regulations. That could change. Many voters like Airbnb and they like making money off their residences when on vacation.
Such a scenario might augur poorly for a growing number of publicly-traded hotel chains that now includes Hilton Worldwide, Extended Stay, and soon-to-be public La Quinta, among others.
Bottom Line:
Spending on travel and leisure is rising. If travel is a zero-sum game between dollars spent on airfares versus lodging, the hotel industry may be sowing the seeds of its demise.