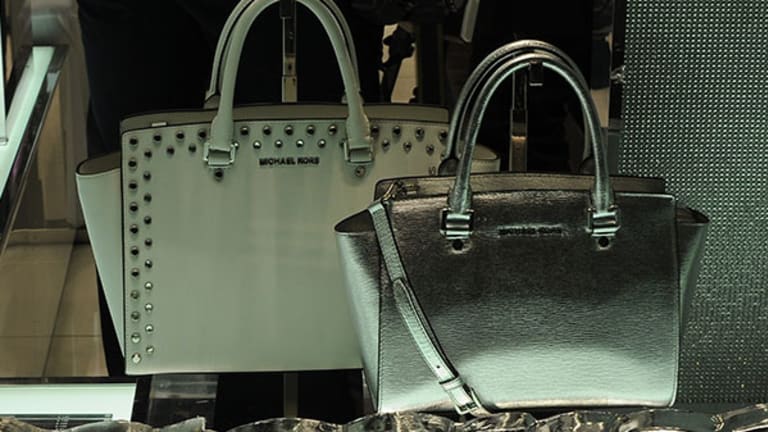 Are Michael Kors and Kate Spade the Perfect Match?
The company's CEO indicates it will consider big acquisitions as a large priority for driving growth.
The decline of the retail industry has taken its toll on many brick-and-mortar players. Department stores such as Macy's Inc. (M)  and Sears Holdings (SHLD) are taking the biggest hit right now.
But not too far behind are traditional design companies and clothing manufacturers that rely on these businesses for much of their sales.
Nowhere is that secondary fallout from the decline of the brick-and-mortar department store more evident than in the American luxury goods space where companies such as Michael Kors Holding Ltd. (KORS) have struggled to not only compete with online sellers but also fast-fashion competitors and steep discounting further down the food chain.
So it's no wonder that earlier this week, Michael Kors CEO John Idol said on a call with investors that his company has the "capacity to do sizable transactions or smaller transactions." He added on the Tuesday earnings call that the handbag and watch maker "probably won't do anything small."
At the same time, rumors continue to swirl that both Michael Kors and New York City-based Coach Holdings Inc. (COH) are looking at luxury brand Kate Spade & Co. (KATE) .
Such an acquisition could benefit Michael Kors especially, as the retailer has had more difficulty adapting to the current retail downturn, while Coach on the other hand continues to chug along in its restructuring strategy.
Driving growth inorganically becomes an appealing solution when companies struggle to improve sales themselves, explains Marshal Cohen, chief retail analyst at market research firm NPD Group. On Tuesday, Michael Kors reported a same-store sales decline 6.9% for the most recent quarter, more than the 5.2% drop anticipated by FactSet analysts.
Michael Kors doesn't see improvement soon, either, modeling a same-store sales decline in the low teens for the current quarter and a drop in the high-single digits for the full year. FactSet analysts are projecting a decline of 4.1% for the quarter and a decrease of 5.4% for the year.
An acquisition could help soften the negative impact of the company's business strategy.
"I think you've got to learn to live and make money in this promotional environment," said Howard Davidowitz, chairman of retail consulting firm Davidowitz & Associates Inc. "One way to do that is to have separate brand."
As for an acquisition of Kate Spade, in particular, "I've learned to rule nothing out as a possibility," Cohen said.
The company has the financial wherewithal, it seems, to do a deal the size of Kate Spade, which carries an enterprise value of about $2.45 billion, based on the consensus price target from Wall Street analysts (about $19 per share), Kate Spade's $394 million in debt outstanding and about $308 million in cash as of its last fiscal quarter ended Oct. 1.
A takeout premium could be higher, but the company is valued at about 11.4 times enterprise value to Ebitda with rumors of a takeout likely priced in. 
Michael Kors has almost no debt while sporting about $186 million in cash and equivalents on hand and about $610 million left under a revolving credit facility.
The company does have debt covenants that limit the amount of additional debt it can tack on, so a deal the size of Kate Spade could take some retooling of that debt (a revolver with JPMorgan Chase Bank NA) if it's in the name of sparking growth. Michael Kors and Kate Spade didn't immediately return requests for comment.
Coach, on the other hand, presents a different picture and may not have to take on Kate Spade, a perennial takeout target since the company hived off Lucky Brands and Juicy Couture in 2014 and 2013, respectively.
Coach has recently launched a turnaround effort that has included a shift toward more fashionable and expensive handbags, a business strategy that Michael Kors hasn't embraced until very recently. Coach reported 3% growth in same-store sales for the most recent quarter, and it's well-positioned to take even more market share in North America, Piper Jaffray analysts said in a Tuesday note.
Still, if it's unsuccessful at landing Kate Spade, Michael Kors could be presented with other transactions.
Michael Kors could reasonably purchase a lifestyle brand that would complement its current offerings or a brand that takes the company into an entirely new business, NPD Group's Cohen said.