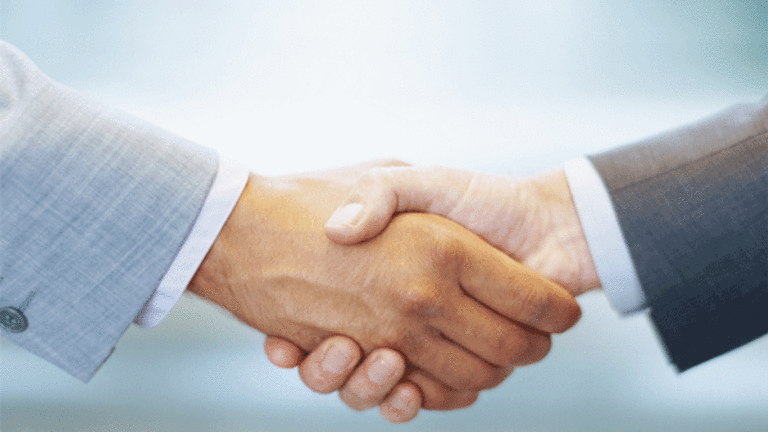 Applied Micro Could Be Open to Billion-Dollar Sale Under New Director
Longtime shareholder Christopher Zepf joins the chipmaker's board amid a cash burn that was already increasing the pressure to do a deal.
Longtime shareholder Christopher Zepf joins the chipmaker's board amid a cash burn that was already increasing the pressure to do a deal.
NEW YORK (The Deal) -- Applied Micro Circuits' (AMCC) recent addition of a long-time shareholder to its board could signal that the chipmaker may become more open to being acquired, in which case it could be an especially appealing target for a large rival such as Qualcomm (QCOM) - Get Report, according to industry sources.
The Sunnyvale, Calif.-based semiconductor company announced on May 14 that Christopher Zepf, founder of hedge fund Kingdom Ridge Capital, will join the Applied Micro board. Founded in 2007, White Plains, N.Y.-based Kingdom Ridge is one of Applied Micro's largest shareholders with a 9.9% stake.
"Chris has been a 'communications and semi investor' for a long time. He's well-respected in the space," said an industry source familiar with Zepf. "He's not on the board to collect the paycheck."
While Kingdom Ridge is a traditional, non-activist growth investor, Zepf will focus on getting Applied Micro to achieve its highest possible valuation either organically or through a sale, this person said, adding that the latter is a more likely scenario.
"With Chris on the board, the rest of the board members have to start thinking about maximizing shareholder value," this source added, explaining that Applied Micro's $567 million market capitalization makes it a good acquisition candidate. The company's shares finished trading Monday at $6.99, up 0.3%.
Applied Micro builds chips for cloud infrastructure and data center operators. Cloud infrastructure refers to the idea of storing and accessing data over the Internet rather than using physical hardware, while data centers are facilities that store equipment for collecting and processing data.
If Applied Micro explores a sale, a deal would have to happen within the next six to nine months, said another industry source familiar with the company.
"They're burning a lot of cash," this source said.
Qualcomm and Marvell Technology Group (MRVL) - Get Report are the two likeliest acquirers of Applied Micro, with the former the more logical choice, according to Cody Acree, a senior research analyst at Ascendiant Capital Markets.
San Diego-based Qualcomm, which has a $108.6 billion market cap, has wanted to tap into the ARM server market, Acree explained, adding that Applied Micro's expertise in designing ARM processors would accelerate Qualcomm's efforts.
"AMCC is a very unique vehicle. It's two to three years ahead of everybody else in a market that's in high demand," Acree explained. "That's why it's ripe for acquisition."
Applied Micro could attract a price tag of between $800 million to $1 billion, according to Acree.

While the company isn't necessarily under pressure to pursue a deal, he said, CEO Paramesh Gopi has indicated in the past that he would be open to offers. Especially since the industry is moving toward making chips for a processor developed by U.K.-based ARM Holdings.
"He's not evangelical about AMCC being the dominant server player," Acree said of Gopi. "ARM services are going to be a significant portion of the server business. If he can do that as a division of a larger company, all the better."
Kingdom Ridge's Zepf has been a long-term believer in Applied Micro and would also be in favor of a transaction, Acree added. 
Chipmakers have been busy on the M&A front as it becomes increasingly difficult for companies to grow organically in a capital-intensive market.
Avago Technologies (AVGO) - Get Report is paying $37 billion for Broadcom , while Intel  (INTC) - Get Report has agreed to purchase Altera  (ALTR) - Get Report for $16.7 billion. Dutch chipmaker NXP Semiconductors NV has agreed to shell out $16.7 billion for Freescale Semiconductor of Austin, Texas.
The M&A fever has trickled down to mid-sized semiconductors, as evidenced by the ongoing bidding war for Integrated Silicon Solution ISSI between Cypress Semiconductor  (CY) - Get Report and China's Uphill Investment has agreed to a $667 million deal from Uphill, but sources have said they expect San Jose, Calif.-based Cypress to come back with a higher offer.
Qualcomm, however, has been conspicuously absent from all the dealmaking. 
"Qualcomm needs to be buying somebody," Acree said. "One, because they haven't been buying, and two, because their core market in handset is under a lot of pressure."
If Qualcomm wanted to pursue a major, needle-moving transaction, the company could look at either Qorvo (QRVO) - Get Report or Skyworks Solutions (SWKS) - Get Report, he explained, adding that grabbing either one would allow the semiconductor giant to become a true "one-stop shop" in the cellular chip market.
Applied Micro most recently posted quarterly earnings in April. It generated net revenue of $37 million during its fiscal fourth quarter, down from $51.8 million over the corresponding period the prior year. The company's net loss came in at $15.1 million compared to $23.1 million the prior year.
Officials with Applied Micro and Kingdom Ridge didn't return requests for comment. Officials with Qualcomm, Marvell, Qorvo and Skyworks Solutions couldn't be immediately reached.
This article was originally published June 15 on TheDeal.
Read more from: